Senior, Safe Living

One reason seniors opt for adult living communities is the prospect of affordable, convenient, stress-free living. The last thing they want to worry about is life safety.
Paumanack Village in the Long Island town of Belleville, N.Y., recently installed one such system, from Fire-Lite of Northford, Conn., in its brand new, 100-unit adult living community. Dave Warasila of Doych Electric is contractor for the installation, but also handled the intercom, alarm system, all the electric, day and night lighting, on-site generators and more for the facility.


Easy choice
"In a complex like this one," he explained, "senior residents, all 55 and over, do not need the aggravation and potential confusion that can come from a complex fire alarm system, or one with limited communication capabilities. With the Fire-Lite system, combining an addressable control panel with voice evacuation, residents can clearly understand what's going on -without having to decipher different tones. The industry is finding that voice is the most effective way to go when evacuating people, especially when alert tones are used for chemical spills, bomb scares, earthquakes, tornado warnings, and things like that."
Warasila and his team are installing an MS-9600 control panel in the building, in conjunction with the company's audio evacuation system and detectors, including three in each apartment. The control panel has a capacity of 318 addressable devices on one signaling line circuit, and uses surface-mount technology. The audio evacuation system features up to 1500 watts of digital audio for the clearest possible transmissions to people who may be partially hearing-impaired.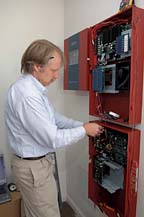 Increasing value
The new system is non-proprietary. "With some fire protection companies, if you ever need service, the only company you can call forever is the company that installed the system, whether you like the service practices or not," said Warasila. "And you're also stuck needing gear manufactured by the original manufacturer, which may not be easy to locate or may even be discontinued. With these systems, finding compatible parts is never a problem. You can go anywhere and pick up the part you need the day you need it and get your system back up and running fast."
Flexing versatility
Steve Nadel of Safeguard Security, responsible for annual inspections, maintenance, central station monitoring and general service at Paumanack Village, concurred with Warasila.
He said, "The easy access to parts is certainly an important benefit, as is the ease of use. To that list I'd also add value – you can get a lot more technology for your money with one of these systems. And in my particular profession, I'd have to put the reliability of the products at the top of my list, as well as the ease with which I can get technical service assistance. Fire-Lite's senior managers are just a phone call away and readily available."
Nadel added, "We use these products for more than just fire alarms. We can also incorporate medical emergency monitoring and notification into the system. We can install pull cords in all the apartments which can send a distinct signal to the control panel which in turn notifies the appropriate medical personnel of the exact location of a medical emergency."
The first residents are now moving into Paumanack Village this fall, safe in the knowledge that they are well protected in the event of an emergency. "I'd say that out of all the installs we've done over the past seven years," said Warasila, "we've had less than a dozen service calls on these systems. They're very reliable."


I want to hear from you. Tell me how we can improve.