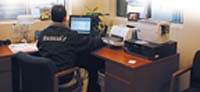 Mountain View High School of Meridian, Idaho controls after-hours access with a biometric hand reader that simplifies credential management and ensures that only authorized individuals can enter the building. It also provides a record of who entered and when they were there.
Located near Boise, Mountain View welcomed its first students in September, 2003. At 252,000 square-feet and an enrollment of 1,832 students, the four-year school is the fourth major high school to be built in the Meridian School District, the largest in the state of Idaho. The district comprises almost 50 sites, including the four high schools and a fifth planned, plus six middle schools and 30 elementary schools.
School officials felt the new school needed a better way to control after-hours building access than existing mechanical key systems. In a school setting, maintaining a key system can be difficult, and it is too easy for keys to be lost, borrowed or stolen. Based on experience at other schools, Mountain View principal Aaron Maybon noted that lost keys can amount to big expense. "If someone loses a master key, re-keying can cost several thousand dollars, especially with a facility this size and the multiple exits we have. Not only are you re-keying the locks and cylinders, but you need to purchase new keys and pay for the labor involved. It's been problematic for schools."

High security key systems can help avoid unauthorized duplication, but the only way the school could be sure that no unauthorized individuals were able to enter the school was to move into biometric access control. While mechanical keys are used inside the building, no one can get into the building outside of school hours unless they are authorized.
This avoids another problem, as Maybon pointed out. "Coaches and teachers are human, and on a Sunday afternoon, they sometimes give their keys to their own kids to get into the school and play basketball," he said. "Without adult supervision, that isn't a good situation, so biometrics prevents that and requires an authorized adult to be there and open the door." It should also be noted that the system maintains an audit trail record of who opened the door and at what time, helping to discourage careless or haphazard use.



Uncompromised credentials
Unlike magnetic stripe or proximity cards, PIN codes or other conventional credentials, biometric access control systems use a person's physical charactistics to identify them with certainty. The Recognition Systems HandReader that was selected uses the size and shape of the hand and fingers as a credential that can't be lost, stolen or duplicated to verify a person's identity. Length, width, thickness and surface area of the fingers and hand are measured and analyzed, and the unique features stored in a template, which is used for subsequent verification.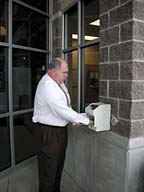 The scanning process takes about 100 measurements of a person's hand in only a second. After comparing the readings with the data on the person whose identification badge is being used, it either activates an electric strike to admit the person or denies admittance.
Integrated into the school's security system are 88 security video cameras that monitor sensitive areas. One is trained on the main entrance and the HandReader. "If a student tries to tamper with it, I can go back to three weeks ago at 6:30 a.m. or whenever it happened and see exactly who did it," said security officer Casey Baxter.



Additional benefits emerge
Convenience is another benefit. "People coming to work often are carrying a lot of things, so now they don't have to try getting their keys out," noted Maybon. "They also don't have to deal with the stress of losing keys."
The school is looking to add another HandReader or two at other entrances. "This is a 252,000-square-foot facility on a 55-acre campus, which makes it the largest public school structure in the state of Idaho," Maybon explained. "If teachers want to come in on the weekend, they now have to check in at the main entrance and then go back to their classroom, which could be about a half-mile walk. Another scenario is that, if we're playing football on a Friday night, we don't want the whole building open. If the players want to come into the locker room at half-time, the coach has to send an assistant all the way to the main entrance to get in and open the locker room from the inside. The only people with master keys are my vice principals and me and the security officer."

As a result, the school is considering installing additional readers on entrances at the ends of the building.
Possible other applications include using the biometric system to control access to the school in the event of some type of disaster. "If an emergency agency needed the school for a weekend or a week, I could quickly scan in the doctors, volunteers or others involved and temporarily shut down the building to everyone else," noted Maybon. "As far as keeping anybody out of the building who shouldn't be there, the HandReader is the best option."