Casino Adds Facial Recognition
Foxwoods Resort Casino, Mashantucket, Conn., the largest casino destination in the world, has purchased and installed iView's iGWatch Facial Recognition System. The system builds on the existing iTrak Incident Reporting Platform that has been deployed at Foxwoods since November 2003.
"Given the size of our facility and volume of patrons, we required an automated and proven system to link to our extensive (security video) installation," said Timothy D. Bohr, surveillance director for the Mashantucket Pequot Tribal Nation, which owns and operates Foxwoods. "The seamless integration between the iTrak Incident Reporting Platform and the iGWatch Facial Recognition System provides the ability to enhance our subject and patron database searches, instantly narrowing down possible subjects from 1,000s to one or more individuals in seconds."


Blood Vessel Imaging Access Control
Long Beach, Calif.-based iAccess Systems Inc. says that its VA-100G finger Blood Vessel Authentication System has passed the requirements contained in the Underwriter Laboratory (UL) Specification UL294 for Standard Access Control Systems. The device features a two-factor system that uses a PIN number in addition to the unique image of the blood vessel pattern in a finger for enrollment and authentication. The blood vessel image is created using a permeating, near-infrared light and a high resolution CCD camera, then digitized, stored as a template and recalled when the user tries to gain physical access to a secure area.
Where There's Smoke, There's Security
PROTECT Security Systems of America, Orlando, Fla., reports that three retail chains will adopt its Smoke Cannon. The system cuts burglary losses by filling protected areas with dense but harmless clouds of fog if break-ins occur.
CVS Corp., with 5,400 pharmacies in 35 states; New York-based Rainbow Apparel Co. USA Inc., operator of 1,000 junior, plus-size and children's fashion stores; and Luxottica Retail, North America's largest optical retailer with 5,500 locations, will be among major retailers to implement the systems.
"I am initially interested and excited to study this product's performance in our fashion sunglass shops because it will actually stop a burglary, can be monitored by our existing alarm system and won't damage the product or electronic equipment," said Alan Greggo, senior director of loss prevention, retail, for Luxottica Retail. "This is a cutting edge product for retailers in the jewelry and boutique specialty businesses."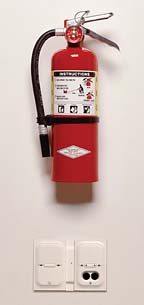 Monitored Fire Tech Goes to School
Arriving in time for the new semester, Goffstown, N.H.'s Mountain View Middle School received 48 wirelessly electronically monitored fire extinguishers as part of a fire safety demonstration project facilitated by S3, a program of the National Association of State Fire Marshals (NASFM). Fire safety officials introduced and demonstrated the technology during a presentation at the school late last year.
The system constantly monitors extinguishers to make sure they are ready for action in the event of an emergency via several sensors connected to a wireless network. Called en.Gauge, it was developed and donated by MIJA Inc., Rockland, Mass., and examines three characteristics of the extinguishers: presence, pressure and obstruction to access. In the event that any of these three are found compromised, the system sends an alert to officials so they can immediately rectify the situation. The installation of this system has also given the school a wireless grid that will allow them to connect other technologies and systems to the network.
"I am glad to see Goffstown take an active interest in this new aspect of school safety," said New Hampshire State Fire Marshall Bill Degnan. "Extinguishers are the first line of defense against a fire. Electronic monitoring of this vital equipment provides greater confidence and improved reliability. These new extinguishers are an important component of fire prevention and life safety."


Some Wireless Survives Hurricanes
A storm mean enough to inundate 75 square miles of a major metropolitan area couldn't shut down one communications system. Peabody, Mass.-based AES-IntelliNet's wireless radio network survived Hurricanes Katrina and Wilma and provided consistent alarm communications when other alarm communications systems failed. With winds in excess of 150 mph, phone lines and cellular towers were downed like dominos. Long-distance switches were flooded and had to be powered down until waters receded. Wireless sites with battery backup had no personnel or generators for recharging, as they were unable to reach sites due to flooding. However, the company's wireless mesh, long range system was able to automatically re-route alarm signals through multiple paths to insure constant connection to a central station.
A Photo's Not Enough
Viisage, Billerica, Mass., has been granted a patent in the United States and Europe for Live Check, a method for verifying that a person is live when their facial image is captured rather than an impostor using a fraudulent image.
Nuclear Team Receives DoD Award
The National Committee for Employer Support of the Guard and Reserve (ESGR) recognized David Draghi, Wackenhut's project manager at the Peach Bottom Nuclear Power Plant in Pennsylvania, and his team as a Patriotic Employer on behalf of the Department of Defense.
"This award recognizes Wackenhut's employment policies and practices and for its contribution to national security and protection of liberty and freedom by supporting employee participation in America's National Guard and Reserve," said Richard Michau, President of Wackenhut's Nuclear Services Division. "We are particularly pleased because nominations for the Patriotic Employer Award are submitted by Reserve Component members themselves."
The ESGR was established in 1972, via proclamation by President Nixon, as an operational committee under the Office of the Secretary of Defense to promote public and private employers' support for the National Guard and Reserve.


IP Camera Eyes Texas School District
Hundreds of Sony IPELA SNC-DF70N network video cameras have been deployed at the Pasadena, Texas Independent School District in what may be the most extensive academic IP-security system to date.
The system's design facilitated the speedy installation of 782 cameras across 32 campuses in the suburban Houston school district. The full implementation was accomplished in just two months during the district's summer break. Bob Daughrity, executive director technology services for Pasadena ISD, said the plan, paid for by a recently-approved $299 million bond, includes building new campuses and renovating existing facilities, with an overall objective of providing safe schools for students.



Day/Night Cameras Never Sleeps
Elcor Intl Inc., a multi-branch Master Stocking Distributor based in the New York Metropolitan area, has won the contract to supply security system equipment in 66 New York City Housing Authority buildings following a more than six-month evaluation process. Elcor specified day/night cameras.
The cameras will be on the outside of the buildings for perimeter surveillance.


EasyLobby Software Receives Lenel Certification
EasyLobby, Needham Mass., says that Lenel, through its OpenAccess Alliance Partnership program, has certified that the company's SVM 8.0 software is now integrated with OnGuard version 5.11. Customers using the Lenel system for access control can now automatically enable a pre-defined set of visitor door groups automatically from within SVM for those visitors that need to be given card access. In addition to working with proximity cards, the solution enables barcoded badges printed by SVM to be used to open a turnstile or activate an elevator or other door being controlled by OnGuard. Visit www.easylobby.com