Shedding Light on Dome Camera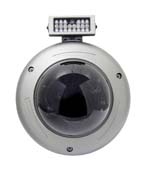 Speco Technologies, Amityville, N.Y., has introduced the LEDome, an advanced, tamper resistant dome camera. By externally mounting the IR LEDs, reflection problems caused by internally mounted IR LEDs are eliminated. The weatherproof day/night, dome camera can be either wall or ceiling mounted. Exview Technology allows operation in complete darkness when coupled with the company's IR LEDs.


I want to hear from you. Tell me how we can improve.