RFID High-Speed Label Printer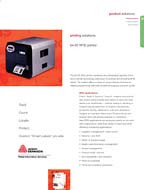 Avery Dennison Printer Systems of Philadelphia has a high-speed 64-05 RFID label printer, featuring 64-bit processing, automatic label verification and programmable reprinting, a lift-head mechanism that helps prevent label damage, and a cost-cutting ribbon saver feature. The system has an integrated multi-protocol reader/antenna that accommodates a variety of RFID tag form factors and configurations.


I want to hear from you. Tell me how we can improve.