Polyethylene Barriers Are Tough as a Rhino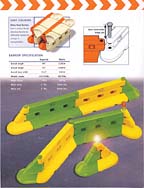 Rhino Safety Barriers are manufactured to the highest quality standards from tough polyethylene for superior strength and durability. They can be rapidly deployed and provide a protective barrier to many scenarios preventing or deterring any road vehicle or persons entering security sensitive areas. Used to protect Ground Zero after Sept. 11, the barriers will be on display at last month's Intersec exhibition.


I want to hear from you. Tell me how we can improve.