Fingerprint Verification Applications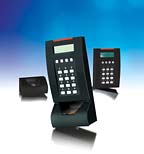 HID has a new modular approach to its iCLASS family of read/write contactless smart card products designed for fingerprint verification applications. Using 13.56 MHz contactless smart card technology, the bioCLASS product line provides users with new options for supporting multi-authentication identity. It provides three levels of security verification: card only, card and personal identification number (PIN), or card, PIN and fingerprint verification.


I want to hear from you. Tell me how we can improve.