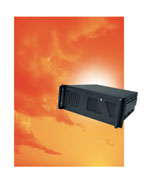 While reexamining industry forecasts from 15 years ago, CCTV was a mere blip on the security radar screen. It is safe to say that times have changed. With every passing year, through technological evolution, CCTV has become one of most sought after systems in the security market. Walk any trade show floor and you will witness first-hand the growth of the video industry. Over one third of the exhibitors are surveillance-related. To what can we attribute this boom in the marketplace? Digital. It's here to stay and it keeps getting better, faster and more efficient. For the past two decades, remote monitoring and surveillance applications have been served by analog technology. With the industry ever progressing, coupled with accelerated technology growth, end users feel that VHS is too limiting—maintenance intense, remote accessibility problems and difficulty to integrate with other systems.
At the recent GE Interlogix "Realizing the Vision" conference in Miami, Fla., industry experts from Casi, Kalatel and Fiber Options all echoed the importance of integrating security systems. "The conference highlighted providing total integrated solutions to end user customers by truly integrating video, alarm systems and access control in a seamless fashion," says Jiri Modry, executive management, GE Interlogix, Kalatel Division, Corvallis, Ore. Bill Zalud, editor of SECURITY Magazine, a keynote speaker at the event, emphasized the importance of video surveillance in the total security package. His valuable research concluded that 2002 numbers reveal that there has been an increased budget in security spending with over $580,000 per average spending on electronic security systems. Of the electronic security systems, video surveillance is ranked the No. 1 effective security technology, registering nearly 25 percent of end users polled. With security budgets increasing, coupled with CCTV as the most effective, end users should invest in the most effective and efficient systems available. The perfect solution is digital video and recording.
"With the use of digital video, we have the ability not only to record the information, but search through it later by time and camera name. We can now analyze the content of the recorded data and turn it into valuable information," says Frank Abram, general manager, Panasonic Security & Vision Systems Group, Secaucus, N.J.
And, "With pricing dropping rapidly, it is evident that the trend will be digital. In time, all end users will adopt the technology," says Jack Kaloukian, senior marketing manager, Sony Electronics, Visual Imaging and Security Systems Division, Park Ridge, N.J.
"Trends in digital will be related to improving security and loss prevention capability," says Jim Herringer, business unit manager, Merlin Technologies, Burnaby, British Columbia. But how do we accomplish this? By improving the ability of symptoms to gauge the activities of observing and taking action, and improving the way symptoms react based on the criteria of the user. There will be less watching by personnel and more intervention by the system. The result of that will be more effective systems that will produce a return on investment, whether it is reduced losses or increased safety, explains Herringer.


Integration & Network Video
"Once the conversion is made to digital cameras, analog CCTV equipment will gradually be phased out as the market demand for new units and parts decreases. Networking is becoming the central systems technology to build upon. We foresee a new generation of networking systems products that can also be gradually integrated with conventional systems devices, but that will provide a more efficient alternative to conventional systems topography," says Abram.
According to Anders Laurin, vice president of networked facility, Axis Communications, Chelmsford, Mass, in addition to the increased demand for security, there are a number of compelling drivers fueling the adoption of IP-surveillance technology:
Network Convergence. CCTV, computers and other functions, such as fire alarm and access control and biometric functions are converging toward a common IP network that can offer integrated services. Telephone networks are already utilizing IP networks. IP-surveillance technology provides persuasive performance, while it provides a strong foundation for future use and improvements.
Internet and IP Networking. Virtually all businesses, schools and industries now have a high-speed, IP-based computer network connected to the Internet. More and more stores and homes are being connected via DSL. Banks also use the Internet for money transactions, providing an important endorsement to IP-surveillance as a safe and reliable technology. Here are the days of monitoring your facility on a closed circuit channel on your television via secured TCP/IP protocol. "What we are seeing in retail spaces is that wireless LAN technology. Wi-Fi, 802.11B technology is extremely reliable. Wi-Fi, or wireless fidelity, is an increasingly popular networking standard that's used to create wireless local area networks (LANs) in homes and offices at speeds up to 11 megabits per second, far faster than the peak 144-kilobit-per-second rate so-called 3G—third-generation—mobile-phone networks. The uptake on those kinds of devices is double-digit growth. It is a very stable, reliable wireless infrastructure and we have our product and our video-infused data being transmitted over that physical network today—the next wave of your digital cell phones. You can monitor your facility on your TV through the same broadband network, if you had an ADSL connection or a cable connection in your home," says Michael Foster, product manager for mobile solutions, March Networks, Ottawa, Canada.
Efficiency. Digital information and pictures stored on hard disks make searching and retrieval much faster and easier, and associated maintenance costs are minimized. "IP-surveillance enables users to take the strategic step toward developing a more open digital surveillance system by providing solutions for converting analog images into an easily distributed digital format—at a manageable level of investment. The choice between high resolution digital images that can be viewed and stored anywhere in the world over a computer network vs. low-resolution images with restricted viewing access and volatile storage media that deteriorates with age is no choice at all," says Laurin.
Sony's SNC-RZ30N network camera features a built-in Web server for remote viewing and capturing high-quality video over IP networks. The camera, which works with any standard Web browser, offers remote-controlled pan, tilt and zoom capabilities.


Smart DVRs
The overwhelming consensus of industry experts will tell you that the future of digital recording lies in its ability to become more intelligent. For example, "If a door is opened or there is contact on it, it triggers recording. With digital, you've got pre-and-post event recording. If you program the DVR to record pre-event situations, you would have images to show what happened prior to that door being opened. It has a cyclical buffer, which is putting in data first in and first out and overwriting it. When an alarm is activated, you now have this data. Pull it out and put it on the hard disk and store it," says Kalatel's Modry.
DVRs offer the ability to use your network to manage devices—monitor the health status of them, retrieve stored video and do live streaming. They are not just video storage devices, they are video servers, offers Peter Wilenius, vice president and general manager of video solutions, March Networks. In the future, there will be more advanced functionality in terms of health-status monitoring, configuring, maintaining and allowing permission to various devices on the network.
One trend is the incorporation of more intelligence into both the network cameras and DVRs. "The ability to perform video content analysis will transform the DVR into a proactive part of a security system. DVRs will be able to look for specific objects or series of actions specified by the user," says Michael Langendoerfer, product marketing manager, digital video, Philips CSI.
"An enormous advantage of digital recording is the ease of collecting and manipulating video data. Future applications may soon include DVRs that are programmed to tag specific event or article or direction of motion, and then group all of these tags together. When searching the database, we enter a search term much like searching on the Internet, and all the clips fitting the search term would come up for viewing. We will see more smarter cameras with more intelligent, useful data coming from the recorded images," says Jonathan Moav, director of product management, NICE Systems, Rutherford, N.J.


Smart Cameras
With the exception of cameras and monitors, virtually every other vital systems technology is already digital—switchers, recorders, and transmission devices—and cameras are the next logical target because they are primarily digital devices, explains Abram. "We anticipate seeing truly digital cameras—digital processing with digital output—as well as IP addressable cameras. These are the main components missing for the CCTV industry to make the transition to a truly digital platform. Digital cameras that are IP addressable will make networking easier since they will eliminate the need for additional A/D converters and/or transmission devices at the camera site," says Abram.
Cameras are going to continue to get smaller. We are going to see less and less mechanical intervention, in as much as more and more digital intervention. There is merit in adding signal processing and digitization and local storage into the camera itself on the network. The camera of the future has a new set of imagers where you actually get digital information off the sensor and it processes digitally. Currently, your imagers give an analog signal and then you digitize it. "Over the next two to five years, you are going to see more and more digital intervention. If we want to pan the camera down, we are going to digitally move across the picture. We are not going to physically move the camera around. We are going to digitally accept different portions of the chip as far as the image it's producing. If you want to move the camera up and down or zoom in, same basic thing," says Charlie Pierce, president, L.R.C. Electronics, Davenport, Iowa, an independent service center for CCTV equipment warranty and non-warranty repairs.
Pierce also notes that future digital cameras are going to isolate a certain section of the chip and zoom in on that digitally. Panning across a picture electronically will be advantageous in that you get rid of the electro-mechanical device— PTZ— because they tend to break down regularly. The biggest advantage of that is cost. Your systems will have a much higher reliability. In the next 5 - 10 years the entire system will be one digital concept.
And, to combat privacy issues, there is talk of mechanically restricting the camera system to certain pan points. "Now, through good digital black box technology we can literally block out portions of the picture. You could out-of-focus squares to the different portions of the image that you don't want somebody looking into and it becomes blocked out. More importantly, you can zoom in, zoom out and pan off the image, come back to it and those areas that you blocked out, stay blocked out. That just makes us more professional," says Pierce.


Going Mobile
Mobility is another great advantage of our digital revolution. The equipment becomes lighter, smaller and easier to utilize. It requires less power. Kalatel, Corvallis, Ore., has its new MobileView III digital recording system, designed for transit applications, now provides both monochrome or color recording from 1-30 pictures per second (pps), a hard drive that will hold up to 10.9 weeks of color and up to 19.8 weeks of monochrome images. Images generated by driver panic buttons or impact sensors are saved in a special file format with a time and date stamp to make finding and retrieving them easy and fast.
The Crystal Ball
What are some things we may look forward to in the near future in terms of digital CCTV? "The primary direction will a facility management security server that will be a PC-based component that will afford not only digital recording but simultaneously offer the capability to overlay other applications on top of the PC-based unit. This type of system will afford the facility manager the opportunity to install the appropriate application software packages that are necessary to fully bring all phases of security—access, fire, burg. and any special application that offices in their building may need—to complete periphery tasks," says Dan McGinley, national sales manager, Security/IT Division, ELMO Mfg.Corp.
End users will still want more speed and better better picture quality. Ultimately, people will want real time per camera, per channel; real time being 30 fields per second. There are advancements in both compression algorithms and storage capacities, which will enhance digital recording. Analogous with your PCs, the technology will keep getting better—computers faster.
"The longer you can maintain the life of the hardware platforms, as video compression techniques change, if they are written in software, you can upgrade those platforms that are in the field. As you develop new intelligent video processing algorithms or other features for a DVR, you can upgrade the units as long as they are attached to the network. The future-customers are interested in life-cycle cost of ownership, not just what it costs to buy a box. If you buy a unit with a certain type of PC processor today, the application you develop in the future is limited to the amount of horsepower you have," says Wilenius.


DVRs Market Watch
Check out some of the hot DVRs on the market today.
Sony has its HSR-X2000 digital recorder, which features a hard disk capacity of 80 GB. It is expandable to 160 GB with the addition of a hard drive. This allows for 671 hours of recording time at 1 picture per second and 300 lines of resolution. High quality, high resolution pictures in field or frame modes (Motion J-PEG format), network control with an optional plug-in card and compatibility with existing multiplexers.
Panasonic Digital Communications & Security Company, Security Systems offers an enhanced digital disk recorder with additional hard disk capacity, DVD-RAM archiving, standard on-board 10/100Base-T networking and motion detection features.
Silent Witness, Surrey, British Columbia, offers a sixteen-channel DVMS 1600 digital video management system. This full-featured digital recorder stores real-time, high-resolution video on internal hard drives for safekeeping. It is designed to replace both a VCR and a sixteen-channel multiplexer.
ELMO Manufacturing, Plainview, N.Y., and its the Dallmeier DLS-18 two-track, 18-input, network-ready digital HD recorder combines operating system stability, network efficiency with complete remote access functions. The DLS-18 provides 18 inputs for recording video images from up to 18 cameras and can record and play back at the same time.
The March Networks 4250 DVR with version 3.0 software is one of the most advanced digital video recorder available for organizations with requirements for multi-site installations, high frame rate recording and viewing, high reliability and cost-effective deployment leveraging the organization's existing network infrastructure.
The Philips DESA produces 120-240 images per second, with small file sizes ranging from 3-6 KB per image. The DESA is a complete digital recording system that operates within a secure Windows 2000 environment. Featuring 16 alarm inputs and 16 outputs, the DESA integrates with a building's existing subsystems and provides remote viewing, searching, playback capabilities and system control over a standard network connection.
And, Merlin's SecurDVR provides a cost-effective monitoring and video surveillance solution, which integrates CCTV with advanced digital recording and fast image retrieval. The SecurDVR can monitor up to 16 separate cameras. Remote access over an existing network infrastructure or the Internet allows security personnel to view, record and "clip" images from virtually any location.


SIDEBAR 1: Resolution/Frame Rates
An area where video surveillance systems have tried to save limited disk space is by decreasing the frame size and/or frame rates. Similar things have already been tried the currently existing analog video systems. There are systems that will capture at a 320x240 pixel resolution instead of the 720x486 CCIR-601 digital video standard. This approach is similar to the "quad" systems on the market where a system will record four camera views onto the screen at the same time. The result is 1/4 of the information is recorded. This 320x240 frame size is less then half the CCIR-601 standard laid out for digital video. Again this comes at a cost to the consumer when it comes time to view the image. Less pixels mean less information to analyze.
The other area where digital and analog systems are saving disk space is by only capturing a few frames per second of video. In the U.S., most frame rates that we see are recorded at 30 frames/sec. In order to save hard drive or videotape space some companies will only grab 1 frame/sec. This gives them 30 times the storage but it is incredibly difficult to figure out what happened during the time between the captured frames. This is a not a new idea and this technique has been implemented in time lapse VCRs for years now. Decreasing the frame rate is acceptable to a certain point. Anything less then 10 frame/sec for a single camera recording or 20 frames/sec for a 4 camera multiplexer is not a good idea.
1. Keep compression ratios as low as possible, no more then 20:1.
2. Use a full frame resolution of 720 x 486.
3. Keep your frame rates above 10 frames/sec for a single camera application and 20 frames/sec for a 4-camera application.
Source: Ocean Systems, Burtonsville, Md.


SIDEBAR 2: The Compression Standard Debate
Industry experts differ in their opinions over whether the industry will adopt a unified industry compression standard. Most digital CCTV manufacturers use industry standard compression formats, such as JPEG, MPEG, wavelet or H.263. Which compression method? It depends on the application. How many cameras are in your system? What access speed are you trying to reach? How much recording is desired? Also, where is the compressed image going? Consider that telephone wires, hard drives and broadband all have bandwidth limitations. JPEG images, the oldest digital format, are reliable but often times look blocky. Experts recommend Wavelet systems for good digitizing and storage, but less for high-speed remote access. H.263 is considered dependable for remote site monitoring, but less for actual recording of these images. "There are two frontrunners right now: Wavelet and H.263, which leads directly to an MPEG4. One or both will continue to be prevalent throughout the industry. As long as you can support those algorithms and software, there is no reason you can't offer both," says Peter Wilenius, March Networks.