Whether to better identify people handling cash or to make international shipping safer, biometrics technology continues to fill specific, essential security niches.
One example: prompted by growing security concerns, Kaiser-Permanente, America's largest health plan provider, has begun installing NKL Cash Handling, New Albany, Ind., systems equipped with Bioscrypt Inc., Van Nuys, Calif., fingerprint access readers in its California facilities.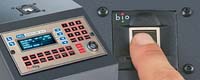 Meets Changing Needs
The rollout reflects the emerging attraction of biometrics, biometrics' ability to easily integrate with other security equipment as well as the changing face of healthcare.
Patient co-payments to health insurance plans are on the rise and physician practices now collect increasingly larger sums of cash. The situation creates a growing security concern in healthcare facilities. So Kaiser-Permanente made a decision to invest $3 million dollars in FKI Security Group's NKL Cash Handling systems.
"We made the decision to replace existing drop safes with intelligent safes that offer cash dispensing and biometrics entry," says project manager Jeri Bennett of Patient Business Services for Kaiser Foundation Health Plan, Inc. "Our primary goal: decrease the distance an employee has to travel in a building to make deposits. We see this as a very real life safety issue for employees."
The cash-handling system uses Bioscrypt's self-contained fingerprint verification module, the MV1200. About the size of a business card, the MV1200 includes a small circuit board, sensor and software.
"We believe that biometrics is an important part of employee safety and loss prevention because it offers positive authentication with a fingerprint. PINs, encryption keys and passwords typically need to be changed often and are easily forgotten," says Steve Aronson of NKL Cash Handling. "All NKL Auditlok XLV products can upgrade with a biometrics reader in less than an hour, resulting in minimal disruption to the daily operations at the installation site. With a retail cost estimated at under $1,000, it is a very cost effective way to increase security."


Rollout During Year
Kaiser-Permanente's Folsom facility in Capital-Sacramento Valley, Calif., went live last October. A rollout of 234 Autobank D8C units with Auditlok XLV and biometrics is anticipated through the second quarter 2003 at the majority of California-based Kaiser-Permanente facilities.
The Kaiser Permanente southern and northern California operations serve more than 6.3 million members and employ close to 100,000 people including 8,000 physicians. The region is served by 11 major medical centers.
The cash-handling network will cover participating medical office buildings and hospitals. "This is very exciting technology and will make a big difference in our operations," Bennett added. "We feel we have addressed a life safety issue and eliminated any employee theft concerns as well. There is no way to cheat the system-it offers better accountability and a complete audit trail. Currently, we are using both biometrics and PINs numbers, but expect that by the end of 2003 we will just be using biometrics," Bennett concluded.


Maritime Security
Another expanding biometrics niche is the transportation industry. Travelers and industry workers both are involved in personal identification experiments that involve various types of biometrics and access cards.
One recent innovation covers seafarers working for the Liberian International Ship and Corporate Registry (LISCR).
The organization is now using Datastrip, Exton, Penn., 2D Superscript two-dimensional barcode as the core technology on the world's first biometrics-based seafarer's identity card. LISCR is the second largest shipping registry in the world, with approximately 2,000 vessels and 500,000 active seafarers on its docket. The initiative is intended to help improve maritime security by providing a counterfeit-proof identity document.
Each LISCR seafarer's card will include a tiny Datastrip barcode containing either one or two fingerprint templates, a digitized version of the cardholder's photograph and several pages of encoded personal information. Identity verification will be performed on vessels and at ports of entry with Datastrip's DSVerify2D, a portable biometric ID card reader capable of decoding fingerprints, text and photographs with one swipe.


Finger, Picture, Records
The reader includes an optical fingerprint scanner that can match the stored fingerprint template with the cardholder's live fingerprint on the spot, preventing identity fraud.
The initial six-month production phase of LISCR's implementation, which began earlier this year, will cover 2,000 seafarers around the globe. It will be used to ensure the smooth operation of the data collection, design, printing and identity verification processes associated with the new ID card. LISCR expects to introduce the card system-wide after the six-month testing period. Possible future enhancements include the addition of information on special seafarer's qualifications on the card.
"Given our size and the rising concerns about maritime security in today's terrorist-conscious environment, we decided to take a leadership role on the security issue by demonstrating the benefits of biometrics for identity verification," says Scott Bergeron, LISCR's chief operating officer for maritime services. "It is our hope that this card will become an industry standard for identifying seafarers from all registries and eventually serve as a kind of passport that can be carried at all times, both for identification purposes and as a certification of the seaman's competency."
LISCR selected Datastrip's technology in part because it has been recognized by the International Civil Aviation Organization (ICAO) for use on machine-readable travel documents such as passports and visas. This will help ensure consistency within the transportation industry as a whole.
Other factors in LISCR's decision to use the technology included a production cost of less than $1 per card, the ability of the reader to function in standalone mode without connection to a computer network and an open architecture that will permit interchangeability with other biometric standards that may be established in the future by the International Maritime Organization (IMO) or the International Labor Organization (ILO).
Card printing and supplementary project management comes from Datacard Group of Minneapolis, Minn. Datacard's ID Works platform will be used to produce the cards.