While most buyers view security integration in terms of software or the blending together of different types of electronic systems, some other approaches mix low-tech solutions to protect life safety systems.
For example, at learning facilities across the nation, security and life safety systems have become as commonplace as required curriculum. In many cases, schools and universities are adding another dimension to security by protecting this equipment as well from vandalism and other acts that might cause false fire alarms.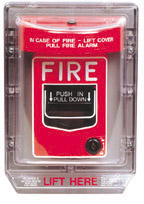 Cutting False Alarms
Verifying alarms, regular maintenance, user-education and devices to protect equipment continue to make headway in alleviating false alarms.
False fire alarms are not a new malady. However, in these days of heightened security at schools, false alarms have themselves are part of a "zero tolerance" attitude. Years ago, George Taylor, founder of Safety Technology International Inc. (STI-USA), Waterford, Mich., invented the Stopper Pull Station Protector at the urging of an alarm company owner who was having problems with false fire alarms and feared possible disconnection by authorities. The product has evolved into the Stopper II Pull Station Protector. The firm now has devices to protect fire, life safety and security-related equipment.
There's also a fast-growing "second language" market for such devices, too. STI, for instance, showed Spanish language devices at the July 2001 Americas' Security Expo in Miami. That event draws security and life safety officials from many Central and South American countries.
"It's a patented device that has been helping stop false fire alarms for more than 20 years," says Lori Lynn Taylor, vice president, STI-USA. The protective shielding has made its mark as a false alarm tool, she says. Simple but effective, the unit has a tamper-proof polycarbonate shield and frame that fits over manual fire alarm pull stations with little installation.
For learning institutions, the Stopper II has been instrumental in what ultimately can be loss of time and money to false alarms - both to schools and responding authorities. Such incidents often can also lead to disruptions and rumors that can adversely affect a safe learning environment.
"The Stopper II is a deterrent from false fire alarms and potentially a lifesaver," says Taylor. "Public facilities find the Stopper II an inexpensive cure for false alarms," she says.


Keeping Schools Safe
Schools are taking positive steps to keep false fire alarms at bay.
"At the present time, we have about 100 Stopper II units in service and they have reduced the amount of false alarm activations," says Philip A. Gargano, Fire Safety Inspector, Kean University, Union, N.J. "We have also used Weather Stopper II units to extend the life of pull stations in our pool areas," he adds.
Keeping facilities safe and free from false alarms and hefty fees takes precedence. Says Ernest Sawyer, assistant principal, Salem High School, Virginia Beach, Va., "We averaged at least one false fire alarm each month. Since installing the Stopper II, we haven't had one false alarm."
Because the unit sounds a piercing 120dB or 85dB warning horn when lifted to gain access to the signaling device, it directs attention quickly to the site. "We have eliminated false alarms in the high school. The sound allows for immediate response," says Chip Antonelli, principal, George F. Baker (Tuxedo) High School, Tuxedo Park, N.Y.
The STI line has expanded to include protection for many other products: ADA-applicable multi-purpose push-button units, covers for access control and biometric readers and other devices that protect smoke detectors to fire extinguishers.