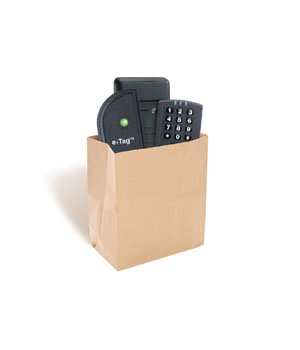 Would you like fries with that? One swipe of a Mobil SpeedPass tag, for instance, and you can pay for gas and your next meal at McDonalds. You see its use more and more. RFID technology has been taken to the next level; with applications and advancements ever increasing, the future looks bright for radio frequency identification (RFID). Retail giant Wal-Mart is piloting RFID tags at its stores and plans to introduce the asset tracking technology into the UK shortly. Radio frequency identification (RFID) is an advanced automatic identification technology used to identify, track, sort and detect an infinite variety of objects, including people, vehicles and objects, thus making it multi-functional. "The performance of RFID has grown so that you can grow beyond your core applications," says Doug Karp, senior director for operations and business development, RFID products group, Checkpoint Systems, Thorofare, N.J. "You'll see RFID in new applications beyond basic access control."
Why RFID?
"RFID is certainly a technology that can help solve some of the issues that homeland security is facing. RFID offers the ability to passively read and get data that you couldn't get before. For example, with today's technologies, if you have a package coming in through customs and you want to know what is in it quickly, you would have to open the package, count items, read barcodes and scan. With RFID, in theory, you can keep that package closed. Because everything would be tagged inside it, you could pass it through a tunnel or a reader of some sort and read what is inside that package. Also, you can read multiple items at the same time," offers Karp. RFID benefits the end user, especially in access control situations, similarly to other automatic identification technologies in that it reduces the need to manually collect data. The system consists of two major components—the reader and the card/tag. RFID relies on radio frequency waves between a card or tag and a reader in order to make an identification. While RFID has its advantages, the technology will continue to flex its muscles in areas of memory capacity, read area reach and processing speed. The read/write capability of an active RFID system is also a significant advantage in interactive applications. Although currently it is a more expensive technology than, say, bar code, RFID has become a mainstay for facilitating data collection and ID applications. Also, "Integration of RFID systems is relatively painless. And there is a huge expense for changing mag stripe readers when they wear out. With contactless, there is never a fee because there are no moving parts. If an end user wanted to buy RFID system, they could have it up and running as soon as the systems integrator could physically integrate the system," says Jeremy Wyant, RFID product manager, NTRU, Burlington Mass.
Another important benefit of RFID is the read/write capability of the tag in asset tracking, meaning new information can be added to asset tags. The whole history of a product will be available at your fingertips, allowing the benefits of RFID asset tracking to extend into areas like service and warranty tracking and automatic product returns. It is unlikely that the technology will ultimately replace barcode—the integrated circuit in an RF tag will never be as cost-effective as a barcode label.


It Makes Sense
Because RFID is a contactless technology, it requires neither contact with a reader—magnetic stripe technology—or a direct line of sight to a reader—bar code technology. RFID, therefore, reduces the problems associated with contact or line-of-sight technologies. The reader emits a low-level radio frequency magnetic field that energizes the tag. The tag then sends back identification data stored in its integrated circuit (IC). This data is decoded by the reader, which either grants or refuses accessibility depending on whether the identification data being sent matches user information stored in the host database. "We tend to think it is better to keep less information on the card and more information in your software database because that gives you more protection," says Karp.
However, since RFID is an ever-emerging technology, it does not enjoy the depth in product offering found with the other older technologies like bar coding or electronic article surveillance (EAS). According to AIM and its Association for Automatic Identification and Data Capture Technologies, Pittsburgh, Penn., "RFID will continue to grow in its established niches where barcode or other optical technologies are not effective. If some standards commonality is achieved—whereby RFID equipment from different manufacturers can be used interchangeably—the market will very likely grow exponentially. It is uncertain whether RFID will cost cut and ultimately replace other methods of technology, such as bar coding. But it is quickly making strides, as evidenced by some of the major players creating better RFID systems."
RFID tags are distinguished either as passive or active. Active tags have a battery in the tag and it acts as a transmitter. If you need long ranges, you put a battery in the tag. An active tag gets its energy from a battery and then can transmit a signal over longer ranges. Also, AIM reports, "Passive tags don't have a battery, whereby getting its energy from the reader. RFID systems are also distinguished by their frequency ranges. Low-frequency (30 KHz to 500 KHz) systems have short reading ranges and relatively cheaper in price. They are most commonly used in security access, asset tracking, and animal identification applications. High-frequency (850 MHz to 950 MHz and 2.4 GHz to 2.5 GHz) systems, offering long read ranges (greater than 90 feet) and high reading speeds, are used for such applications as railroad car tracking and automated toll collection. However, the higher performance of high-frequency RFID systems are more expensive."
And, "Interest in higher levels of security and stronger meth-ods of authentication increased due to the events of the last year, particularly in government agencies and corporations. These entities often have multiple sites, use systems of different types or ages and have implemented a photo ID policy," says Debra Spitler, vice president of marketing, ASSA ABLOY Identification Technology Group (ITG). HID Corporation's iCLASS, a 13.56 MHz, read/write, contactless smart card technology, enables employees to use a single card for multiple applications including access control, IT secure authentication, cashless vending and health record storage. By incorporating multiple technologies into one card, users have the ability to leverage their existing investment in various systems. In addition, the ability to store a biometric template on a contactless smart card is a significant technological advancement that has seen increasing interest since 9/11/01. HID has teamed up with Bioscrypt, Sherman Oaks, Calif., in the development of the V-Smart iCLASS to ensure that traditional access control customers can use a biometric product that offers one-to-one biometric template authentication and user convenience. These two features support the markets' requirement for fast throughput and individual privacy. The dual template enhancement solves the occasional inconvenience caused by a dirty or injured finger, or even a bandage, because each participant can use either of the two fingers enrolled in the system. V-Smart iCLASS, a two-in-one reader solution, supports dual fingerprint templates and multiple application contactless smart cards. At the current time, Bioscrypt has integrated iCLASS technology into a biometric fingerprint reader, and Recognition Systems, Camarillo, Calif., has integrated iCLASS into a hand geometry reader. The system can be easily integrated with other technologies. The iCLASS enables customers to upgrade existing proximity or mag stripe systems over time. In some cases, customers may use proximity/mag stripe technology in an existing building and use iCLASS technology in a new building.


It's in the Cards
RFID ubiquity will create a forum for counterfeiters and criminals. If there is no mechanism to ensure that transmitted information has not been tampered with, hackers could easily change it. Manufacturers need to ensure that their RFID application is part of a trusted environment by guaranteeing confidentiality, authentication, integrity and non-repudiation. Such a guarantee is possible with the integration of a PKI (public key infrastructure). NTRU, Burlington, Mass., is a cryptography provider of technology that can provide this level of security for RFID. As RFID applications proliferate, and more high-value transactions are performed using these applications, the need for powerful security increases. NTRU provides security services tailored to meet the robust requirements of RFID and contactless applications, including a cost effective token and reader technology.With NTRUSign, RFID applications benefit from authentication capabilities, which ensure that the tag, reader and/or system component is who or what they claim to be and that the transmitted data have not been altered. NTRU technology also provides for confidential transaction and new audit capabilities that create digitally signed records of each and every transaction. NTRU develops powerful, fast security that, due to its small footprint, is uniquely suited to secure space-constrained environments such as contactless smart cards, radio frequency identification tags and wireless devices. NTRU shares in the vision of enabling an interoperable platform for the delivery of next-generation products and services based on smart card technology, offers Michael Yaffe, senior communications manager, NTRU.
All RF data transmission between the card and reader is encrypted using a secure algorithm. By using industry standard encryption techniques, HID's iCLASS, for example, reduces the risk of compromised data or duplicated cards. Access to data stored on the cards is protected by 64-bit keys, which can be further customized by the end-user with an iCLASS programmer. Even if the unauthorized person obtains an iCLASS reader, without the keys, the reader will not authenticate with the card and data will not be transmitted. For even higher security, card data may also be protected with DES or triple DES encryption. With iCLASS, the transaction between the card and reader can not be sniffed.


On the Market
End users in various vertical markets are looking for every advantage they can get as a result of last year's terrorist attacks. At the recently held Airport Security Expo in Las Vegas, Applied Digital Solutions and its VeriChip Corporation featured its VeriPass and VeriTag. These new applications will allow airport and port security personnel to link a VeriChip subscriber to his or her luggage—both during check-in and on the airplane—flight manifest logs and airline or law enforcement software databases.
Commenting on VeriChip's participation in the Airport Security Expo, Scott R. Silverman, president of Applied Digital Solutions, says, "VeriChip can assist in assuring the public that only authorized personnel gain access to certain sensitive areas of airports and even the cockpits of airplanes. Since VeriChip's personal verification technology can't be lost, stolen, tampered with, misplaced or counterfeited, its secure personal verification system should be incorporated into our national airport security initiatives." VeriChip is a miniaturized radio frequency identification device that can be used in a variety of security applications. About the size of a grain of rice, each VeriChip product contains a unique verification number and will be available in several formats, some of which will be insertable under the skin, which, by the way, is in the works to track a patient's medical status.
In the security field, the company is actively developing applications for VeriChip in a variety of security, defense, homeland security and secure-access applications.
These opportunities include using VeriChip to control authorized access to government installations and private-sector buildings, nuclear power plants, national research laboratories, correctional facilities and sensitive transportation resources. VeriChip can enhance airport security, airline security, cruise ship security, intelligent transportation and port congestion management. In these markets, VeriChip could function as a stand-alone, tamper-proof personal verification technology or it could operate in conjunction with other security technologies such as standard ID badges and advanced biometric devices.
Frost & Sullivan reports that by 2006, 80 percent of the access control market will be RFID-based. With over
180 million RFID tags deployed worldwide and approximately six million Exxon/Mobil Speedpass users, Texas Instruments Radio Frequency Identification Systems (TI-RFid), Dallas, Tex., is making a huge splash in the industry with its line of 13.56 MHz reader and card security systems for access control. TI's vicinity cards and S6400 reader series bring a new level of security to the market with 2000-bit programmable memory, unique and secure identification, at a cost comparable to traditional proximity cards. TI-RFid 13.56 MHz access control cards and readers are compliant with the ISO 15693 vicinity card standard offering security and access control providers increased security and authentication, at-the-door read-write programmability, interoperability across all suppliers and applications and multiple card reading capability. "As a pioneer in 13.56 MHz technology, TI has deployed more than 180 million tags worldwide in a range of RFID applications," said Bill Allen, eMarketing manager, Texas Instruments RFid Systems. "We're now bringing our wealth of experience to the security and access control industry."
TI-RFid's line of cards and badges provide factory-programmed ID, which cannot be duplicated, ensuring that no two cards or people are misidentified. With more than 2000 bits of data, the cards hold 50 times more data than traditional 125 kHz solutions. The data is written and stored directly on the card, independent from a host system, allowing employees to carry vital information such as authorization codes, certification or emergency medical histories. TI's cards also provide the capacity for stronger encrypted security and the data capacity to use the ID cards beyond just facility access for other solutions, such as biometrics and wireless financial transactions.
Secura Key, Chatsworth, Calif., has a new generation of high frequency 13.56 MHz readers for use with access control systems. These new e*TagT proximity readers work with a variety of contactless smart cards and key fobs that meet ISO 15693 and ISO 14443 A/B standards.
Communicating 100 times faster than traditional 125 KHz proximity readers, e*TagT offers multiple card reads, read/write applications, custom card encoding and many other benefits. Designed to work with Tag-It transponders from Texas Instruments, e*Tag units can read multiple transponders in a field.
In full deployment, AXCESS RFID technology provides security features ranging from facial verification, badge-controlled access to facilities or areas within facilities, asset monitoring, and video surveillance with analytical capabilities. AXCESS manufactures RFID tags that will signal an alarm if tagged assets are removed from designated areas and will track their movements throughout a facility.
Checkpoint Systems, Thorofare, N.J., offers an entire family of RFID products, including low-cost 13.56 MHz tags with read-only or read-write capability, which offer significant capacity in a variety of tag configurations, readers designed to maximize read range for both fixed and portable applications and open architecture application programming interface (API) software for integration with existing systems.
Zebra Technologies offers the Zebra R402 RFID smart label printer/encoder, a tool for both printing and programming 13.56 MHz smart labels, tickets and tags. This printer/encoder delivers the enhanced tracking, inventory management and authenticating benefits of radio frequency identification (RFID) technology.
"The RF402 can print bar codes, human-readable text, and graphics on the label surface. It also can read, encode and verify information programmed to the ultra-thin RFID transponder embedded inside the label," says Matt Ream, Zebra's senior product manager for RFID systems.