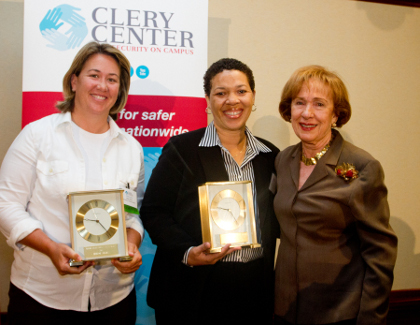 Officer Allison Jacobs and Lisa Campbell (right and center, respectively) accept their Jeanne Clery Campus Safety Awards from Connie Clery, Jeanne's mother and driving force behind the Clery Act. Photo credit: Ben Zweig/DC Event Photo
As the Clery Center for Security on Campus reaches the milestone of its 25th year, its officials are pushing even further to induce change and persistence in the secondary education field.
At the Clery Center's "Proceeding in Partnership, 25th Anniversary Event" on Friday, October 5, a variety of speakers and presentations were available for university end users to learn from, and themes were varied enough that everyone had something tailored to their department's current interest.  
"It was amazing to see so many dedicated professionals from diverse backgrounds in one room discussing and learning about current challenges and best practices in the fields of campus safety and higher education," says Abigail Boyer, Director of Communications and Outreach at the Clery Center for Security On Campus. "We're grateful for the opportunity to have hosted this event and for the support we've received over the past 25 years as an organization."
One of the key events was the Jeanne Clery Campus Safety Award Presentation, at which the awards were given to Allison Jacobs and Lisa Campbell who, in 2009, were respectively a police officer and a special events manager at the University of California, Berkeley, when Phillip Garrido arrived asking about hosting an event, with two young girls in tow.
Their intuition that something was "off" about Garrido, combined with some quick background checking and follow-ups, lead to the discovery and rescue of Jaycee Lee Dugard – who had been abducted by Garrido at age 11 and held hostage for 18 years. 
After being given the award, Jacobs spoke about her story – the interview with Garrido and his odd children, whose answers seemed rehearsed, and the various pitfalls of law enforcement and parole agents that led to Dugard's continued imprisonment up until that point.
Through a series of photos and video taken from the Garrido home, she reinforced the need to ask questions, not to become complacent or pass on tricky or odd cases. She showed myriad images that would clue a determined parole agent in to the fact that there were children around, when the only people supposed to be living at the residence were Garrido, his wife and his bed-ridden mother.
Jacobs also stressed that departments – security or law enforcement – should continue to back their officers instead of settling every complaint in court, adding that agents become too concerned about the "customer service aspect" of security, as well as the threat of litigation, that they forget the actual security and investigation aspects.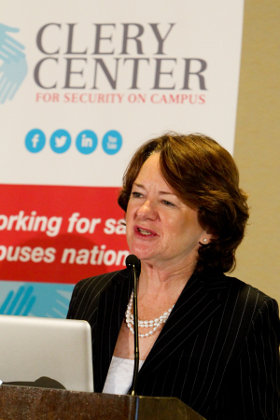 Acting Assistant Attorney General Mary Lou Leary speaks at the Clery Center 25th Anniversary Event about how the Clery Act has changed the academic world's view and reaction to sexual violence on campus. Photo credit: Ben Zweig/DC Event Photo
Breakout sessions provided the bulk of the one-day conference's information, as the several-hundred attendees sorted themselves out between presentations on threat assessments, college drinking problems, campus stalking investigations and reporting problems in campus peer sexual violence.
Personally, I popped in for the breakout session on "Threat Assessment and Management: What Campus Leaders Need to Know" with Major E.R. (Gene) Deisinger, Deputy Chief and Director, Threat Management Services, Virginia Tech Police Department. Deisinger is a licensed psychologist, a certified health service provider in psychology and a certified law enforcement officer.
Now, Virginia Tech is one of the top schools that comes to mind when talking about security, and not always for the best reasons. In 2007, student Seung Hui Cho killed 32 people on the campus, taking advantage of gaps in the university's access control and mass notification protocols to go on his rampage before killing himself.
The university has taken great steps to fill those gaps recently, spending upwards of $48.2 million to repair the damage to both the school and the community. But after the school's 2007 wake-up call, Deisinger is working to improve the risk management protocols in the school – working with the entire community to protect its cornerstone: Virginia Tech.
One of Deisinger's early statements warns against proclaimed "silver bullets" for risk management: "Community problems require community intervention," he says. "You have to utilize multiple and varied answers to these problems, using multiple departments for the best effect."
According to Deisinger, the four critical components of threat assessments on campus are:
Communication
Collaboration
Coordination
Capitalization
When all four of these are in effect, there can be no one "risk assessment department," he says. The entire campus becomes the threat assessment team.
Deisinger warned against putting risk management into silos – or, as one university client called them, "cylinders of excellence" – because they conflict with all of those key components. Everyone – from security to upper management to the deans to the janitorial staff should be involved in detecting threats and keeping campuses safe.
The "it's probably nothing, but…" call is something that university, and even enterprise, security practitioners need to encourage, he says. Each one of those calls – often inspired by the same uneasy feeling that tipped Officer Jacobs onto the trail of Phillip Garrido – could lead to a life-saving discovery. Even if 99.9 percent of those calls result in nothing, Deisinger says, catching that .1 percent will save your organization life, reputation and money in the long run.
He also recommended that, because of what are essentially high turnover rates on college campuses, teachers and staff are continually trained in intervention and threat detection – teaching them, practically, how to manage their classroom.
For example, in March of 2012, a student at Florida Atlantic University had a violent outburst during a class discussion on evolution – going on a verbal tirade against the teacher and her fellow students before hitting a technician who attempted to intervene. In the multiple cellphone videos from students at the lecture, the teacher is at a loss as to how to stop the situation. Would training help?
The second breakout session drew me to a discussion on how security executives and directors can leverage a "total campus approach" for compliance and safety.
Hosted by Berkly Trumbo, CRSP, National Business Manager for Siemens Industry, Inc., the session focused on how design challenges and compliance drivers can be met and overcome by keeping a broad vision of campus security – focusing on the whole instead of the parts.
One example Trumbo used is that of an air conditioning system alerting an officer that a science lab's temperature suddenly dropped 10 degrees. Now, that could be because of some faulty equipment, but it could also be a sign of a broken window or a theft in progress. By then locating the nearest officer with the correct equipment and training to confront a possible thief, the dispatcher can use all of that peripheral information – what room, what equipment is valuable, etc – to instruct the officer and possibly stop a crime.
 By linking multiple campus systems together, without even adding anything, security directors can bring more value to an organization's preexisting security program.
However, Trumbo says, if adding more equipment is in your budget, go about it logically – there are ways of charting how much coverage you have indoors and outdoors, with what equipment. The goal, he says, is to have each side as close to 100 percent coverage as possible, especially with mass notification capabilities.
Overall, the programming was varied and interesting, and viewers left Washington DC with many new action points to implement on their own campuses – from a stronger understanding of Clery Act compliance to a plan for a total campus approach to how best to address campus peer sexual violence.
But one of the key takeaways was awareness – are you aware of what happens every day on your campus? Are you aware of what laws you must comply with? Are you aware of what confidentiality you can offer victims? Are you aware of how much control your teachers have over their classrooms? Are you aware of what crime is being committed, and were you aware that you could stop it?
This is one of the key goals of the Clery Center – demanding awareness of university security officials, and demanding that they share their awareness with students, parents and the community.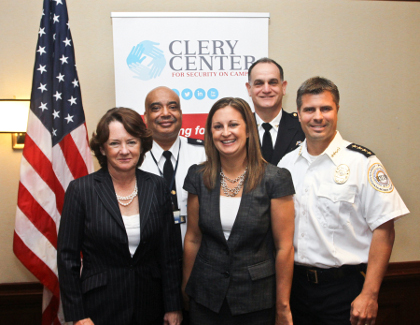 Counter-clockwise from front left: Acting Attorney General for the Office of Justice Programs General Mary Lou Leary; Alison Kiss, Executive Director, Clery Center; Director of Public Safety Theodore Baran, Gallaudet University; Chief of Police Jay Gruber, Georgetown University; and Deputy Police Chief Alonzo Joy, Howard University. Photo credit: Ben Zweig/DC Event Photo