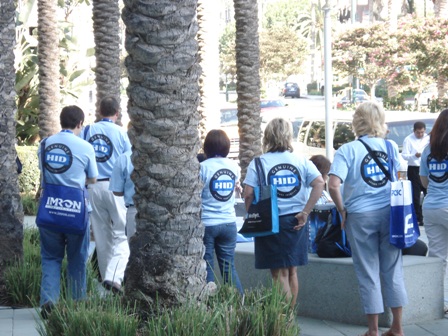 As reported by Heather Klotz, SDM Associate Editor: It isn't very often that a company point blank asks its customers – all around the world – all at once – what they want. HID Global, Irvine, Calif., is doing just that with its "Customers Come 1st" promotion and the "I Want" advertising campaign that it is launching here at ASIS, asking its customers around the world to submit their ideas for any new products, features or services they would like to see in security identity solutions.
Customers are encouraged to submit those ideas, either write or video format, now through Dec. 31, 2009. After that, all the submissions will be uploaded to www.hidglobal.com/customers1st and Web site visitors will cast their votes for their favorite submission. The customer entries with the most votes will be featured in HID Global's next wave of the "I Want" global advertising campaign in 2010, which highlights the voice of HID Global customers, what they would like to see in secure identity solutions and HID Global's response to their request. That's a lot of exposure for a customer's idea and company, and an opportunity for HID Global to discover what its customers really want.
HID Global is giving its customers the chance to submit ideas here at ASIS. As part of the launch, members of HID Global's marketing team will be on hand to help turn customers' ideas into videos, and the first 250 customers who enter a submission at the show will receive a t-shirt and be entered into a random drawing to win a pair of VIP box seat tickets to the Los Angeles Angels vs. New York Yankees games on September 21 and 22.
"HID Global is trying to deliver more value then ever to its customers," June Colagreco, vice president, marketing communications, HID Global, said. "This program will let us hear the real voices of our customers and find out what issues they are facing today and how we can help them. We'll get to hear how we can add value to the infrastructure that customers already have today and provide them with the tools and products that are going to help them be successful."
To learn more about HID Global's "Customers Come 1st" promotion or to submit your own ideas for the "I Want" advertising campaign, head to the ASIS booth. If you don't get a chance to visit the booth, you can visit www.hidglobal.com/customers1st. Submissions can be entered online now through Dec. 31, 2009.
The launch of both the "Customers Come 1rt" promotion and "I Want" advertising campaign are natural extensions of HID Global's "Customer First" initiative and Genuine HID, which both have a joint mission to enhance customer value by delivering superior quality and customer service that reinforce the long-standing customer trust in HID products and solutions.