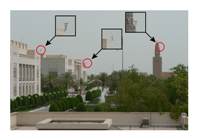 The Seif Palace is a focal point of Kuwait City and it is seen as an integral part of Kuwait's history and progress. It is the official palace of the State of Kuwait, with the reigning monarch's headquarters, the Crown Prince, the Prime Minister and government offices.
The old building was built in 1896 and extended during the years and it is an exquisite example of Islamic architecture, with original Islamic mosaic tileworks. The old Palace was severely damaged during the Gulf War. The overall area of the palace is 450.000sqm including a dock for the yachts, a landing field for the helicopters and an artificial lake.
The security installation company COMTEC SYSTEMS (www.comtec-kuwait.com) has deployed a total of 52 ULISSE P&T systems from VIDEOTEC to assure 360° coverage of the Seif Palace sensitive outdoor areas.
ULISSE has been chosen for the proven reliability to withstands, in a round-the-clock duty, the harshest environmental conditions of strong dusty and sandy wind and very high temperatures (over 50°C). This advanced positioning conception integrates a high performance P&T head with a camera housing and a telemetry receiver. ULISSE has huge advantages over both speed dome and pan and tilt heads, with true high speed (100°/sec pan, 40°/sec tilt) continuous rotation and accuracy of 0.02°, autopan and patrol sequences, outperforming PTZ technology with the ability to look above the horizon. For the Seif Palace, the ULISSE units carry a built-in wiper and a washer pump to ensure the perfect vision even in the windy days.
The operators can easily remotely control all ULISSE P&T units from the control room, where about 300 cameras are under control. 
Nicola Risi, area sales manager of Videotec comments: "Considering the significance and value of the Seif Palace, this is a very prestigious supply for Videotec and we are honoured and more than pleased that the local authorities have expressed their satisfaction with the functionality of the system! ULISSE proves to be one of the most successful Videotec products for its exceptional features, flexibility and strong construction."
The Italian manufacturer VIDEOTEC, with over than twenty years of field proven experience, offers a comprehensive portfolio of cctv systems, that mix technology innovation and design to deliver unrivalled performance.
For further information please visit www.videotec.com or contact: