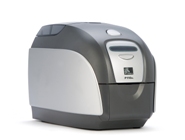 It's emphasis on lower of ownership from Zebra Technologies. Its Zebra P110m is for affordable, monochrome-only card printing applications. The P110m provides high reliability, along with advanced electronics -- the only printer in its class to offer comprehensive printer status and diagnostic messaging via a built-in LCD screen.
The newest addition to Zebra's Value Class line, the P110m is a direct, single-sided thermal printer ideally-suited for a wide variety of industries, including financial services, retail, hospitality, education and transportation. Easy-to-use, durable and compact, it offers a lower total cost of ownership and higher return on investment for customers with smaller-volume card printing requirements.
"For smaller or remote field organizations, the P110m provides a cost-effective and truly versatile printing solution for creating personalized credit, membership and loyalty cards on either blank or pre-printed stock," said Ram Ramaprasad, director of product management for Zebra Card Printer Solutions. "Organizations can also instantly and cost-effectively integrate cards with a wide variety of supporting access control applications for enhanced security."
The new USB-ready printer offers several optional features such as magnetic stripe encoding and Ethernet connectivity so that organizations can deploy and manage card printers on an enterprise-wide basis. It also offers the following ease-of-use features:
• Load-N-Go ribbon cartridge with integrated cleaning roller
• Intuitive design simplifies set-up and reduces training costs
• LCD screen provides printer status and error messaging
• Translucent card cover allows you to see when card supply is running low
• Simple printhead replacement – no tools required
The Zebra P110m is available through authorized Zebra card printer resellers and distributors worldwide and offers a two-year warranty. In the U.S., the manufacturer's suggested retail price is $1,795.
For further information, visit http://www.zebracard.com/id/card/na/en/index/products/card_printers/value_card_printers/p110m.html