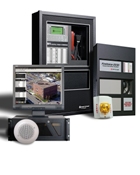 Zalud's Blog hears that Notifier's NFS-320 intelligent fire alarm control panel is UL 864 Ninth Edition listed, meeting the extensive revision to the existing standard covering fire alarm control panels, sprinklers, and extinguishers.
Part of NOTIFIER's ONYX® Series of intelligent fire alarm control panels, the NFS-320 offers all the sophistication and premier performance synonymous with the ONYX Series…but on a smaller scale.
The NFS-320 is ideal for small commercial buildings, restaurants, strip malls, and standalone retail facilities. It supports up to 318 intelligent devices (159 sensors/159 modules) on one Signaling Line Circuit (SLC), and has four Notification Appliance Circuits (NACs) with built in synchronization protocol for System Sensor, Wheelock, and Gentex horns and horn/strobes.
The NFS-320 also features NOTIFIER's patented FlashScan® intelligent device polling protocol, which exceeds worldwide code requirements for response time. This, combined with ONYX Intelligent Sensing technology – an integral part of all ONYX Series panels – ensures a faster response to smoke and heat conditions while substantially reducing nuisance alarms.