"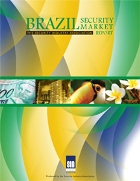 After several years of fiscal struggle and infrastructure development, Brazil has emerged as one of the most rapidly growing and attractive business environments in the world. The economy is growing at a steady pace, interest rates are declining, and infrastructure is being upgraded to meet the demand of industrial growth. Since 1994, Brazil's economy has gradually stabilized under the "Plan Real" with guidance from the World Bank and International Monetary Fund. In addition, energy and telecommunications industries have been deregulated leading to explosive growth in those and other industries. The Security Industry Association sees abundant opportunity in the Brazilian market for electronic security companies.
In its recent publication The SIA Brazil Security Market Report, the Security Industry Association provides an instruction manual for security companies who want to enter this market. The report opens with a thorough examination of the Brazilian economy, infrastructure and telecommunications systems that support industry in Brazil. In straightforward language, the report paints a realistic picture of the business environment, even issuing a caveat concerning energy supplies. Although there is an oversupply of power now, the report predicts that demand will outstrip supply by 2010 if the government does not invest in the diversification of the power matrix.
SIA's report offers a road map through the sometimes difficult process of starting a business. Legal regulations and labor legislation are outlined, including employee-employer relations. The processes required for foreign direct investment are examined in-depth, including how to register property, obtain credit, and enforce contracts. Tax rates are given on a state-by-state basis and contact information for government entities are also presented. Concentrating on the growing electronic security industry, the report attempts to give the underlying information needed to succeed in the Brazilian market.
Since 1995, in an effort to encourage foreign investment, foreign investors and foreign capital have been considered equal to Brazil's. Industries such as telecommunications, mining, transportation, and petroleum have been opened to foreign investors. Foreign nationals are permitted to purchase land in Brazil. (Land purchases near the borders require special registration.) However, foreign investors are required to register with the Brazilian Central Bank within 30 days of their initial investment and investments involving royalties and technology transfer must be registered with the National Institute of Industry Property. Because of these measures, foreign direct investment (FDI) in Brazil has increased to US$15.5 billion in 2005 and US$20.0 billion in 2006. FDI is expected to continue to increase by 10 percent in 2007, and by 9.5 percent per year through 2009.
The electronic security industry has also benefited from the influx of FDI as foreign companies such as Honeywell, Siemens, Johnson Controls and HID Global claim notable shares of the market for electronic security in Brazil. In fact, multinational companies have a greater presence than local ones, as electronic security equipment requires technologically advanced components typically not manufactured in Brazil.
With a current cumulative average growth rate estimated at 16.2 percent through 2012, the demand for electronic physical security products is growing at more than twice the rate of GDP. The rapid growth of the electronic security market in Brazil has led to a highly complex and fragmented value chain, with a large number of participants. There are currently over 100 equipment manufacturers and a wide range of distributors and integrators.
http://www.usitoday.com/article_view.asp?ArticleID=we49
"