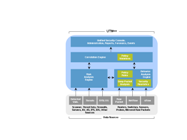 Global DataGuard, the premier provider of Enterprise Unified Threat Management today launched its flagship security solution for Enterprise Unified Threat Management – the Enterprise UTM++. The cornerstone of the company's ground-breaking family of Enterprise UTM security products, the Enterprise UTM++ delivers the industry's most comprehensive, fully integrated suite of security applications that can be managed from a single console. 
These industry-proven applications, which can be mixed and matched to meet a user's specific security needs, include network behavioral analysis and correlation; vulnerability management; global event and threat management; intrusion detection and prevention; firewall and log management; network access monitoring and control; and third-party integration, along with managed or co-managed security services, based on a company's IT staffing requirements. The Enterprise UTM++ solution provides superior performance, operational ease-of-use and up to a 60% reduction in total cost of ownership over traditional UTM solutions or stand-alone, signature-based products.
"The combination of features and scalability of the solution are critical factors to consider when looking at a UTM solution," stated Robert Ayoub, Network Security Industry Manager for Frost & Sullivan's Information & Communication Technologies Practice. "Frost & Sullivan believes that the integration and management capabilities provided by Global DataGuard are unique to the market, and that the company offers a solution that is well positioned to address the growing needs of organizations in LME, SME, and SMB markets."
 "Our Enterprise UTM++ solution expands the current definition of unified threat management to address a multitude of industry needs, including true integration of security applications; architectural extensibility and scalability; and flexible managed services that can cost-effectively support any company's IT staffing requirements," noted Dean A. Trumbull, vice president and chief operating officer for Global DataGuard. "Our architectural approach to Enterprise Unified Threat Management truly delivers predictive, adaptive, and fully integrated security features that can work with a company's existing security technology and affordably expand as their network evolves."
Today's Security Technology for Tomorrow's Expanding Network Requirements
Global DataGuard's Enterprise UTM++ product suite utilizes patented behavioral analysis and correlation technology to enable intelligent, adaptive information sharing and correlation of detected threats and alerts with detected vulnerabilities between all security applications and appliances. An industry first, this capability provides organizations with actionable, root-cause information and long-term context to threats, enabling IT departments to obtain early warnings of threats that other products cannot see. With a centralized management console, network administrators have an easy-to-use, instant view of prioritized security threats and the underlying data that created them. 
"We chose to partner with Global DataGuard because their Enterprise UTM++ solution takes a holistic, architectural approach to helping customers seamlessly integrate process, technology, service and reporting," stated Eric Zerrenner, Business Development Officer for Keneisys Corp. "It is this unique methodology with regard to Enterprise security that maps well with the file level audit trail syslog feature within our VSB Secured™ solution and provides customers with unmatched data protection across LME, SME and SMB markets."
In today's market, no other security solution can more effectively predict, prevent and block threats because no other security solution combines these unique features:
·         Use of raw packet data versus log files, providing more data for analysis;
·         Analysis and continued correlation of packet data, IDS/IPS alerts, scans, vendor threats and resources that can be tracked over longer periods of time – rolling 14-30 days for raw packet data; up to six months for alerts; and up to two years for behavioral profiles;
·         A learned intelligence capability that can predict behaviors and track developing threats before they harm critical systems; and
·         The ability to adapt and customize itself to the unique requirements of the network over time – without human intervention.
Predicting and Preventing Network Threats

The Enterprise UTM++ solution integrates a wide range of security technologies that can be mixed-and-matched to leverage a company's existing security infrastructure. Because all of the Enterprise UTM++ security applications are integrated at the architectural level, organizations realize far better performance and service at a substantially reduced cost of ownership. Application modules can be deployed as part of a complete security infrastructure or they can be added incrementally, over time, as business and network requirements change. The Enterprise UTM++ product suite includes the following industry-proven security technologies:
·         Master Control Unit (MCU) – a browser-based monitoring console, signature server, cluster manager, and web server that utilizes plug-and play installation and houses all reports and graphs for the appliance suite;
·         Behavioral Correlation Module (BCM) – provides behavioral analysis and correlation tools that constantly monitor for global attacks and vulnerabilities, as well as detects early threat activity;
·         Vulnerability Scanner Module (VSM) – provides adaptive, ongoing security scans that integrate and correlate with data and alerts from other appliances, as well as provides extensive research capabilities;
·         Intrusion Detection and Prevention Modules (IDS/IPS) – detects unauthorized access and provides automatic alert analysis, correlation, escalation and prioritization; countermeasures for denial-of-service attacks; termination of attack sessions; probe prevention; and enterprise and global threat correlation;
·         Security Dashboard Module (SDM) – provides immediate, single-source access to prioritized threat data from multiple security, network an server sources;
·         Firewall/Syslog Module (FSM) – integrates with the Enterprise UTM++ monitoring console and reports to provide real-time, rules-based syslog analysis for commercial available firewalls and syslog compatible systems, applications and devices;
·         Network Security Zones (NSZ) Module – defines secure boundaries for managing and monitoring information and application access across multiple systems and disciplines; and
·         Security Risk Management (SRM) Managed Security Services™ – provides 24/7 managed or co-managed services – with or without a contract – enabling organizations to cost-effectively allocate internal resources, while outsourcing network security requirements based on demand.
No other security solution available today offers these uniquely integrated features or is as easy to deploy, manage and afford. The Enterprise UTM++ product suite also provides for Payment Card Industry (PCI) Compliance, enabling a company to alleviate the resource-dependent business risk associated with storing, processing and transmitting critical cardholder data as defined by the PCI Data Security Standard.
Availability and Pricing
            The Enterprise UTM++ solution is available immediately. Application modules can be purchased separately. Custom configurations can be designed and priced based on an organization's unique network requirements. Pricing for turnkey managed services starts as low as $1,000 per month.