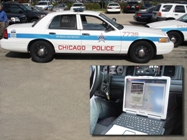 AirVisual, Inc., a leading solution provider for the enterprise security and public-safety market, tells Zalud's Blog it has successfully deployed its IntelliViewer 2.0 software for use by first responders from the Chicago Police Department. The system, purchased and integrated by RMS Technology Solutions, has been added to the existing camera network to give the Chicago PD the ability to deliver pre-recorded and live video and other critical information to computer terminals and mobile devices. The system also gives the CPD the ability to integrate disparate security surveillance systems onto a single emergency response platform, while delivering the information wirelessly to responders over any network and to virtually any mobile device.
"AirVisual is very excited to have the opportunity to partner with RMS and the Chicago Police Department for this deployment of our IntelliViewer System," said Tom Hansen, AirVisual's founder and CEO. "This is a great tool for the distribution and sharing of information amongst first responders and also private security elements to deal with the growing demand for city wide security and public safety. With the ability to share collected visual information on one, peer-to-peer real time platform, it will deliver results because it reduces the time to respond with fewer unknowns."
The IntelliViewer 2.0 system is an open architecture, multi-vendor, IP-based content distribution platform created to deliver live camera and video images and text-based data to desktop and mobile subscribers from a wide-variety of content sources. The platform connects to video sources, access control, RF-ID, sensor networks, and performs adaptive routing, optimization, distribution, and delivery of content based on a rules and permissions based system. The AirVisual Content Delivery Platform accelerates delivery of rich video and supplementary content to mobile subscribers, reduces network traffic, and reduces costs for partner content distributors. The content delivery platform is the foundation of the company's multitude of integrated products and services.
For more information on AirVisual visit www.airvisual.com or call 212-822-8851.