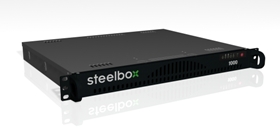 At ASIS -- Steelbox Networks, Inc., makers of network video distribution and storage devices, today announced the availability of the Steelbox 1000, the most powerful, scalable and feature-rich network video recorder (NVR) and distribution solution for mid-market video surveillance applications. Unlike other NVRs, the Steelbox 1000 actively manages the video surveillance infrastructure to protect network bandwidth, optimize storage usage and ensure that video is always available without overwhelming the network.
"We designed the Steelbox 1000 to be a simple, yet powerful, channel-ready solution that is competitively priced," said Richard "Chip" Howes, CEO and Co-founder of Steelbox Networks. "Now mid-market organizations have a powerful, scalable solution that leverages our expertise in large-scale video distribution and storage technologies that is price competitive with DVRs and NVRs."
According to a June 1, 2007 Gartner report entitled 'What Type of Video Surveillance is Right for Your Organization?', co-authors Jeff Vining and John Pescatore noted that comprehensive IP video are becoming more integrated within the existing IT environment, and are placing new demands on the existing network infrastructure. For instance, the streaming of live video is bandwidth-intensive, and it can be too costly to upgrade networks or too difficult to use in situations where there are many users.
"Moving video surveillance to digital systems has many advantages and is inevitable for most enterprises" said John Pescatore, VP, Distinguished Analyst, Gartner. "Businesses need to develop architectures for secure and efficient processing and storage of surveillance data"
Unlike any NVR, the Steelbox 1000 is powered by a real-time operating system designed specifically for packet-level switching of video; enables multicast and unicast simultaneously; and gives customers the ability to unicast multiple streams to multiple users for maximum network flexibility. Other features include:
300 Mbps of throughput supports simultaneous viewing, recording and playback of 100 MPEG4 cameras at 4CIF, 30 frames per second in a single 1U appliance
Steelvault network attached storage options from 1 TB to over 100 TB, automatically addressed as storage capacity grows
Steelbox Studio video management suite for video viewing, system configuration and network monitoring
RTIK operating system provides better resiliency, performance and security with less maintenance and downtime than Windows-based NVRs
Manages video storage by load balancing video recordings across storage mounts and securely isolating cameras and video storage from the rest of the network
Integrates with third-party command and control, access control and video analytic products via web services API.