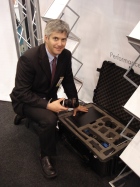 At ISC – Avigilon introduced its High Definition Rapid Deployment Kit (RDK). Delivering unsurpassed imaging performance in a mobile package, the Avigilon RDK is designed to meet the temporary surveillance requirements of law enforcement, federal agents, private investigators and transit authorities who need to monitor special events.
Avigilon's RDK comes complete with a ruggedized case with polyurethane wheels, high definition network video recorder (NVR) and an Ethernet power injector. The Avigilon High Definition RDK can be used with any of Avigilon's multi-megapixel IP cameras making it possible for the first time to monitor, in a temporary application, large fields of view in extreme detail without the requirement of a PTZ operator.
"In the past, temporary surveillance installations have been constrained by the limited image quality of conventional surveillance systems," said Jean-Pierre (JP) Forest, director of security solutions at Avigilon. "Our high definition RDK has full digital PTZ capabilities and when used with our 16 megapixel IP camera allows details to be extracted post incident even from wide fields of view. For the first time, temporary surveillance teams can obtain high definition images equal to our best permanent surveillance systems"
Featuring multi-megapixel IP cameras, ranging in resolution from 16 megapixels to VGA, and high definition NVRs that capture and preserve surveillance evidence using lossless compression, the Avigilon High Definition Surveillance System has been designed end-to-end to ensure maximum imaging performance.