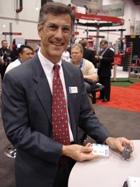 At ASIS -- HID Global, the trusted leader in providing solutions for the delivery of secure identity, today announced the launch of the idBank System, a revolutionary vehicle for the delivery of virtual secure identity credentials. The idBank System enables the delivery of HID Proximity, HID Indala Proximity, CASI Proximity and HID iCLASS® security credential formats to unique forms of radio-frequency technology-enabled tokens. The first form factor to use HID's Virtual Credentials is Privaris' plusIDTM product line of personal biometric identity verification tokens for both physical and logical access. HID's delivery of Virtual Credentials is the first of its kind in the identity and access market.
The idBank system provides users with the ability to emulate HID and other popular access control credential formats using form factors other than the traditional card. Identity information is loaded from the idBank secure container onto a non-standard device during a secure provisioning process using specialized enrollment software. The customer has the ability to generate unique Virtual Credentials, taking identity-driven transactions to a new level of convenience using alternative form factors to a standard card. The idBank system is fully compatible with all HID formats, able to provide true iCLASS security, the ease of Prox, the power of smart cards and the confidence of choosing HID, the worldwide leader in providing solutions for the delivery of secure identity.
"Privaris is pleased to pioneer the use of HID Virtual Credentials in our plusID secure access token," said John Petze, president and CEO of Privaris. "idBank enables the plusID to be used with our customers' installed HID readers, and to provide the increased security of biometric identity verification with the convenience of a simple, rapid deployment."
"By separating the data content of secure identity from physical media, the idBank system represents a technological advancement in allowing the development of new partner solutions based on alternate physical platforms," said Tam Hulusi, executive vice president, HID Global. "Over time, Virtual Credentials will enable the use of HID trusted credentials in a wide variety of form factors for multiple applications." 
idBank is available through both HID Global and Privaris sales channels. plusID is currently available through Privaris sales channels and will be available to a select group of HID partners beginning in late-October.