Training is a fundamental part of a successful security program. From preventing workplace violence to mitigating potentially devastating situations, security teams implement training exercises within their departments and organizations as a whole to bolster security posture and reduce the effects of safety and security hazards.
Security magazine asked enterprise security executives what training has proven most impactful at their organizations in recent years. Security leaders from across the healthcare, infrastructure and telecommunications sectors share trainings that have benefitted their organizations.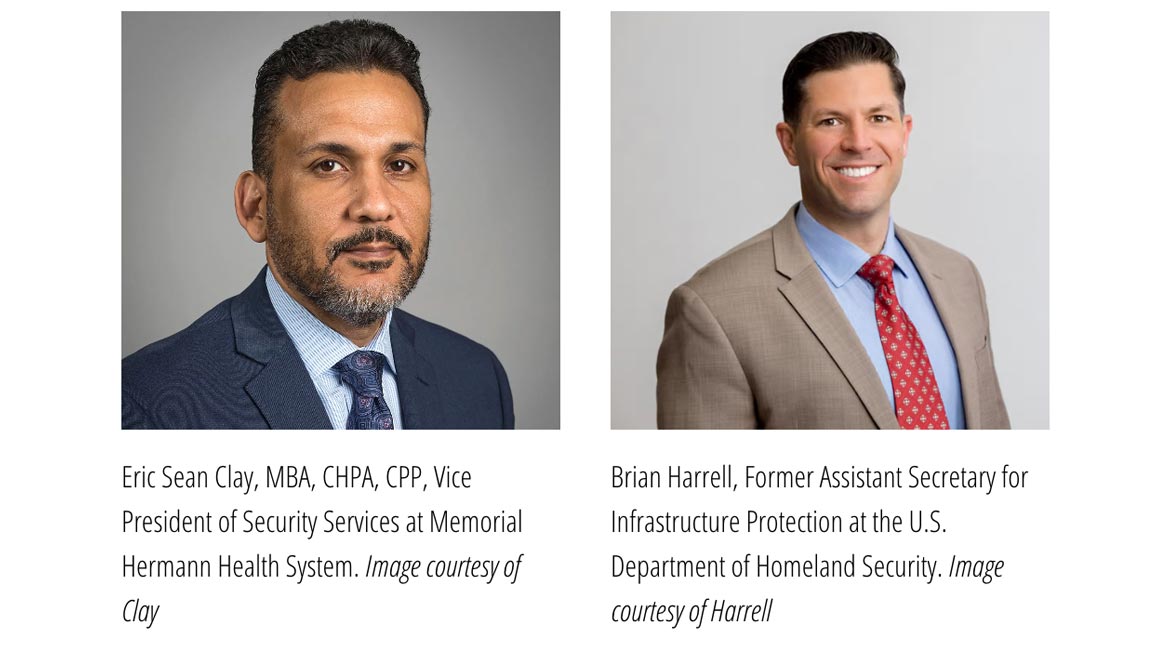 #1: Tabletop Exercises
Brian Harrell, Former Assistant Secretary for Infrastructure Protection at the U.S. Department of Homeland Security, says that utilizing tabletop exercises to prepare for security threats and incident response is "absolutely critical for an organization's success."
By putting incident response plans to the test in a non-emergency setting, security teams can identify gaps in their emergency preparedness. "Whether active shooter, ransomware, suspicious package, or investigating an insider threat, testing your rules, policies and procedures under blue-sky conditions helps make your response more coherent," says Harrell. "While it's sometimes difficult to find the time for a tabletop or full-scale exercise, this training always reveals gaps, concerns and opportunities for improvement that will undoubtedly make your program better."
#2: Virtual Reality-Based Security Training
Alan P. Saquella, CPP, Professor at Embry-Riddle Aeronautical University's College of Business, Security and Intelligence, finds value in a type of security training using cutting-edge technology: virtual reality simulation. Saquella, who has decades of experience as an enterprise security executive at Cox Communications and other companies, says that virtual reality training can help boost physical security awareness for employees. Saquella has seen security teams use virtual reality to equip public-facing employees with the tools they need to handle workplace violence confrontations and other risks.
"Traditional classroom training failed to improve employee safety and response to threatening situations and outsiders," Saquella says of his time at Cox. In response, the security team shifted the training to a virtual reality model. "The programming in the virtual reality training module created realistic and stressful situations that tested our employees' ability to make correct decisions, follow safety protocols and to safely remove themselves from the threat," he says.
Making that shift to virtual reality made a significant difference for employee security awareness, according to Saquella. "The results of the training reflected higher knowledge retention — significantly higher than classroom lecture and web-based training platforms. This is attributed to the fact that virtual reality training touches all learning modalities (visual, auditory, reading/writing and kinesthetic), which is clearly an excellent way to ensure learning is retained. Overall, the training resulted in a reduction of workplace assaults," Saquella says.
#3. Workplace Violence Prevention
Workplace violence prevention training takes many forms, and security teams must be able to effectively evaluate which training is best suited to their organization. Eric Sean Clay, MBA, CHPA, CPP, Vice President of Security Services at Memorial Hermann Health System, calls the Workplace Violence Prevention certification program from the International Association for Healthcare Security and Safety (IAHSS) the most impactful training in which he's participated.
"Workplace violence is one of the greatest threats facing healthcare today, and this course was specifically developed to assist healthcare security leaders by providing them with the knowledge and tools they need to develop, manage and maintain an effective workplace violence prevention program," Clay says.
By looking at and assessing risk from a high-level view, security leaders can gain the knowledge they need to properly mitigate and prevent workplace violence in their organizations. The healthcare sector specifically deals with incidents of workplace violence at an above-average rate. "As 75% of all reported incidents of workplace violence occur in healthcare, it is an important problem for us to solve as it not only affects our employees, but also the entire community," Clay says. "Caregivers cannot provide quality care when they are worried about their personal safety. Additionally, incidents of workplace violence require resources that could be used to care for other patients, leading to increased wait times, higher employee turnover and higher costs."
Clay says the two-day training seminar from IAHSS can help healthcare security leaders strengthen their workplace violence prevention programs. According to Clay, the training program emphasizes "using data and worksite analysis to inform decision-making, increase leadership and stakeholder engagement, and continuously improve a workplace violence prevention program regardless of the organization's size."
#4. Verbal De-Escalation
Jim Sawyer, Security Director at Seattle Children's Hospital, says that verbal de-escalation plays an important role in being prepared for emergencies and preventing violence before it occurs. "The most helpful security training is hands down verbal de-escalation training," he says. "The greatest challenge for security professionals today is the prevention of violence."
By teaching and practicing verbal de-escalation techniques, employees are better prepared to address today's safety and security challenges. "Teaching de-escalation and building cultural awareness and diversity awareness into the security training curriculum is invaluable," Sawyer says. "Gun violence, political polarization, income inequality — these problems are growing by the day. Security professionals must face these realities head-on and adopt the philosophy of 'zero incidents' vs. 'zero tolerance.'"
To respond to modern challenges facing organizations and their employees, leadership must demonstrate "a strong and unwavering commitment to verbal de-escalation training — not just for security staff, which is essential, but for all staff," Sawyer adds. Committing to verbal de-escalation education can help workplaces reach their safety goals by preventing security threats from developing into larger incidents.