As 2022 comes to a close, the guarding sector has faced challenges in hiring and retention like many other parts of the workforce, resulting at times in staffing shortages, along with questions about whether and how much to use artificial intelligence (AI) and/or robotics to help to supplement boots on the ground.
Of course, the pain points of staffing and other challenges come at a time when, with the world reopening as the COVID-19 pandemic wanes, demand for security officers or guards at office buildings, retail centers, events and other highly trafficked locations has been steadily rising — as has the risk of criminal activity and the fear thereof.
"We've seen surging levels of crime — violent and property crime — at sustained levels, while at the same time, we have surging wages and a shortage in the labor market — which we're working through, and hopefully seeing that improve," says Dan Kennedy, Senior Vice President, U.S. Security Operations at Unibail-Rodamco-Westfield (Westfield), which owns two dozen regional shopping centers as part of its U.S. portfolio. "But in the middle of it, we're making sure we have fully staffed, well-trained, well-equipped security teams to get us through this."
The Mayo Clinic, which has faced the impact of the global human resources crisis like every other business, has built a proprietary guarding staff because "we believe in having people who are trained not only in the tactical requirements of the job but also the cultural expectations," says Matt Horace, Chief Security Officer. "Healthcare is so nuanced…. We want people to understand the expectations here — they might be different than in another system, another city or another setting."
Security Hiring and Retention
Brian Neimeyer, Senior Vice President of the retail division at Allied Universal — which has a nationwide contract with Westfield — notes that employers in most sectors have faced recruiting and retention challenges. Allied has doubled its recruitment budget, found ways to get more creative in terms of networking partners (including some nonprofits) and managed to keep Westfield properties fully staffed, he says.
"It has been a challenge," Neimeyer says. "We're seeing turnover rates we haven't seen before. [But] it's getting better. We're beginning to see a shift in the labor market. People are coming back to work. People are wanting to stay. For their part, Dan [Kennedy] and Westfield have made the investment to keep our wages market competitive."
To help alleviate staffing issues, Allied has tapped into a proprietary tool called Hire Smart that reduces the amount of time required from the first interview to the final interview for security officers. The tool uses AI to help screen candidates and determine their applicability for a given job, says Ty Richmond, President of Event Services, Risk Advisory and Consulting Services, and Executive Protection and Intelligence at Allied.
"We're reaching into communities very aggressively to make sure that, because it's a very competitive environment, we're engaging as effectively as we can," he says. "We're using technology tools and platforms that historically have not been used in the uniformed security sector. Hire Smart is an example of that…. It's different from the past, and requires more than traditional face-to-face interviewing. To be competitive and find the kind of applicants you need, focused recruiting and speed-to-hire are key."
The Mayo Clinic has also faced hiring-related issues, including applicants not showing up for interviews or "ghosting" the company, never to be heard from again after being offered the next step in the interview process or even after they've been offered a job, Horace says.
"We understand that's an issue now, with what officer wages are," Horace says. "People are exercising their options to work in other areas or even other fields. Retailers may be paying $22 or $23 an hour as a starting salary. I don't know from a security perspective how anyone competes with those options, unless someone is committed to the organization's mission and the profession as a whole. We've seen, throughout the enterprise, employees leaving for a dollar more an hour in a totally different field. That's an element much larger than the Mayo Clinic."
As a result, the Mayo Clinic has developed more aggressive recruitment programs at colleges and universities, as well as efforts targeting military veterans, Horace says. "Those [new ideas are] working. We're still getting great people," he says. "It takes you longer, and in some cases, you have less people to process." When it comes to retention, he adds, "We need to be engaged more with our people…. We're trying to keep pace [on pay and benefits], being flexible on work hours and shifts, and doing things to keep morale up where possible."
Where hiring lags behind the need, the Mayo Clinic turns to part-time supplemental officers and uses overtime pay, Horace says. "As much as we try to limit overtime, it is operationally necessary," he says. "We haven't had to face a severe shortage in any area." He adds, "I'm not taking this personally. We're going to continue to recruit and provide as many incentives as we can for people to stay and develop."
Atlanta-based global conglomerate Cox Enterprises, which turns to third-party contract guard forces to staff its auto-auction sites and other facilities, has partnered with its contractor to host job fairs on its sites and to boost incentives that will increase retention and minimize the churn, according to Rob Gray, Vice President of Physical Security at Cox. "We're trying to work on what kind of incentives can be offered to new hires to increase retention. One example of what our partners have done to make that individual more well-rounded or more educated has been benefits for tuition reimbursement. We try to work with them on all of those fronts to attract the best applicants we can," Gray says.
Inter-Con Security Systems has been stepping up its game to attract top-level talent during the difficult market of the last couple of years, says Matthew Reeser, Senior Vice President at the firm. "One way would be making sure we offer competitive compensation," he says. Reeser says that other ways the company faces staffing issues are by recognizing performance; focusing on instilling company values in employees; and ensuring that employees understand the value of the services and contributions they are supplying.
Of course, understanding and seeing their value may be easier in a public-facing guarding position versus a remote location such as a data center, where they're protecting a mostly empty building, Reeser says. "We educate them on the importance of the data they are safeguarding and what the impact could be if something bad happened to it — our officers really appreciate that," he says. "They're less likely to leave and more likely to perform at a higher level once they recognize they're part of something truly important."
Staffing challenges in the current market have been, "to a degree, unavoidable," Reeser says, but Inter-Con has been working to mitigate these challenges by building a reserve force into the design of its staffing plans with a healthy balance of full-time and part-time personnel, as well as cross-training. "If Sarah is sick, it's not OK for us to pull in Tom if Tom has no idea what the mission is," he says. "That's not helpful; that's a liability." With the cross-training, he adds, "If we do have to pull individuals from another contract, they're good to go."
Scarlet Security & Risk Group and its wholly owned subsidiary Lions Gate Risk Management Group have built considerable law enforcement, military and academic networks to ensure the hiring and retention of experienced, highly competent officers, says Mike Franklin, Vice President, Risk Management & Community Safety at Lions Gate.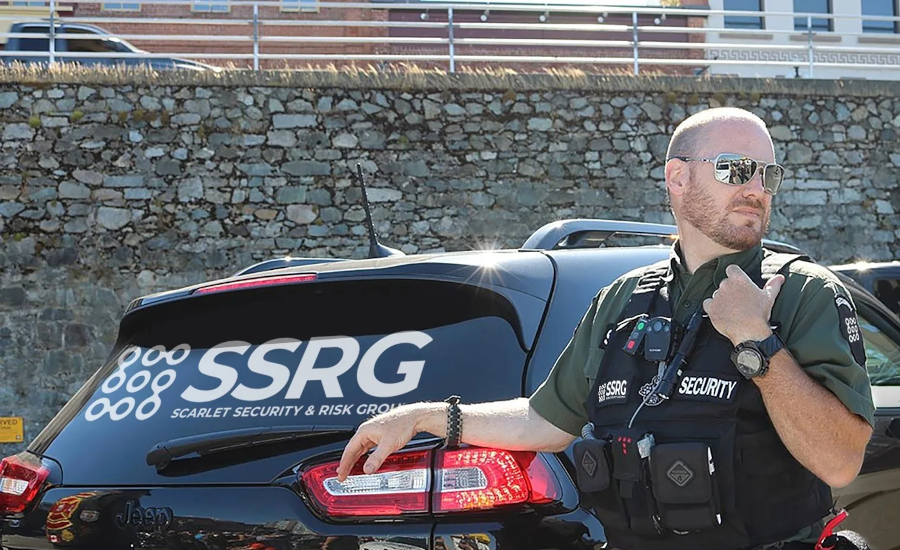 Scarlet Security and Risk Group focuses on retaining, training and incentivizing employees. // Image courtesy of Scarlet Security and Risk Group
"There is a tight labor market," Franklin says. "We have a certain brand of staff that we can tap into. We're not seeing that [labor market] impact us hugely." Lions Gate and Scarlet pay competitive rates, offer attractive benefits and incentives, and treat staff "with respect and pride, giving them management and supervision to help them succeed and motivate them to deliver the highest level of service," he adds.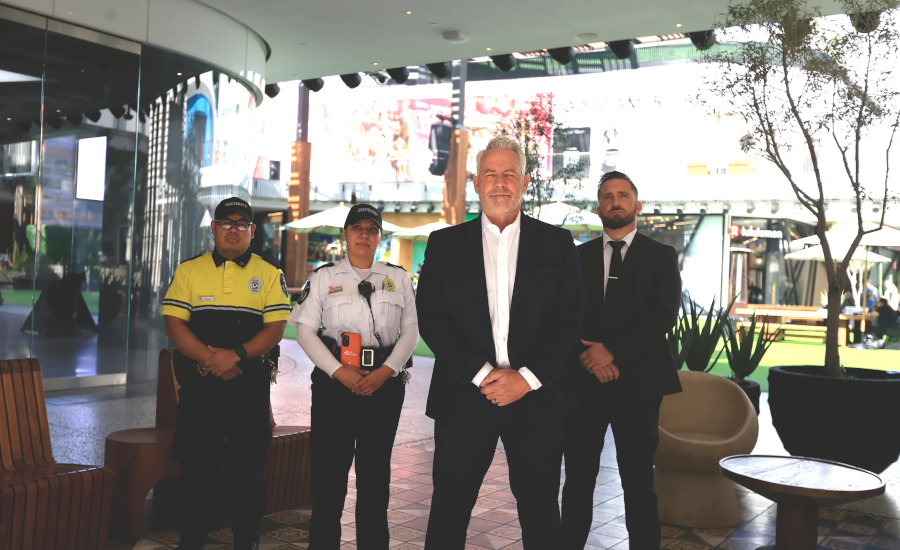 From left to right: Oscar Rendon, Supervisor; Marlene Hernandez, Security Professional; Dan Kennedy, Senior Vice President – U.S. Operations, Unibail–Rodamco-Westfield; and Allied Account Manager Patrick Crow. //Image courtesy of Gabriel Ervin, Fweul
The two companies have certainly faced challenges with staffing shortages, and "we don't want to over-stretch or expose ourselves at the risk of our brand and reputation," Franklin says.
And, Franklin says, the company focuses on cross-training as well as a way to alleviate staffing shortages. "We focus on the right resources and right licenses for each client deployment. We train staff so they can become transferrable. Flexibility is key — being versatile and immediately responsive to demands from clients. We move from contract to contract, which allows us to counter threats."
Supplementing With Security Technology
To augment guarding forces during difficult times with regard to hiring and retention, as well as increase and force multiply the reach of security teams, security contractors and their security executives are turning to digital technology.
Allied believes robots will play a future role in milieus such as mall security. Indeed, the company partnered with Westfield on a robot pilot project in northern California, but Westfield ultimately decided to invest in other forms of technology, for now, mainly video monitoring with built-in analytics programmed to alert security operations centers of a given situation, Neimeyer says.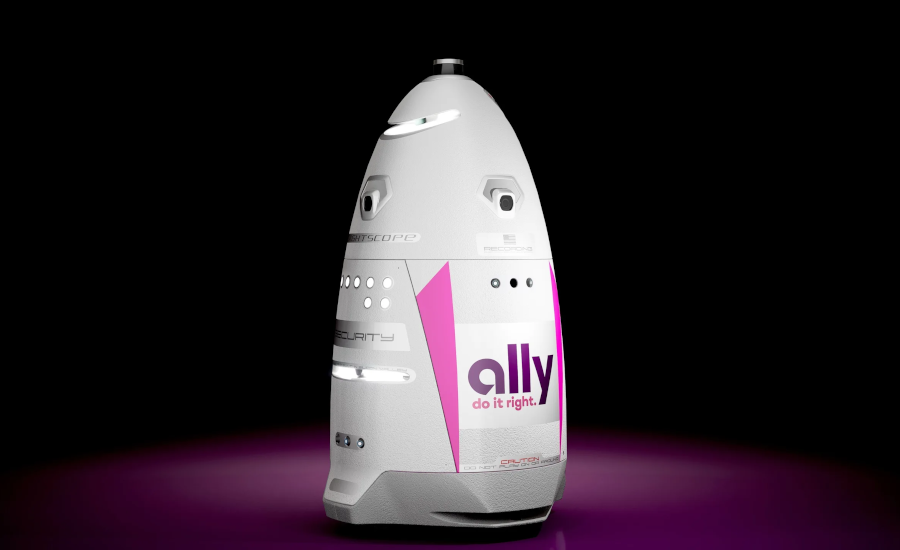 Ally Financial uses robots for situational awareness of its facilities. //Image courtesy of Ally
"It might be that someone is lingering in an area longer than we'd like them to be," he says. "If a stranger is doing something in a secure area, they can send that video to a security officer. The officer can say, 'That's Bob from maintenance; he's probably fixing something,' or, 'I don't know who that is, but it looks suspicious; I'm contacting the police.' Robotics will have a role — patrolling parking lots with drones is absolutely a future application — but there are other forms of technology and intelligence gathering that clients like Westfield find more valuable right now."
Allied offers the HELIAUS AI-powered workforce management system to streamline operations and help to mitigate risk through its open-source platform. "For us, the use of technology is viewed as a force multiplier for our primary front-line defense, which is our human capital," Kennedy says. "We will never fully replace the security professional on the ground with technology. We're looking for ways to support the security professional, whether through closed-captioned television or other robotic enhancers."
Neimeyer agrees that while the visibility of uniformed security officers is a proven deterrent to crime, they can't be everywhere at all times. "The best security solution lies in creating the right balance, which combines both technology and security officers in a way that supports and complements each other in an intelligent, cost-effective way," he says.
Ally Financial has recently partnered with security provider Securitas around robot deployment, says Bill Davis, Senior Director of Physical Security. That's helped to mitigate the current hiring and retention challenges, which he notes have impacted the entire industry.
Ally has used robots on the exterior of its facilities that deploy a 360-degree camera to get a real-time view of where they are and what's happening, Davis says, while the interior robots contain a more sophisticated array of technology — they can traverse the elevator system, go to multiple floors, and test for environmental anomalies including heat, water and air quality. "These are things a person can't do unless we give them technology," he says. "We've found them really reliable."
Securitas supplies the external robots through a vendor called Knightscope, and they're Ally-branded. The robots often interact with the public on the sidewalk, and "there are probably no less than 10 to 20 selfies taken with the robots each day," Davis says. The internal robots come through a company called Cobalt, with which Ally contracts directly. "The employees have taken a liking to them," he says. "They're in constant contact with them, and have adapted and like seeing the robots around."
Cox Enterprises views robots and drones as a potentially "great cost-savings asset," Gray says, and "we are continually reviewing the marketplace for their applications." The company uses AI through its camera management system, which it leverages for analytics to alert security professionals to intruders and suspicious activity, and helps optimize incident response. "Some of that is through remote guarding. It's basically a monitored camera service in lieu of manpower, boots on the ground," he says.
Inter-Con Security Systems sees a place for robots, "albeit, it's select," Reeser says. "It has to make sense given the context of the geography, the scope of work and the mission. Right now, it's limited in terms of responsible deployment; however, the technology remains promising. There's so much potential. We're excited to see where that comes out."
For now, Inter-Con has experienced a greater return on investment with AI, he says. "We've found it to be a force multiplier for us, both administratively and for the security force." The company has implemented it for scheduling, ensuring that posts are covered in a timely manner by qualified people, and tracking the quality of performance among thousands of employees.
"All that data gets crunched, and we make sure we're able to provide the highest quality talent," Reeser says. "It's good data in, good solutions out. And then we communicate that to our clients, so there's that transparency. We don't silo off our own performance. It's critical in security, especially, that our clients are treated as partners, and they see what we see."
Prosegur uses robots, drones and AI to enhance and complement its guarding force, including drones through a vendor called Dedrone, says Mike Dunn, Chief Technology Officer. "By no means are we pitching this as a replacement [for human guarding]," he says. "What we're doing is trying to increase efficiency for guards onsite and maybe cut down on the need for extra guards," he says. "A guard in-house can set a robot on automatic patrol. If the robot sees anything, it can flash its lights, set off sirens, and call security elsewhere — all the normal stuff technology can do. The guard doesn't have to watch [an area] as closely."
These deployments have proved beneficial to customers more than one level, Dunn says. "We're able to give more to the customer without having to charge them more," he says. "When an event is found, you still need a manned presence. But it's helping them do other things [in the meantime] and refocus that energy."
Fully deploying robots to provide law enforcement is a long way over the horizon, Franklin believes. For the time being, security technology will be based on pre-programmed protocols and the concept that robots can exercise discretion. Thus, moving toward AI with the intention of replacing guards or canine resources will have its limits, he says.
"They may have good detection, but unless [security operations centers] are monitoring in real time, they're going to have a severely delayed response," Franklin adds. "Another facet to this is that technology is normally networked or Wi-Fi connected, which means there's susceptibility to cyberattacks, or hackers. They can shut down a totally tech-reliant security posture. We get around that by doing technology-in-touch; we supplement connected tech with local tech. To borrow from a British expression, we don't put all our security eggs in one basket."
---
To visit our archives of the annual security guarding report, click here.

What's the Outlook for Security M&As?
What will 2023 hold for mergers, acquisitions and the other financial aspects of the security guarding business? We sat down with Keith Oringer, Principal and Founder at the Security ProAdvisors brokerage, who compiles the list of leading guarding companies in America for this annual report, along with security industry veteran Robert McCrie. Oringer sees a number of key trends on the horizon, financially and otherwise:
Demand for security will continue to increase with higher crime rates, along with active shooter and workplace violence events. The sector will continue to do well even if the economy slips into a recession; it's largely been recession-proof in the past.
Among three of the top firms, it's likely that Allied Universal will continue to make acquisitions on both the guarding and technology side; Securitas will focus on technology, at least in North America; GardaWorld will make selective acquisitions to complement guarding with technology.
Half the market is smaller and regional companies and private-equity-backed firms have had success in the acquisitions of these local players due to the fragmentation of the market. Smaller and more local clients continue to appreciate the boutique, service-oriented feel these providers offer.
Larger companies will continue to try to differentiate themselves with a broader suite of services such as canine deployment, robots, AI, alarm responses and cybersecurity.
Demand will continue to increase for fire and life safety, where there have been a lot of acquisitions leading to consolidation.
Guarding has become especially important in the healthcare sector, where patients and families sometimes act out during stressful situations and doctors can be targeted.
Companies will continue to see an erosion at the gross margin level as workers in a tight labor market demand higher wages. An increased appreciation for private security in the wake of COVID-19 and other risks has led many clients to say, "OK, bill me the rate increase."
Given the labor shortage, security companies need to realize they're competing with Amazon and Starbucks, which underscores the importance of good pay and benefits to recruit and retain a workforce that's become more used to working remotely, a benefit that onsite guarding can't really offer.