What was once an all but abandoned highway in disrepair has been reconstructed into a work, live and play mixed-use development deemed the Neighborhood of Play. Before the neighborhood was built, the City of Rochester, New York and involved stakeholders envisioned a unique and extraordinary global destination that was inclusive and accessible in all respects — financially, culturally and physically — to both residents and visitors.
The Neighborhood of Play aims to revitalize the once-underutilized land with a significant expansion of The Strong National Museum of Play and World Video Game Hall of Fame, a hotel, restaurants, retail space, public plaza and 200+ units of market-rent and affordable apartments and townhomes called VIDA, managed by Konar Properties.
The entire project is a story of creativity, reimagination and urban survival. In the 1960s, Rochester was home to some 300,000 people and the aforementioned highway was known as The Inner Loop. A stretch of road slightly over 2.5 miles long went above and below the city's street level, offering quick and practical access to bustling downtown Rochester. But, over time, the city's population dwindled and several big employers left the area.
With little left around it, city officials decided that the traffic on that patch of expressway just wasn't enough to justify a six-lane road. In an attempt to bring new life into the city, stakeholders embarked on designing a new neighborhood in its place to encourage people to gather and call home.
Initially, the Neighborhood of Play was conceived with Konar Properties, hotelier Indus Hospitality Group and The Strong National Museum of Play — an interactive, collections-based museum devoted to the history and exploration of play — as the center of the mixed-use district. The overall design of the neighborhood was made with the theme of "play" in mind, including the outdoor amenities such as landscaping, bike racks and benches.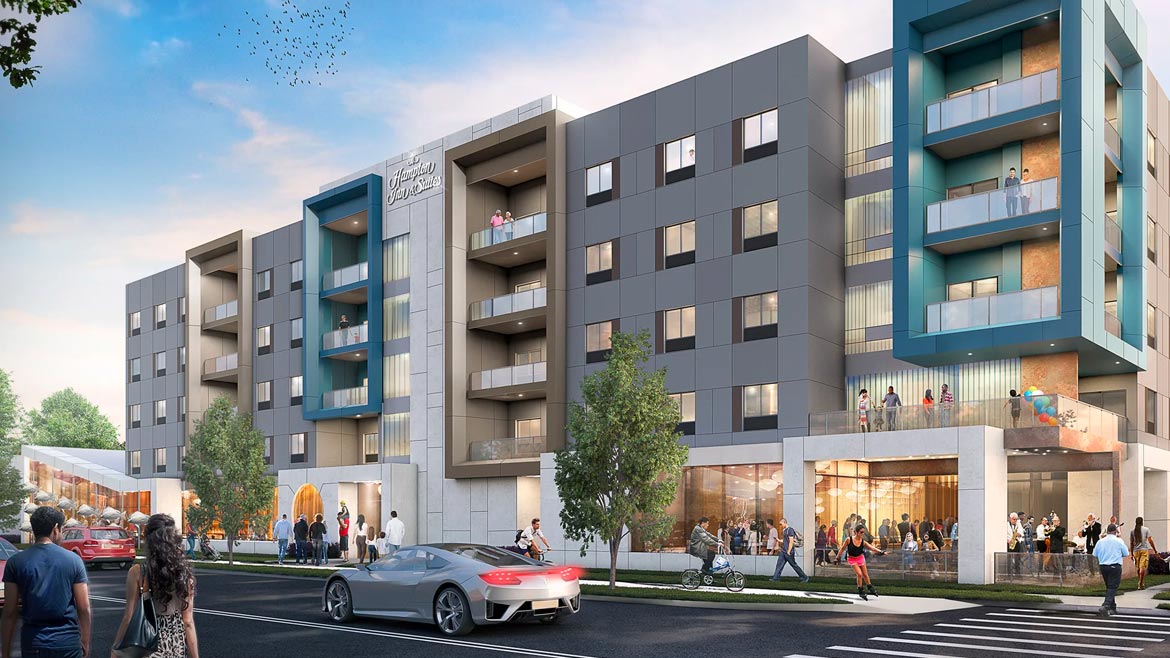 Image courtesy of Neighborhood of Play / Konar Properties
According to Timothy B. Schmid, Director of Residential Properties at Konar Properties, the VIDA apartments and townhomes were designed to appeal to all lifestyles with multiple demographic groups in mind, including empty nesters, new families, millennials, grad students and working professionals. Residential units were completed in Q1 of 2022, while hotel and museum expansions are expected to be completed in the summer of 2022. Extensive outside work, including green spaces and a public plaza, is expected to wrap up construction in the spring of 2023.
During the design phase of the neighborhood and residential spaces, Konar Properties began looking for a unified security, access control and parking solution that would allow tenants to feel safe and comfortable while still embracing a modern, vibrant lifestyle, Schmid says.
The company partnered with its long-time integrator West Fire Systems — a Division of Sciens Building Solutions — for system recommendations, asking for technology that would provide difficult-to-bypass, secure entrances and restrict access to occupants only. The challenge, says Schmid, was finding a solution that appealed to the target demographic and was easy to use and convenient at the same time.
Because the VIDA apartments and townhomes also include resident-only amenities such as fitness centers, rooftop decks and parking, management wanted to incorporate mobile access control that could be flexible and versatile enough to provide security not only to residences, but across all facilities.
High on the technology wish list for Konar Properties, Schmid says, was a customized solution that minimized the number of different systems required throughout all five residential buildings. West Fire Systems' recommended AMAG's Symmetry platform, which would allow the property to have one cohesive security system stemming across residences, amenities and parking.
"[The access credentials] can be programmed from a desktop computer in one of our offices," Schmid explains, "making it easy and convenient to update access parameters when needed."
To kick off installation, the VIDA project included 32 access control readers with plans to have more than 120 readers when implementation is complete. Konar Properties customized control panels at each building based on the number of doors and location of each structure.
With the integrated platform, residents need only one key fob or mobile phone credential to enter facilities across the property. Management can adjust the hours of operations for particular readers or amenities such as the fitness center. Bluetooth capabilities allow residents to set a date for when they will be moving in or out on their phone or online, and management can wirelessly disable and enable access as needed.
The parking garage is connected back to each resident's Symmetry Blue Reader authorization to allow entrance to resident parking using a corresponding button to lift the entry gate. The fire system, which is monitored by a third party, is also connected to Symmetry for another layer of security and visibility.
The systems between buildings are wirelessly connected and controlled via the platform, including the parking garage, giving management a centralized view of all building activity. And, as the VIDA properties continue to expand and evolve, management will continue to evolve and expand the security solutions in the future.
Schmid says, "From the beginning, we wanted to create something unique and extraordinary — not just another handful of new apartment buildings, but a neighborhood worthy of The Strong's status as a global destination."