While the array of ancillary devices surrounding an ACS may vary and range in levels of complexity, the fact is that most access control systems are designed to work with swinging doors, and this hasn't changed in several decades. The difficulties of trying to properly integrate your ACS with other types of entrances, such as security doors or turnstiles remains a challenge for many systems integrators and their end-user partners. This is because most ACS are designed to track the events that happen at swinging doors, telling you only one thing: the door opened. Typical events are: "Door Unlocked", "Door Forced Open" and "Door Held Open."
From a physical security strategy standpoint, the other issue with swinging doors is that if they are used exclusively throughout a facility, that facility is vulnerable to intrusion from tailgating. Ideally, a facility should have a layered approach where, for example, security turnstiles and/or security revolving doors are stationed at perimeter access locations and then swinging doors can be used for interior office spaces and mantrap portals for sensitive data or records rooms (this is a general approach – your facility may require a different strategy). Given this ideal scenario, the solution for a secured entrance that mitigates tailgating is to integrate it with a compatible ACS so events can be logged and personnel entering the facility are properly tracked and identified. So, how can EAC and other devices like biometrics technologies be configured to help mitigate unauthorized entry through swing doors and turnstiles? We'll take a look at swing doors and turnstiles first, then the high security revolving doors and mantrap portals.
Enhancing Detection: Making Swing Doors and Turnstiles Work
For veteran security consultant Sean Ahrens, CPP, the assertion is that the user weighs the multiple options and chooses the solution that best fits the specific facility and security culture. He says that anti-tailgating technologies can be added to swing doors, or they can deploy optical turnstiles, either of which use photo-optic beams to detect tailgating, adding that there is also the possibility of using cameras and analytics to detect movement and tracking. But Ahrens cautions that anti-tailgating door technologies have been around for some time but can create false alarms and that camera analytics are being used increasingly, but still need to be improved. He also notes that contactless biometrics are certainly going to be the norm given the challenges of COVID.
Ahrens points out that from a process perspective, the most inconvenient approach for occupants is to use hard anti-pass back, which requires a person to use a credential to enter and also exit. Failure to present a credential on exit will disable the credential from being used to re-enter the facility.
"This can be very inconvenient and goes against the current "frictionless" access control mantra that many are spreading. An alternative approach is not to disable a credential but automate a response to the person's supervisor via a rule/flow process and require the completion of security classes for the supervisor and the offender within a specific timeframe. In this way it becomes a compliance issue, and people will be compelled to use their credential properly rather than be reprimanded by their superior or re-take training that is mundane," says Ahrens. "Facial recognition can be used to automate access, however, COVID and mask requirements may limit the effectiveness of these systems and could permit false acceptance."
Swinging Doors and Turnstiles Integrate with ACS for Solid Solutions
As mentioned earlier, swinging doors with a credential reader are usually locked until a valid credential is presented and can have tailgating detection technology installed. Optical turnstiles offer built-in tailgating detection and work exceptionally well in open lobbies to accommodate both occupants and visitors. Timothy Sutton, who has more than 30 years of security experience and is a Senior Security Consultant at Guidepost Solutions, says short of a security guard manning your front entrance – which can also be a security weakness -- swing doors and turnstiles that can be secured against unauthorized entry and are supported by an electronic access control system, and monitored or supervised, are a strong defense for a facility.
"The ACS basically performs the same functions as a physical security guard in that a person seeking access would present a credential for inspection by the ACS. The ACS compares the credential information to a user database to ensure the person is confirmed as a user, and that the user has been granted entry authority to that particular door or turnstile at the time the credential was presented. Credentials can be physical cards or fobs with electronic encoding, a code to be entered into a keypad often known as a personal identification number (PIN), or a biometric signature such as a finger or palm print, vascular mapping of a hand, or a retina to be scanned," says Sutton. "These credentials can be used alone or in any combination of two or all three types to achieve the desired level of security. Video surveillance systems can be utilized for access control in this environment by providing an image of a person for comparison to a database of authorized persons. This comparison can be made by a physical security officer, or, using facial recognition and video analytics."
Sutton emphasizes that integrating ACS and credential/identity technology with swinging doors will only address authorizations for entry and will not control tailgating. The best way to set up a secured entrance is multi-factor credential authorization, tailgating detection through video analytics or LIDAR, and using a mantrap portal solution or building a secured mantrap vestibule with two doors that uses a two-stage approach with credential verification (RFID card, PIN) to open the first door, then identity verification (biometrics) to open the second door. With a mantrap solution, you can be assured of a user's identity and that they are alone.  
Security Revolving Doors and Mantrap Portals Create a Prevention Strategy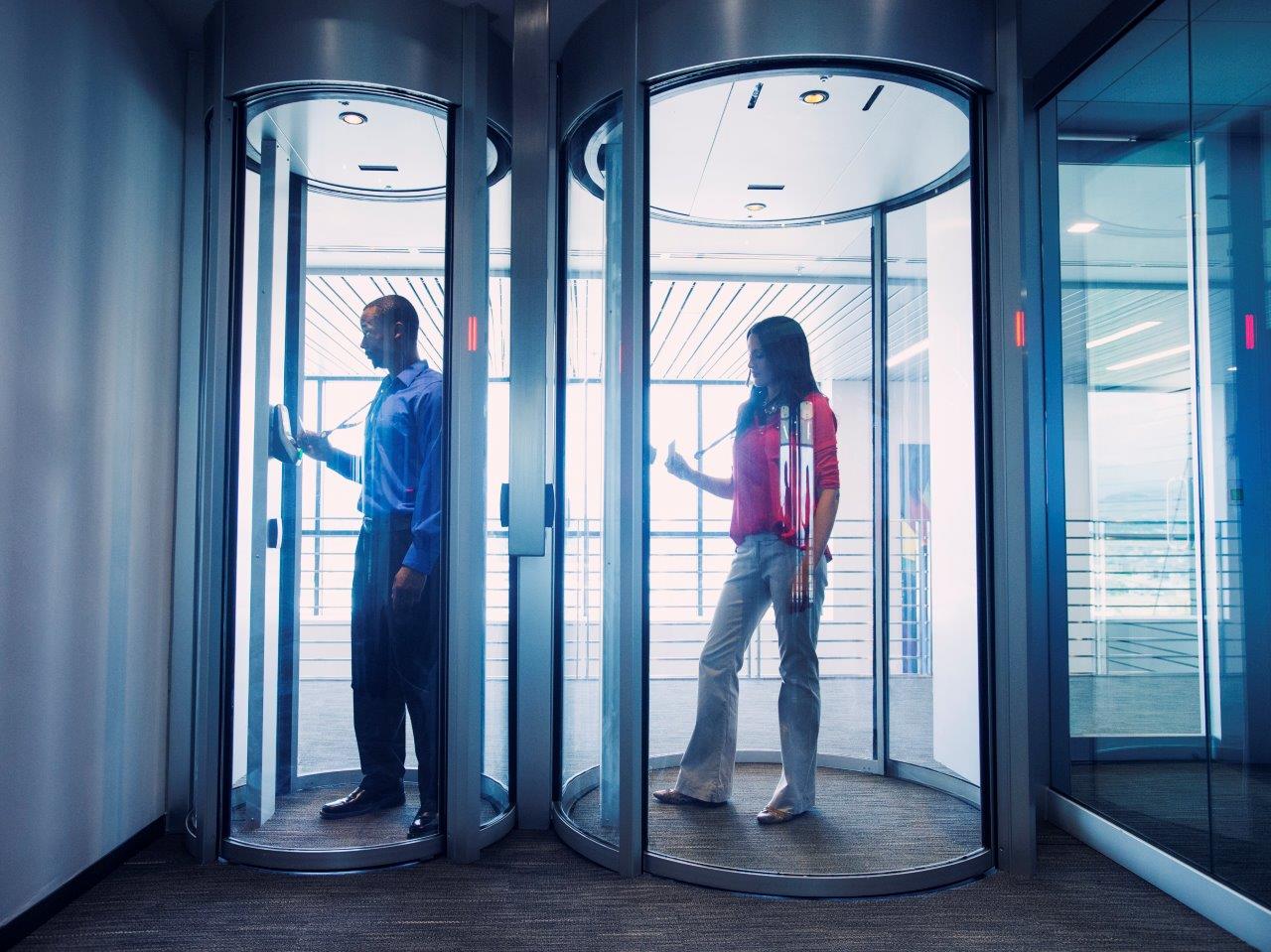 According to security consultant and CTO of ESI Convergent, Pierre Bourgeix, both swinging door and optical turnstile scenarios that include LIDAR tailgating detection are more of a deterrent or a forensic, investigative tool rather than a prevention strategy. 
"The only true prevention strategy is the use of a security revolving door or mantrap portal solution.The critical point is that access and identity to entry must be cohesive, occurring simultaneously during the entry event. This is your prevention strategy because these types of high security doors have a working principle that prevents piggybacking and ensures a user is alone."
Customizing your ACS to Track Rich Event Data
One final point about integration: earlier, I mentioned that an ACS system is designed to only tell you that a door was unlocked, forced open or held open longer than allowed. Security entrances, when integrated properly with an ACS, can tell you much more than a swinging door. If you deploy them, it is critical that you work with your integrator or manufacturer to install extra inputs or input boards to enable the ACS to track the many types of events that can happen at security entrances. For example, you can track normal authorizations, tailgating rejections and piggybacking rejections (two people colluding to enter on a single authorization), loitering alarms, biometric time-outs, and passage completed events, to name a few. This information can help you be much more aware of exactly who is doing what at various entrances at the perimeter and interior of your facility.
This article originally ran in Security, a twice-monthly security-focused eNewsletter for security end users, brought to you by Security Magazine. Subscribe here.