Adoption of Push-to-Talk over Cellular and Wi-Fi networks is growing in the security market due to the wide area coverage, low cost, the bandwidth to accommodate voice and video communications, and integration with dispatching applications.
This article reviews the different types of Push to Talk network deployments, how they work, the devices used, and the benefits to users.  The types of Push-to-Talk networks include Push to Talk over Cellular (PoC), Push-to-Talk over Wi-Fi, and unified PoC, Wi-Fi and LMR radio networks.
Push-to-Talk over Cellular
Push-to-Talk over Cellular (PoC) provides two-way radio services over 3G, 4G, and Long Term Evolution (LTE) technology, creating a nationwide radio network that utilizes the cellular infrastructure of Mobile Network Operators. This enables radio networks with very wide coverage area and untethers radio users from the range of repeaters and base stations used in traditional radio networks. 
The concept of Push-to-Talk over Cellular was introduced by Nextel in 1987 as an alternative to two-way radios. Nextel revolutionized business communication when it started to pass small voice packets across their iDEN network.  Prior to cellular push-to-talk, business communication was dominated by two-way radios on peer-to-peer and local radio networks.  Nextel was acquired by Sprint, and in 2013 Sprint decommissioned the Nextel iDEN network.
Today, PoC provides the best of both narrowband digital radios and broadband LTE networks.  PoC radios support the advanced features of Digital Mobile Radios (DMR), including messaging, instant group calling, GPS location tracking, and emergency notifications.  Combining this functionality with LTE cellular networks provides the bandwidth required for modern data and video applications, along with the national coverage area of 4G/LTE.
Devices such as PoC radios, PoC smartphones, and PoC bodycams connect to the cellular infrastructure of Mobile Network Operators like AT&T, T-Mobile, and Verizon, using a SIM card similar to those installed in cell phones.  The result is a highly reliable network that requires no maintenance or operational expenses.  An app on the PoC radio (typically an Android operating system) provides simple and convenient access to PoC services. 
PoC network services are hosted in the cloud. The cloud services are located on privately hosted servers owned and operated by the PoC platform.  Gateway routers provide connectivity between the LTE network and the PoC server.  Dispatch Applications and the Management Application (used to configure customer accounts) are connected to the PoC cloud server through the internet.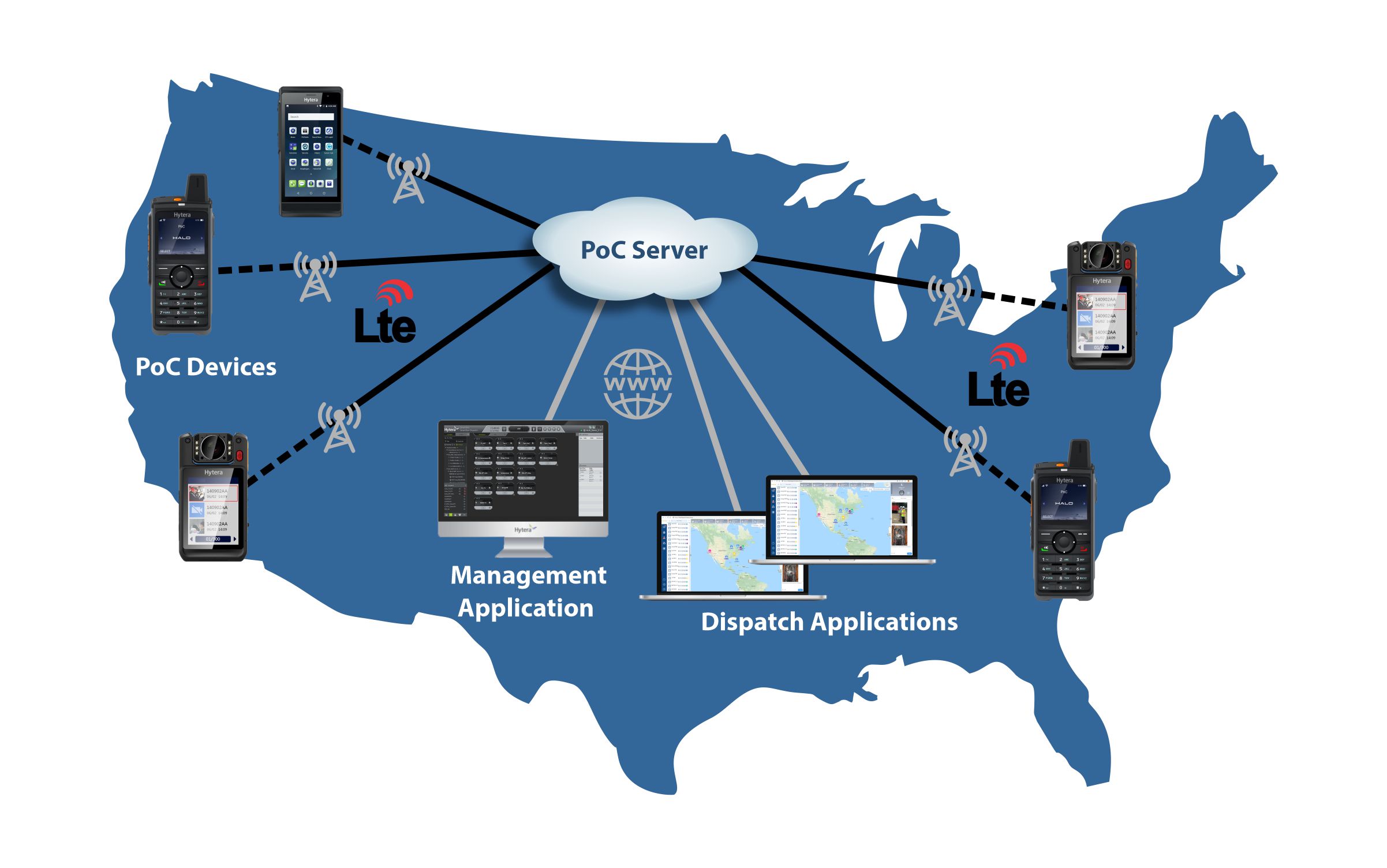 Figure 1: PoC Nationwide Network
Figure 2: Call Groups

PoC provides the same group calling capabilities as traditional two-way radio systems to enable instant group calls to multiple users with the press of a PTT button on a radio or from a dispatching application. 
Call groups are set up based on all call and emergency calls, types of employees (supervisors, administrators, etc.), single-site guard staff, and mobile patrols, etc.  Radio users can belong to multiple groups as shown in the overlapping areas.
The PoC Market
The PoC market is growing at a healthy rate, and it is driven not just by LTE technology, but also by the increase in mobile workforces, and the global adoption of the Internet of Things (IoT).  In June of this year, Forbes Business Insights estimated that the global PoC market value was $12B in 2019 and projected it to reach $25.5B by 2027 with a Compound Annual Growth Rate (CAGR) of 10%, and North America is expected to lead the market share during that period.  There has also been a proven demand for PoC services.  At its peak in 2005, Nextel had over twenty million subscribers in the United States and served 198 of the top 200 markets.
Business which use PoC services are looking for wide-area communications with a low startup cost. These include security, construction, healthcare, hospitality, property management, manufacturing, and others.  PoC is particularly useful for businesses with vehicle fleets and employees such as security guards that work inside and outside the vehicles.  PoC also provides a cost-effective solution for organizations, such as retail outlets or hotels, where traditional Land Mobile Radio (LMR) solutions might be more than is required or too high of an investment.
PoC Features and Benefits
Traditional wide-area private radio networks require significant up-front Capital Expenditures (CAPEX), that include base stations, repeaters, routers, and antennas.  PoC is based on Operational Expenditures (OPEX) with a low-cost, subscription-based service.  Think of PoC as Radio as a Service, where the only up-front investment is the PoC devices and SIM cards.
Since PoC uses existing 3G/4G/LTE and Wi-Fi networks, there is no need to purchase, operate and maintain any infrastructure. This reduces capital equipment costs, day-to-day operating costs, and eliminates the need for expensive frequency licenses required by private LMR systems.  LTE and Wi-Fi networks also provide the bandwidth for reliable bodycam video streaming.
Another benefit of using cellular and Wi-Fi networks is that PoC systems can be deployed very quickly. PoC radios and bodycams can work out-of-the-box with SIM cards pre-installed, and system configuration is done through an easy-to-use web-based dispatch application.  
PoC technology enables subscribers to make one-to-one (individual) calls or one-to-many (group) calls to different groups of people at the same time over a mobile operator's network.  One press of a button on a rugged handheld device and you are talking to your group or an individual.  PoC devices with video capabilities enable instant video conferencing with dispatcher applications.
PoC devices with integrated GPS enable location tracking with a dispatch application.  This is an essential tool for managing, scheduling, and tracking security guards and mobile patrols.  PoC dispatch applications that support Geo Fencing provide alarm triggers when guards enter hazardous areas, or when mobile patrols stray from defined territories.  Dispatchers are typically web-based applications allowing for easy deployments and minimal start-up costs.
Push-to-Talk over Wi-Fi
PoC devices also support Wi-Fi connectivity. This enables instant group voice and video calling in a large building, facility, entertainment complex, or campus with Wi-Fi network connectivity.  Wi-Fi is nearly ubiquitous in all buildings and facilities, providing a wide-open opportunity for companies looking to leverage their existing investment in Wi-Fi infrastructure. 
Push-to-talk over Wi-Fi uses the existing Wi-Fi network and access points throughout a facility.  The first step in a PTT over Wi-Fi deployment is to conduct a site-wide bandwidth audit to ensure there is enough coverage for the whole facility.  Then a Push-to-talk over Wi-Fi a server is installed to provide system connectivity between the Wi-Fi network, the PoC devices, and the dispatch application. The last step is to  configure PoC devices with call groups and device functions and distribute them to security staff and employees.

Figure 3: Push-to-Talk over Wi-Fi Network
A web-based dispatch application is used to initiate group voice and video calls from a single location. Dispatch applications can also utilize the GPS capabilities built into PoC devices to track employee locations throughout a large outdoor facility like a campus or entertainment complex (zoo, theme park, etc.).
Push-to-talk over Wi-Fi is not limited to a single location.  Several sites can be connected over an IP Network, (VLAN or VPN) and managed from one or more dispatch applications. For example, a hotel and resort may have several locations with Push-to-talk over Wi-Fi, and they want to have a centralized call management and dispatching. 
Push-to-talk over Wi-Fi can also be seamlessly integrated with a nationwide PoC network to enable communication with remote and mobile workers.  By adding a SIM card, PoC devices can automatically switch to an LTE network when a caller moves outside Wi-Fi network range.
Push-to-Talk over Wi-Fi Features and Benefits
PPT over Wi-Fi uses existing Wi-Fi networks, so there is no need to purchase, operate and maintain any radio infrastructure. This reduces costs and enables rapid deployments.  Wi-Fi, like PoC systems, also eliminates the need for expensive radio frequency licenses, and in many high-density urban areas there may be no frequency spectrum available.
PTT over Wi-Fi provides deployment flexibility for single-site or wide area coverage.  It can be deployed as a single-site radio network, or multiple sites can be connected over an IP Network or VPN.  PoC devices also function on nationwide PoC networks with the installation of a SIM card.
PTT over Wi-Fi provides the same instant group calling capabilities as PoC systems, including group video conferencing with devices that feature cameras.  
Unified Communications Platforms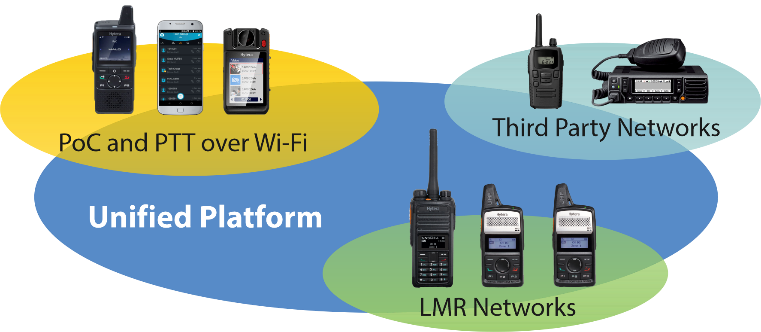 Figure 4: Unified Platform
Unified communications platforms integrate different radio systems into a single wide-area radio network with instant group calling and location-based dispatching.  This singular radio communications ecosystem expands the capabilities and range of existing traditional radio networks by integrating Push-to-Talk over Cellular and Push-to-Talk over Wi-Fi into a single voice and video radio ecosystem.
Virtually any radio communications network can be integrated into a unified communications platform.  These include PoC and Wi-Fi networks, DMR Tier II and Tier III, TETRA, P25, NexEdge, dPMR, and even legacy analog radio systems.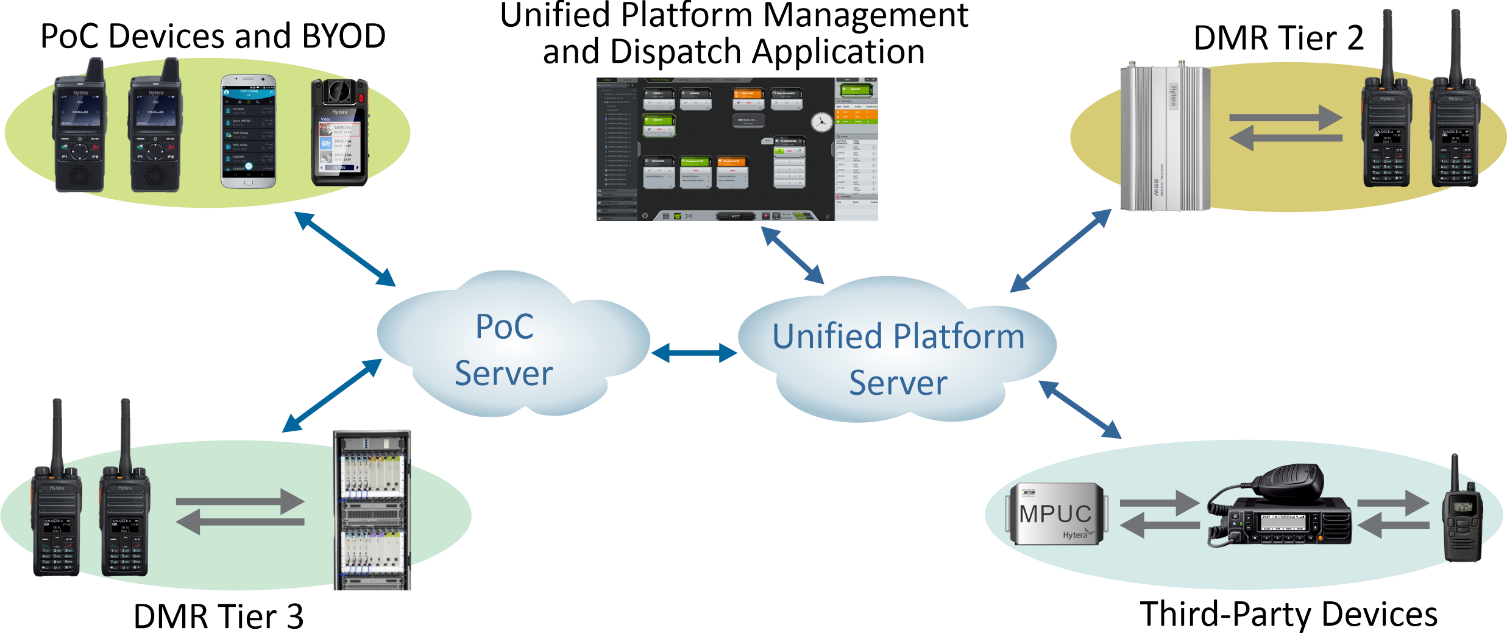 Figure 5: Radio Networks in a Unified Platform
Unified platform management and dispatch applications enable communication with groups of users across several types of radio networks.  Voice and video calling groups can be created that include several types of radios and networks, and users can belong to multiple call groups.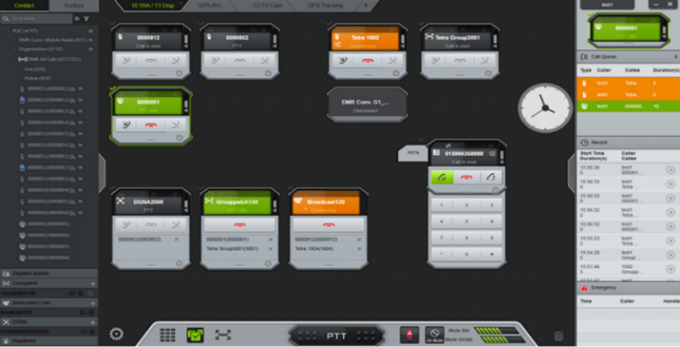 Figure 6: Unified Platform Application

These unified platform applications provide public-safety grade dispatching and fleet management, voice and video group calling, call recording, AVL, and camera monitoring.  The powerful dispatching client allows the managers and dispatchers to quickly command all users in different networks with Simul-Select and Crosspatch capabilities.
In the example shown below, a company has two large facilities at different locations. One has a Push-to-Talk over Wi-Fi network, the other a traditional Digital Mobile Radio (DMR) trunked radio network. The company has also added a PoC radio network for mobile patrols.  By using a unified platform management and dispatch application, and installing a unified platform server, the existing PTT over Wi-Fi radio network, the LMR radio network, and the PoC network are integrated into a single, unified radio network that covers a wide area in and around both facilities. The DMR radios, the PoC devices, and the BYOD devices are all on the same communications system with call groups that include all the different types of radio technologies.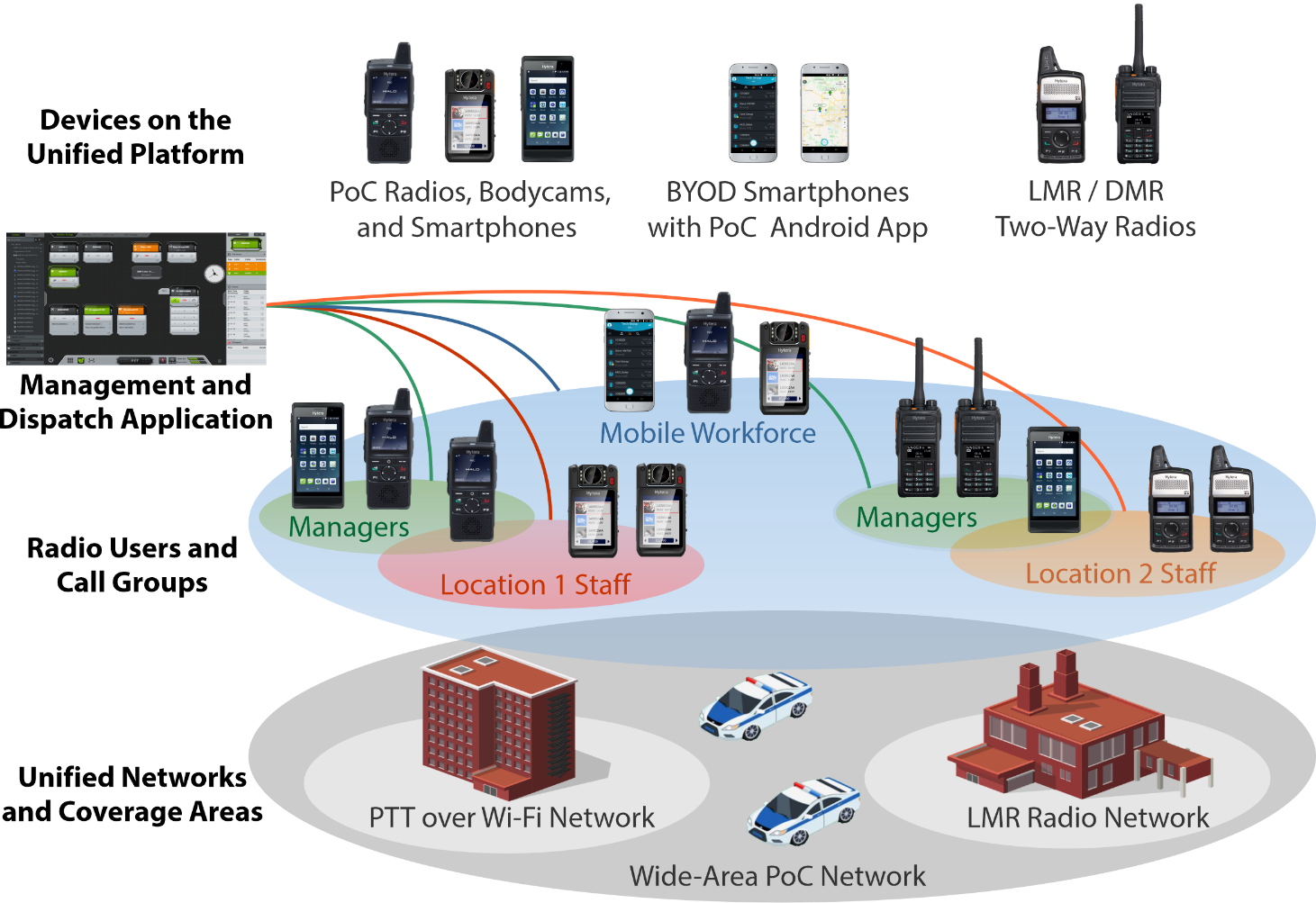 Figure 7: Unified Platform Example
The Benefits of Unified Communications Platforms
Unified communications platforms centralize operations by integrating different radio networks into a unified communications management platform that improves efficiencies and communication within large organizations.  This also provides a simple and centralized dispatch application for location tracking and group communications across a entire system.
Unified platforms enable instant, system-wide group voice and video calls, group patching, broadcast calls, priority calls, and call monitoring. They support video conferencing and recording and sharing of video evidence between guards and the dispatcher.
They also save money by eliminating the need for system-wide upgrades and maintain investments in existing radio equipment by integrating current radio systems with PoC nationwide and Push-to-Talk over Wi-Fi networks.
PoC Devices and Software Applications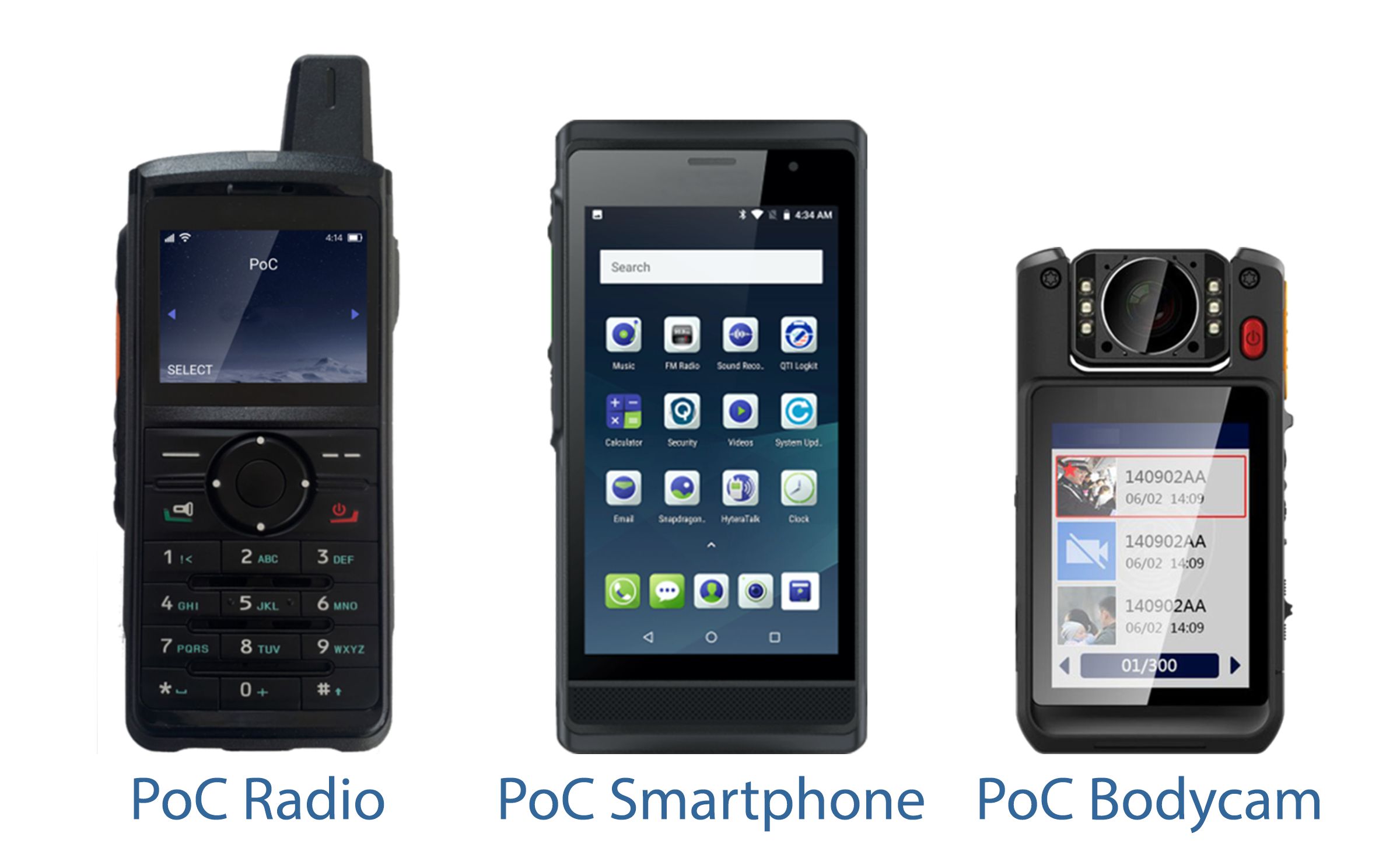 Figure 8: PoC devices
PoC devices are purpose built for professional business communications. These compact, rugged, and easy-to-operate handheld devices enable instant group voice and video communications over Wi-Fi and nationwide LTE cellular networks and can automatically switch over to the LTE network when out of Wi-Fi range. 
PoC devices are designed to support harsh outdoor work environments like security operations.  They are rugged with IP ratings (up to IP68) for water and dust resistance and MIL-STD 810G compliant for shock and vibration, and feature digital noise suppression and high-volume speakers for excellent voice quality in loud environments. They also feature powerful Lithium-Ion Polymer batteries for guaranteed operation over long shifts.
PoC Radios
PoC radios are feature rich with full keypads, high-resolution LCD displays, prominent PTT buttons, emergency buttons, built-in GPS for dispatch applications, Bluetooth, and cameras for video evidence collection, video conferencing and sending images.   
PoC radio car kits are available to provides safe and DOT approved use in vehicles.  They key advantage is that it enables the PoC device to be used inside and outside the vehicle. The car kit is installed on a vehicle dashboard and enables easy removal of the handheld device for job-site communications, and includes a locking bracket to ensure drivers who work inside the vehicle use the radio as a dash-mount mobile radio and not a handheld device. PoC radio car kits provide charging power, have an on/off button, and ports for external speakers, microphones, and push-to-talk buttons.
PoC Body Worn Cameras
PoC Body Worn Cameras integrate a video body camera with Push-to-Talk voice communications. This all-in-one design reduces equipment costs and simplifies communications. PoC bodycams capture, store, and stream  high-resolution video, audio, and image evidence video over 4G/LTE or Wi-Fi networks for monitoring of events to in the field.
PoC bodycams can stream video in real time or store it on the device for offloading at the end of the shift.  Multi-unit chargers are available to provide simultaneous charging and automatic video transfer from up to 18 bodycams. PoC bodycams feature video transfer, evidence collection, and dispatching software applications.
PoC Smartphones
Push-to-Talk over Cellular (PoC) smartphones combine the advantages of a smartphone with the ruggedness, enhanced audio quality, and instant Push-to-Talk group communications of a professional PoC device.  PoC smartphones can feature dual SIM cards provide flexibility for two network access plans, one for PoC and the other for a cellular plan or data-only plan.  PoC smartphones support Android apps and can use the smartphone screen to run a web-based dispatching application right from the device.
BYOD Smartphones
Bring Your Own Device (BYOD) smartphones can be used as PoC devices with an Android app installed on the device and are a popular way to deploy PoC radio systems in the security industry.  Employees can use personal smartphones, company issued smartphones, or PoC radios, PoC video bodycams, or PoC smartphones for company business communication. 
Companies may prefer to have some or all employees using smartphones for business communications, but there are several advantages to providing dedicated PoC devices:
< >PoC devices and service plans are less expensive than smartphones and cellular plansPoC devices ensure employees use the devices exclusively for business-related communications and reduces the distractions of personal smartphones Instant Push-to-Talk group and individual calls without launching apps, looking up contacts, or waiting for the phone to ring Rugged devices that withstand high impact (dropping), water submersion, and dustHigh power batteries that guarantee calling availability for the entire work shift Purpose built PoC bodycams record hands free continuous videoHigh audio volume and noise cancelling technology for use in noisy environments like concerts and sporting eventsOne touch emergency alarms for worker safetyCar mounting kits are available for DOT approved use inside vehicles.
Dispatching Applications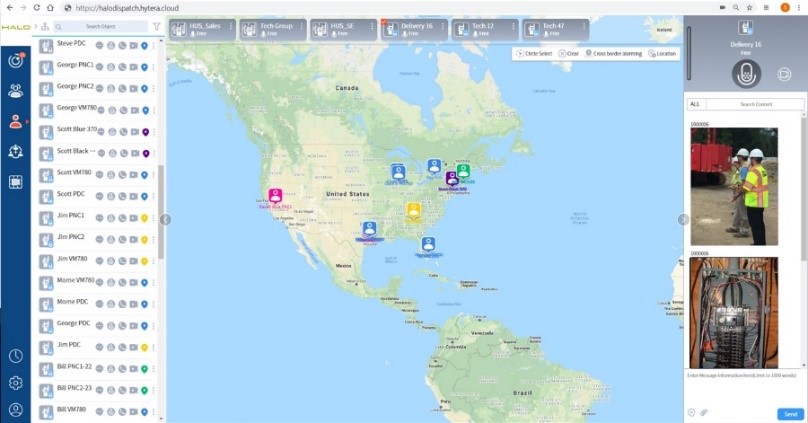 Figure 9: PoC Dispatching Application
PoC systems include powerful dispatch and fleet management applications that provide tracking of driver locations and travel routes with time stamps.  The dispatch application works with the GPS built into PoC devices and support Geo Fencing capabilities.
Dispatch applications support instant group calling as well as individual calling.  Dynamic call groups can be quickly created with a simple list selection or geographically by selecting an area on the dispatch map. The dispatcher may stun (turn off) and reactivate a radio, receive emergency alarms, along with full call recording.
The Value of Push-to-Talk
Push-to-Talk over Cellular is creating a new market and value network that will create shifts in the market for established radio companies, products and alliances. As cellular LTE and Wi-Fi networks continue to mature, providing better coverage with more available bandwidth, the PoC market will continue to expand and disrupt the established Land Mobile Radio (LMR) market.
PoC systems provide key advantages, including wide area coverage, rapid deployments with no radio infrastructure expenses, unlimited channels, and GPS location tracking. 
PoC devices are ruggedized for security applications and enable instant individual and group push-to-talk communications, video conferencing, data services, and Wi-Fi connectivity.
Push-to-Talk over Wi-Fi leverages the ubiquity of Wi-Fi networks for quick and cost-effective deployments, and do not require frequency spectrum.
Unified PoC networks enable centralized communications with nationwide coverage that integrates virtually all types of radio networks into a single business communications ecosystem.
PoC and Push-to-Talk over Wi-Fi radio networks provide the flexibility, low cost, and wide area coverage required for today's security communications needs.
*All images courtesy of the author
This article originally ran in Security, a twice-monthly security-focused eNewsletter for security end users, brought to you by Security Magazine. Subscribe here.