There's a good chance that at some point you've been watched, scanned, or analyzed by facial recognition technology — potentially without even realizing it, says a new study by
Surfshark
. 
In fact, governments' use of the technology is on the rise globally: there are now 109 countries today that are either using or have approved the use of facial recognition technology for surveillance purposes, says the study. However, the spread of this technology has raised important questions about the impacts on privacy of such invasive surveillance.
To find out just how widespread the use of facial recognition technology is, Surfshark collated the latest data on face surveillance around the world and distilled that into a series of maps that show:
The countries where facial recognition technology is already in use
The countries that have approved its use (but not implemented yet)
The countries considering the technology
The countries that have banned it
North America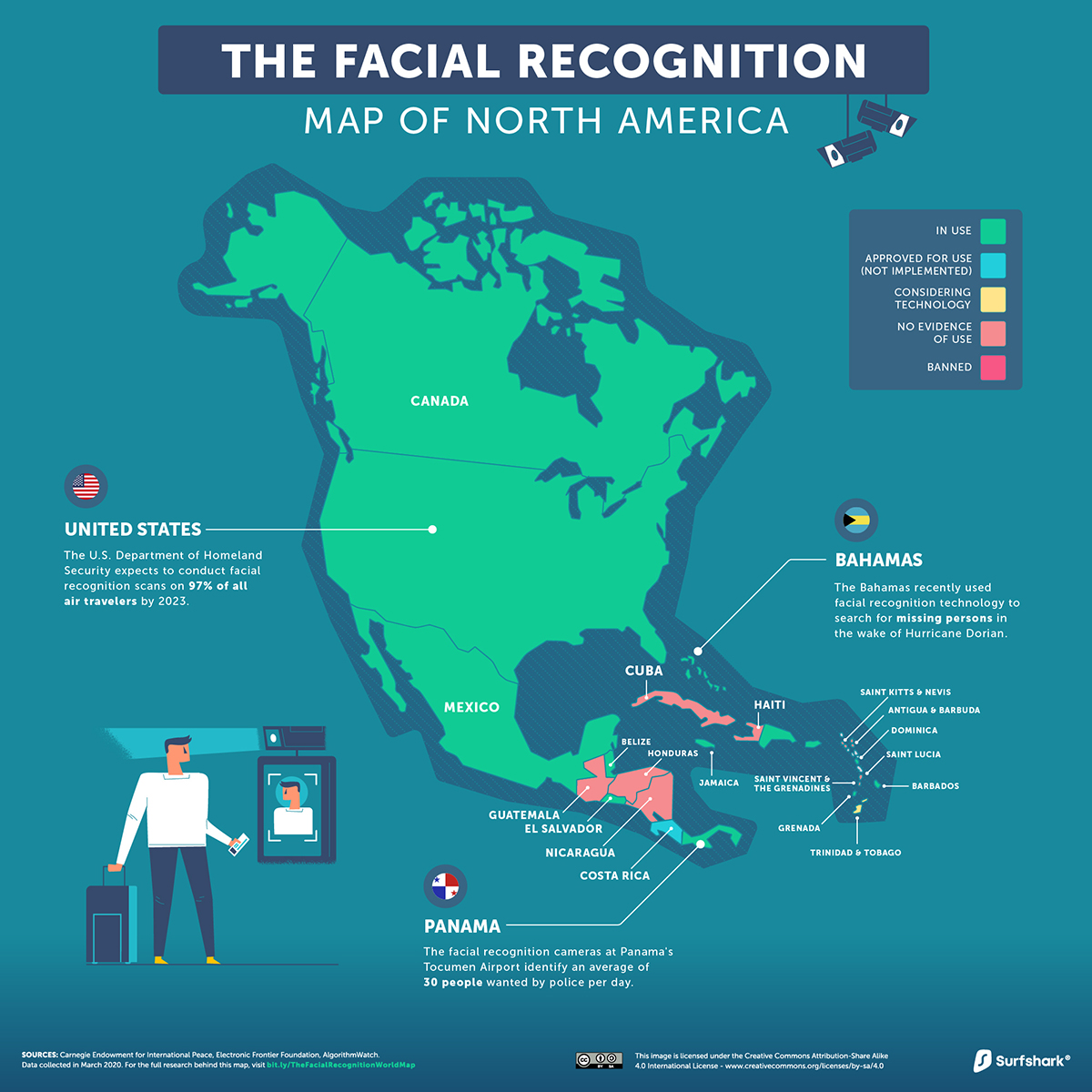 26 percent of Americans believe the government should restrict the use of facial recognition technology.
In 2019, San Francisco became the first U.S. city to ban the police use of facial recognition technology.
The U.S. Department of Homeland Security expects to conduct facial recognition scans on 97 percent of all air travelers by 2023.
More than 50 percent of all Americans are currently in police facial recognition databases.
The Bahamas recently used facial recognition technology to search for missing persons in the wake of Hurricane Dorian.
The facial recognition cameras at Panama's Tocumen Airport identify an average of 30 people wanted by police per day.
The Barbados airport recently installed a series of facial recognition kiosks that can reduce security wait times by 60 percent.
Facial recognition gates in Dominican Republic's Punta Cana International Airport allow users to pass through security in just 10 seconds.
Europe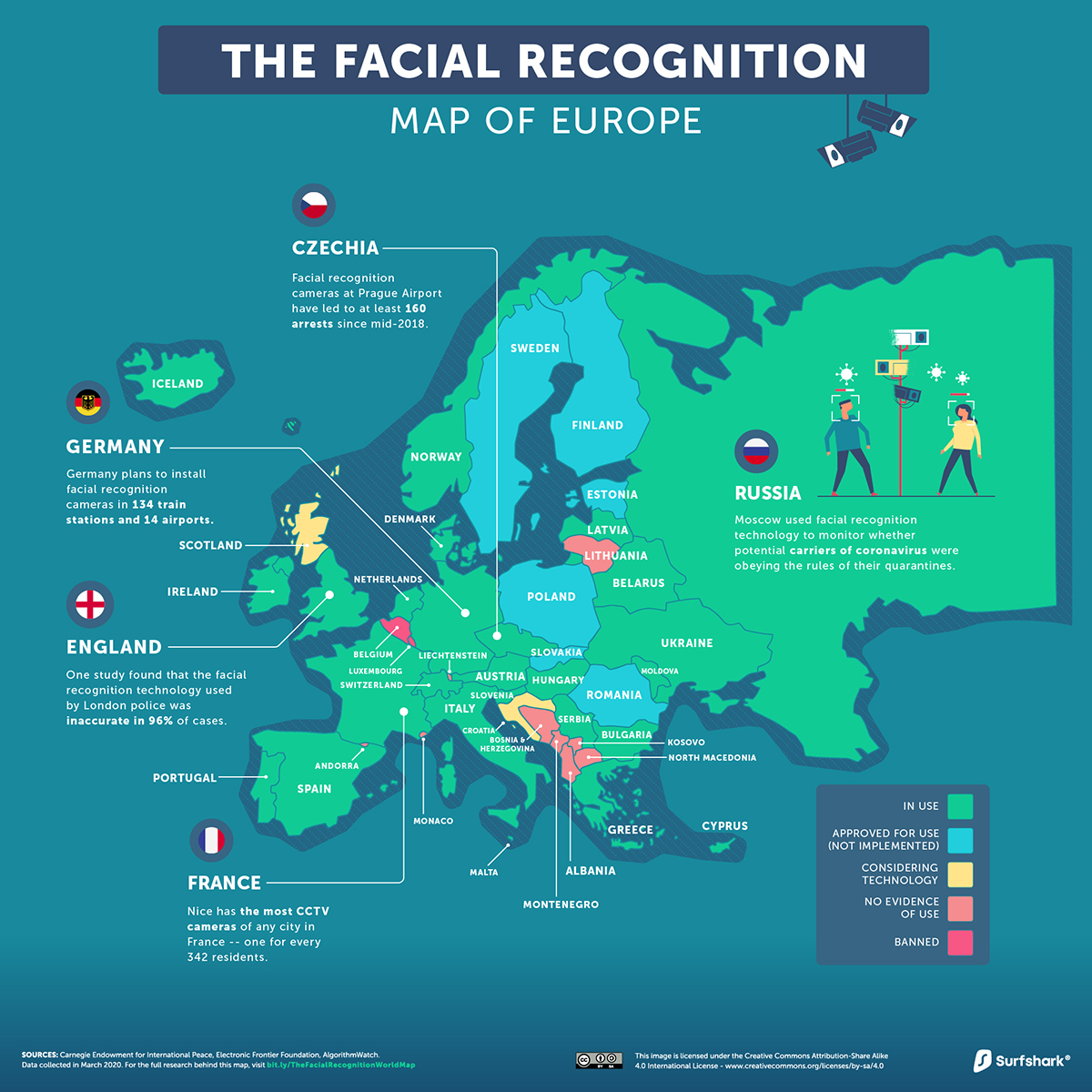 Belgium is so far the only country to find facial recognition in breach of national law.
Moscow used facial recognition technology to monitor whether potential carriers of coronavirus were obeying the rules of their quarantines.
One study found that the facial recognition technology used by London police was inaccurate in 96 percent of cases.
The first arrest to result from facial recognition surveillance in the U.K. took place on February 27, 2020.
46 percent of U.K. residents believe they should be able to opt out of being filmed by facial recognition cameras.
Germany plans to install facial recognition cameras in 134 train stations and 14 airports.
Facial recognition cameras correctly identified 80 percent of subjects in a recent test of Germany's planned facial recognition system.
France recently banned the use of facial recognition gates in schools.
Nice has the most surveillance cameras of any city in France -- one for every 342 residents.
Police facial recognition cameras in France match a subject's image against a database of 8 million photos.
Facial recognition cameras at Prague Airport have led to at least 160 arrests since mid-2018.
Facial recognition cameras in the Netherlands compare subjects against a police database of 2.2 million images representing 1.3 million people.
South America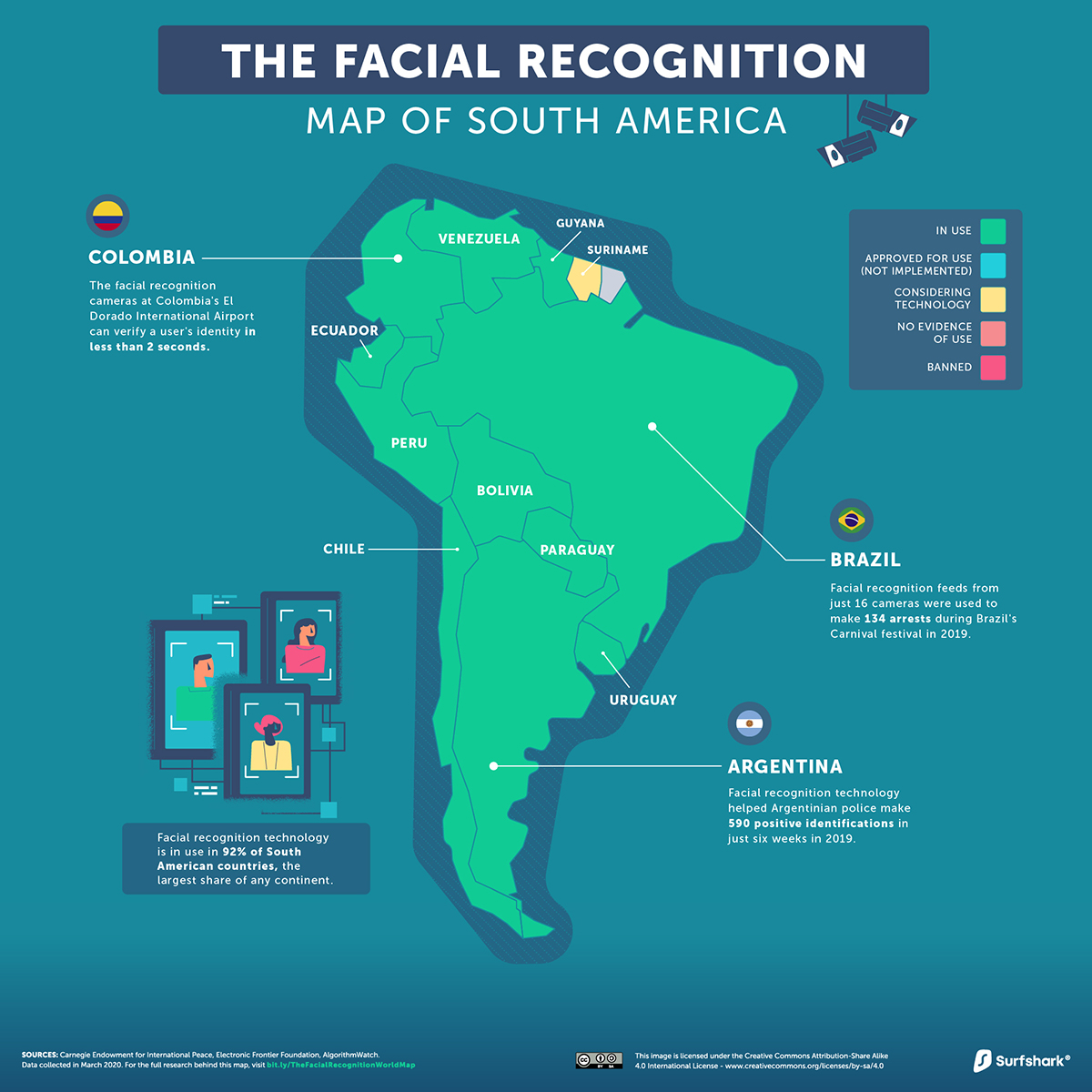 Facial recognition technology helped Argentinian police make 590 positive identifications in just six weeks in 2019.
Guyana uses facial recognition cameras at its ports, but has promised not to use it on public streets.
Facial recognition technology is in use in 92 percent of South American countries, the largest share of any continent.
The facial recognition cameras at Colombia's El Dorado International Airport can verify a user's identity in less than 2 seconds.
Facial recognition feeds from just 16 cameras were used to make 134 arrests during Brazil's Carnival festival in 2019.
Brazil's facial recognition system alerts authorities when there is a match in physical similarities of 90 percent or greater.
Facial recognition technology is currently implemented in at least 37 cities throughout Brazil.
Middle East & Central Asia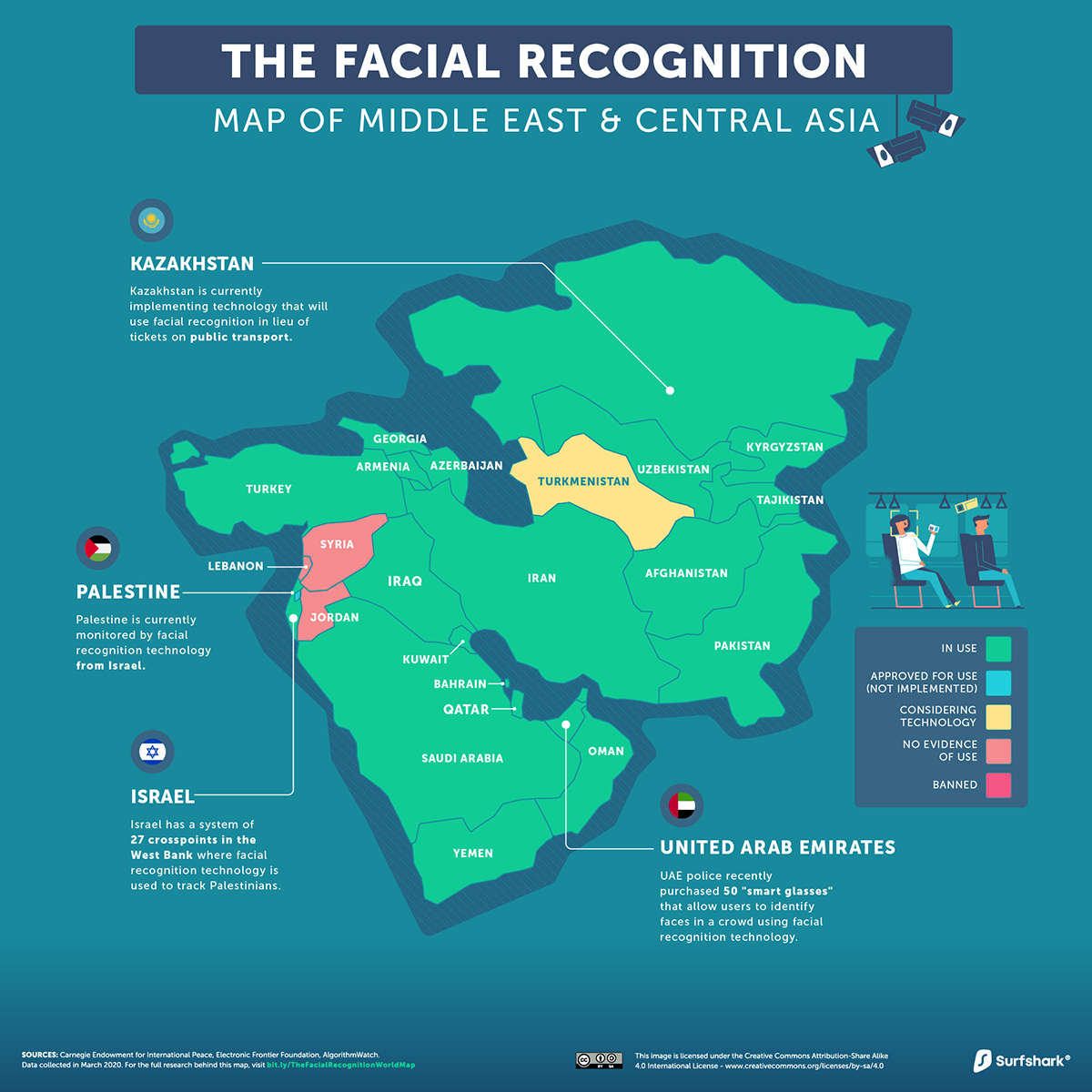 Qatar is currently planning to implement a wide-ranging facial recognition identification system for the 2022 FIFA World Cup.
The Turkish military recently purchased 30 kamikaze drones with facial recognition capabilities.
UAE police recently purchased 50 "smart glasses" that allow users to identify faces in a crowd using facial recognition technology.
Israel has a system of 27 cross-points in the West Bank where facial recognition technology is used to track Palestinians.
Kazakhstan is currently implementing technology that will use facial recognition in lieu of tickets on public transport.
Rest of Asia and Oceania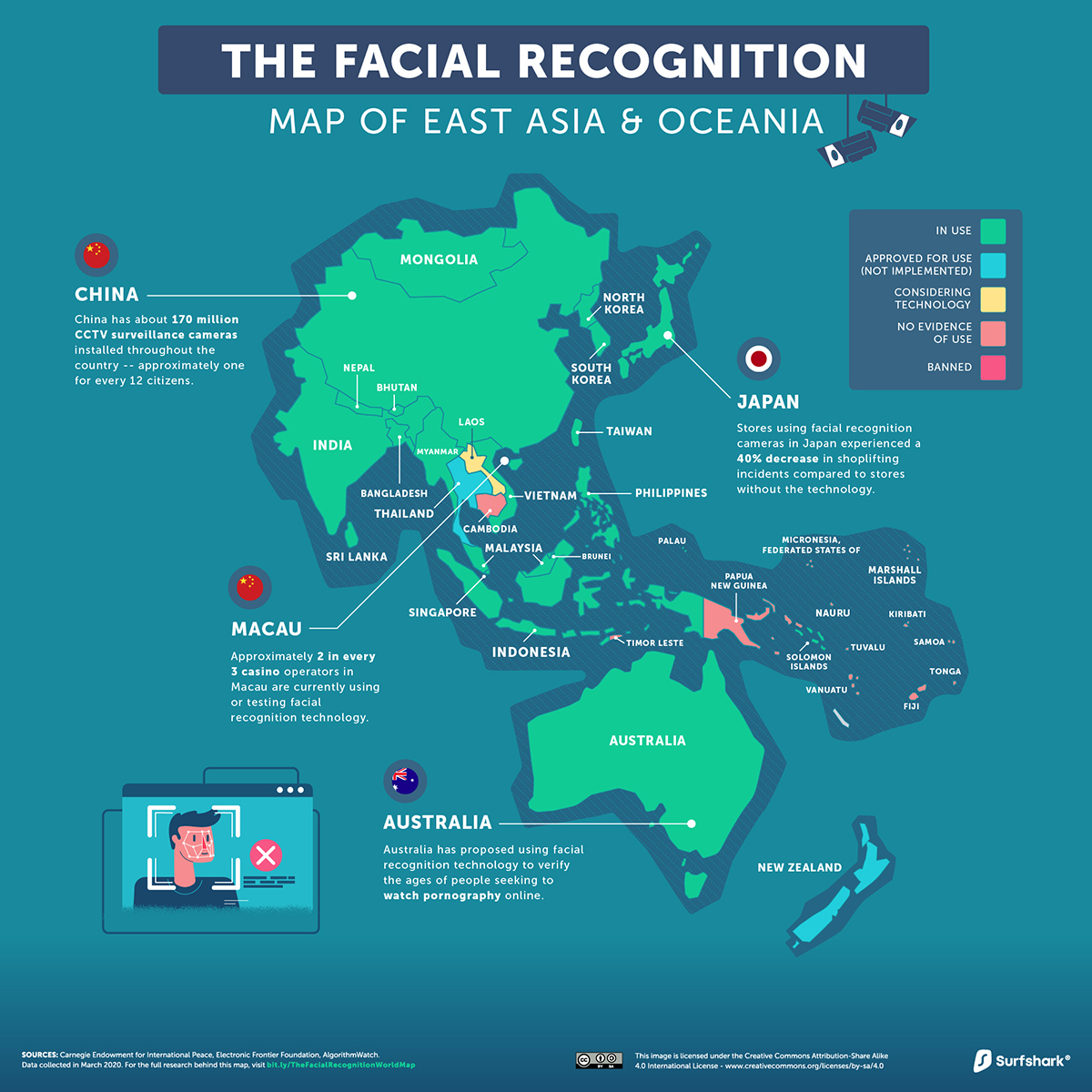 In 2017 China filed for more than 900 facial recognition patents, versus 96 filed in the United States.
Australia has proposed using facial recognition technology to verify the ages of people seeking to watch pornography online.
China has about 170 million surveillance cameras installed throughout the country -- approximately one for every 12 citizens.
In China, surveillance cameras can identify someone by the gait of their walk from as far as 50 meters away.
As of 2017, 18 countries worldwide had purchased and installed Chinese facial recognition technology.
China will account for an estimated 45 percent of the facial recognition technology market by 2023.
Japan plans to implement facial recognition technology at casinos as part of an effort to curb gambling addiction.
Stores using facial recognition cameras in Japan experienced a 40 percent decrease in shoplifting incidents compared to stores without the technology.
Approximately 2 in every 3 casino operators in Macau are currently using or testing facial recognition technology.
Singapore plans to install facial recognition cameras on all 111,000 lamp posts throughout the country.
Africa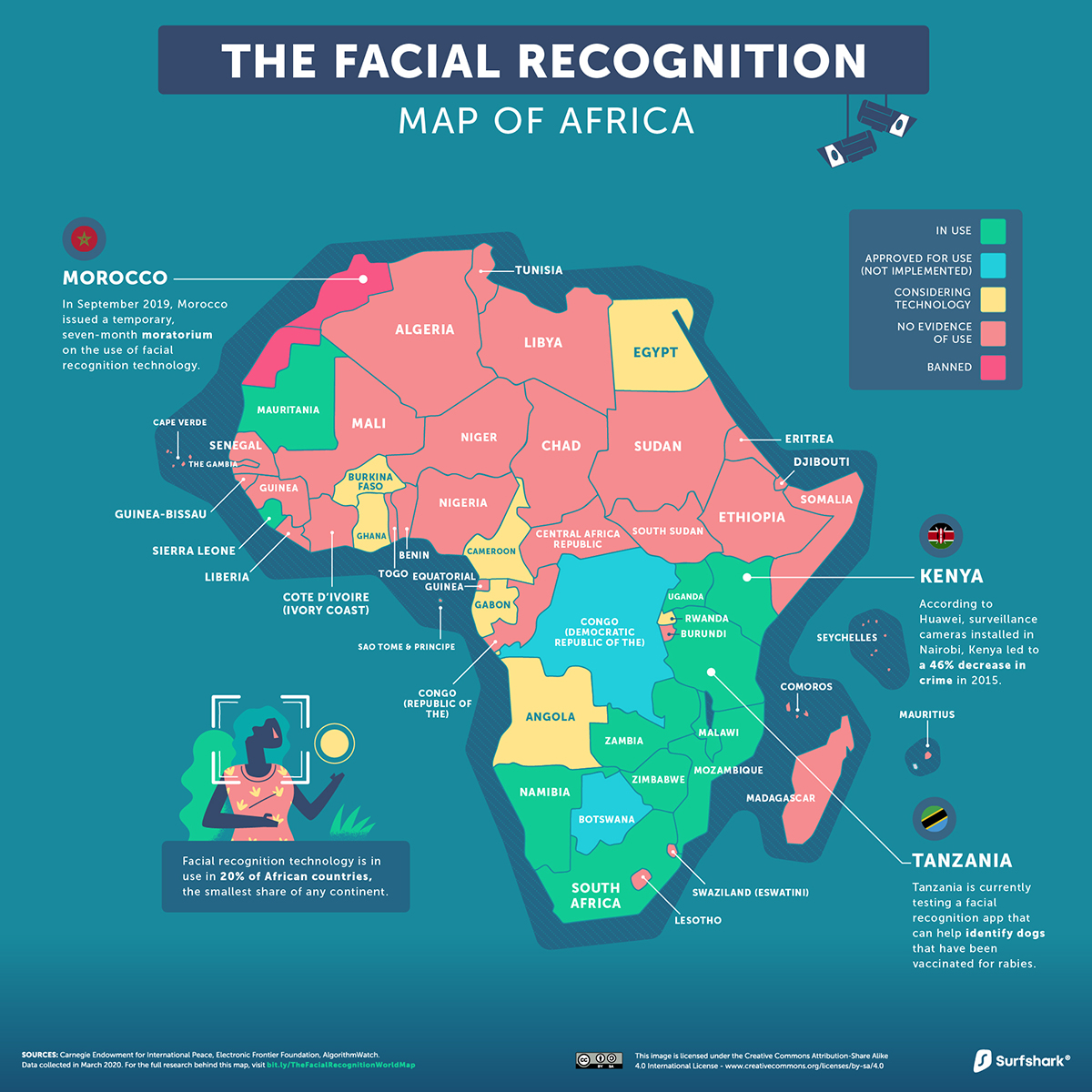 Huawei is responsible for an estimated 70 percent of Africa's telecommunications network.
According to Huawei, surveillance cameras installed in Nairobi, Kenya led to a 46 percent decrease in crime in 2015.
In September 2019, Morocco issued a temporary, seven-month moratorium on the use of facial recognition technology.
Tanzania is currently testing a facial recognition app that can help identify dogs that have been vaccinated for rabies.
The Ugandan government recently spent $126 million on facial recognition CCTV technology from Huawei.
Facial recognition technology is in use in 20 percent of African countries, the smallest share of any continent.
For the full study and results, visit https://surfshark.com/facial-recognition-map