Hospitals & Medical Centers
Hospital Complex Goes State-of-the Art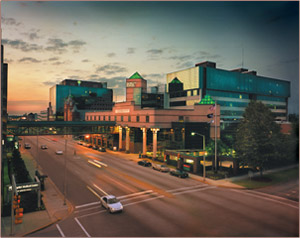 When the security team at Palmetto Health Baptist, an acute care Medical Center in Columbia, S.C., invested in an upgrade to their surveillance cameras from black-and-white to color, they did so with the expectation that it would significantly improve the quality of video they were capturing. Unfortunately, this turned out to be the equivalent of putting new paint and tires on a car that really needs a new engine. In the hospital's case, the new cameras only made it more evident that its entire signal transmission and recording infrastructure was obsolete and that, without replacement, the system was simply not capable of providing the quality of picture and recording required.
With three medical office buildings, three parking garages, an employee office building, plus the five buildings comprising the medical center complex itself, Bernard Bourne, security manager for the hospital, knew that more was needed to bring state-of-the-art security to this 21st century medical complex.
"The solution was to invest in a top-of-the-line system," Bourne says. "We went out for bids and looked at quite a few equipment brands. Everything we wanted, Vicon was able to do."
Since the initial installation, Bourne has noticed big benefits with the new Vicon system. "We've had a lot of usable video for prosecution," he says. "Just the other day there was a bank robbery down the street. The police weren't sure which direction the suspect went. Our outside cameras were able to help. We also have a guy in jail right now awaiting trial, accused of stealing a large amount of computers from us. We have excellent video on that too." In addition, the hospital employees feel safer with the system. "It's a peace of mind for our employees. It's an extra sense of security because they know now that we are watching. It gives them an extra eye in the sky."


I want to hear from you. Tell me how we can improve.