Somewhere in the planning of the Security 500 Conference, I realized it would not be possible to turn the long list of security's responsibilities from this year's benchmark study into a readable slide. Nor was it prudent to punish our attendees with multiple lists of unmemorable threats and vulnerabilities. With more than 50 unique items in play; from managing investigations (97 percent) to overseeing insurance (15 percent); the business executives that manage risk and security for their enterprises all expressed this common theme:
"We are being asked to do more."
And from that common sentiment we find another key trend. Budgets are increasing to support the expansion of business appropriately with risk management and security.  In fact, budgets are growing at a stronger rate now than at any prior Security 500 survey, with over 65 percent of participants reporting an increase. If you combine the TechNavio, Gartner Group, and Markets and Markets forecasts, physical and cyber security spending will double by 2018 from current levels to over $200 Billion.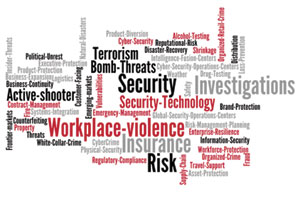 The Security 500 Survey "Key Areas of Concern and Responsibility" as a Wordle
That adds up to both a lot of responsibility and opportunity for executive leadership to make the right decisions regarding resources and investments in the coming years. From our interviews and feedback, it appears those smart decisions are already being made. In short, we are not witnessing security spend on the same programs and skills sets. Rather they are making a significant change in the types of people they hire, the technologies selected and, perhaps most importantly, their customer-facing time and energy.
Security and risk management leaders are becoming a high-profile face for their enterprises to assure customers that they are making the right decision in a business partner. Trustworthy, reliable and resilient are core to a security organization's culture and value proposition. Sharing this side of your brand with key prospects and clients is strengthening relationships and building business. That is something in which every C-Suite leader and business unit executive is willing to invest.
Happy Holidays
 As we close out another rewarding year at Security, we would like to thank our subscribers, columnists and contributors, advertisers and partners for your tremendous support and involvement and wish all a very safe, happy and healthy Holiday Season.