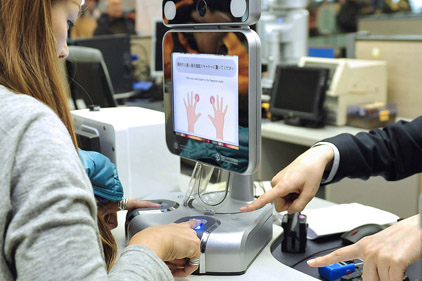 Photo courtesy of SMARTCORE and Lumidigm
Because of the capture problems that conventional fingerprint imaging systems have had in less than ideal conditions, biometrics has been limited to the backroom, to be used only by employees. Now, with multi-spectral imaging (MSI), which captures fingerprints on the first try every time, organizations are willing to put biometrics out front, being used by their customers.
For instance, foreign visitors entering the Republic of Korea go through an immigration clearance process that features SMARTCORE multi-biometric acquisition stations (MBAS) with Lumidigm MSI sensors. Upon arrival to Korea's busiest airports and seaports, all foreign visitors proceed to Korea Immigration stations and submit their arrival card and passport to the immigration officer. They then place the index fingers of each hand on the two fingerprint sensors for simultaneous fingerprint verification. The MBAS also photographs the face of each visitor during the transaction.
The MBAS is an ergonomic, integrated unit that captures both facial and fingerprint data at the Korean immigration stations. It minimizes imaging time and acquires high-quality biometric data.
Because the fingerprint sensors use MSI technology, the MBAS are able to read fingerprints on the first try. Multispectral imaging collects information about both the surface and subsurface fingerprint to capture reliable data, regardless of whether a user's finger is dry, wet, dirty, slightly rotated, or difficult to capture. Data is captured on the first try every time, allowing tired travelers to enter the country as quickly and easily as possible.
The entire biometric immigration clearance process can be viewed here.