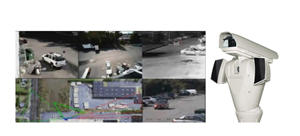 IMAGE COURTESY OF VIDEOTEC
Videotec, a provider of products for high-end, specialty outdoor applications, and SightLogix, a smart thermal camera manufacturer for perimeter security applications, joined forces to solve a common perimeter security need. The integration of Videotec's ULISSE line of positioning devices and SightTracker®PTZ camera controller gives users an accurate and cost-effective video security solution for comprehensive detection, tracking and assessment of outdoor areas, the companies described.
"Security managers need fast, detailed information about the location and nature of an intrusion in real time," said John Romanowich, president and CEO of SightLogix. "The integration of SightTracker's GPS-based PTZ positioning with ULISSE systems provides the necessary domain awareness that is critical for accurate perimeter intrusion detection."  The all-in-one ULISSE systems integrate a high-speed 360-deg.rotating pan and tilt head with a camera and housing and a multiprotocol telemetry receiver. 
The SightTracker solves the challenge of an operator trying to manually locate a target outdoors using a PTZ camera.  SightTracker auto-steers PTZ cameras to follow detected targets for greater detail without any human intervention. Targets are visually displayed on the customer's video management system with great detail while the target's location is presented on the SightMonitor map or a PSIM system.  The result is a comprehensive security solution that provides the "what" and "where" of an intrusion for making fast decisions while capturing the event for evidence, the companies explained.
At a Canadian oil refining facility, fixed SightSensor®video analytic thermal cameras provide long-range detection around the refinery's perimeter, while SightTrackers automatically steer long-range Videotec ULISSE's UR360 cameras with infrared illuminators to light the target.  The combination of systems creates a complete thermal detection and assessment solution over large outdoor areas without visible lighting.
Similar systems have been deployed to protect electric substations in Europe for detecting intruders entering the facility while also sending alerts when onsite personnel get too close to high-voltage equipment.  In these applications, accurate detection is combined with real-time video assessment to ensure that both security and safety requirements are met.
"The integration with SightLogix allows our customers to benefit from enhanced situational awareness for securing outdoor infrastructure,"said Gianni Viero, vice president of sales at Videotec. "Our collaboration provides security personnel new options for automated security built around Videotec solutions."
Videotec said it has been manufacturing innovative, rugged products for more than 25 years, which are currently deployed in thousands of prestigious projects worldwide.  Learn more at Videotec.com and follow the company at @VideotecUSA.