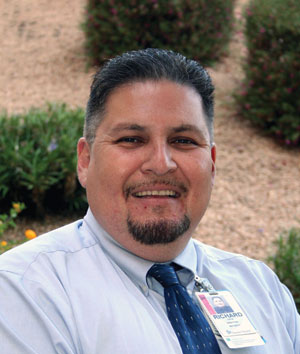 Rich Oritz
No one is quite sure when humans first domesticated dogs, however, dogs and people have been working side by side for thousands of years. Dogs have become an integral part of many people's lives, not just as companions, but also as guide dogs, search-and-rescue dogs, and bomb- or drug-sniffing dogs, such as the ones used last month for Super Bowl security. The Transportation Security Administration used about two dozen dogs to monitor passengers coming in and out of the Newark, NJ, airport.  
Today, police forces in major cities use police dogs to track criminals, sniff out illegal materials, search buildings, and do other jobs human police officers can't do as well as a dog can. 
Rich Ortiz, Security Director/Banner Health Security K9 Unit Director, is using K9s for daily security operations throughout Banner Health facilities in Arizona and Colorado. Nonprofit Banner Health is headquartered in Phoenix, Ariz., and operates 24 hospitals and other related health entities and services in seven states, including Banner Health Network and Banner Medical Group. Banner Health got its first K9 officer in 1995.
What were your main goals when you took the job, and how have you accomplished them so far?
 First and foremost it is the handlers that make this all possible, as they dedicate their skills and time. We work as collaborative group with one common goal: Deterrence Team. Each handler has their own individual skills they bring to work. We share ideas and work issues and incorporate them during training. We engage and empower our handlers to voice their opinions and recommendations. It's easier for the officers to communicate with me since I was a handler and uniformed security officer. As a result, we have longevity and retention of our handlers, and we have four handlers with more than six years of handling experience.
How has the use of K9s helped you accomplish your security goals?
They have provided an alternative to arming security officers, thus giving us a non-lethal force. It has given us an additional measure in mitigating issues in an ever changing security environment.
What do the K9s on the Banner Health security team do?
The use of the K9 is one measure of security measures we use for our facilities with other security technology. They are deterrents from any criminal activity while patrolling across our medical campuses. There are also a few that are used as Explosive Ordinance detector dogs to assist for looking for suspicious packages. Factoring in the cost-effectiveness of the K9 team versus hiring additional officers, the cost is lower for the time that the dogs are used in service
What specific security incidents have they mitigated?
There is a behavioral attitude in effect when a K9 is presented on aggressive or non-compliant individuals. We also see a higher visibility for a security officer when he/she patrols with a K9.
How do Banner Health patients react or receive the K9s?
The majority of patients, visitors and new employees are surprised when they see a K9 working in a healthcare setting. Some of the patients perceive them as pet therapy dogs because of the dogs' temperaments when they see them. It stirs up conversation with the patients with very positive comments.
What type of training did you and your staff need to undergo before using them?
We have a policy on K9s training, use and commitment from candidates. We work with a reputable vendor to select dogs, as sometimes the K9 does not work with our needs. It's a process of selecting both the handler and the K9. The selection of the handler includes interviewing candidates and checking prior security, law enforcement and K9 experience. For the selection of the K9, we use several variations of Shepherds and Belgian Malinois. In addition, the K9 officer selected is involved with the selection of the K9. The handler attends a training academy for at least six weeks with our training vendors, and once they have completed the training, they work with an experienced handler to shadow them in the hospital for 40 hours. Our handlers also have to annually pass a National Police Canine Association or similar certification to retain active K9 status.
Aside from security purposes, do the canines serve any additional purposes within the medical center?
It's definitely a public relations tool as we get inquiries from visitors and patients. We hold a safety fair to display K9s at work by presenting demos about security and safety. We receive community requests for demos as we have partnered with several schools for presentations on our program. We have also received calls from other healthcare facilities in Arizona and other parts of the country asking to view how our program works.