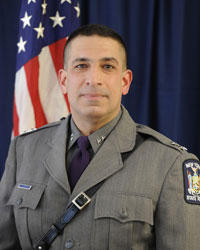 New York State Police Superintendent Joseph A. D'Amico
Photo courtesy of ASIS International
ASIS International will honor New York State Police Superintendent Joseph A. D'Amico with its 2014 Person of the Year Award at a special luncheon at noon on Friday, March 14, in New York City. The annual awards luncheon is part of the 24th New York City Security Conference & Expo, hosted by the ASIS NYC Chapter.
The largest regional conference for security and law enforcement professionals will take place March 13-14, 2014 at the Jacob K. Javits Center. Nearly 3,000 security practitioners, corporate decision-makers and law enforcement personnel from Maine to Florida and across the nation are expected to attend.
"Superintendent D'Amico is an outstanding public servant. His extensive and dedicated career as a law enforcement professional distinguishes him among his peers and has earned broad respect across the security profession in New York," remarked George W. Anderson, chair, ASIS New York City Chapter. "Private-public partnerships play such a critical role in protecting our businesses and citizens. Collaboration exponentially increases the efficiency and effectiveness of security professionals in both the private and public sectors. Superintendent D'Amico has demonstrated an acute understanding of the value of such partnerships, and therefore, it is our honor to commend his accomplishments and extend our appreciation."
Prior to his unanimous confirmation by the New York State Senate in 2011, Superintendent D'Amico served as chief investigator for the Office of the New York State Attorney General (AG), where he oversaw and coordinated the efforts of 300 criminal and civil investigators statewide. The career law officer had a 27-year career with the New York City Police Department previous to his appointment to the AG. A full biography is available.
Luncheon tickets are included with a full conference registration. Single tickets may be purchased in advance or on-site for $75 each. Tables of 10 can be reserved.
Information provided by ASIS International.