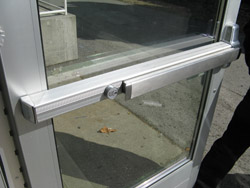 Exit devices incorporate keyed dogging. In lecture halls, they are equipped with an LED indicator so a teacher can tell at a glance whether the device is dogged down in an emergency. Photo courtesy of Ingersoll Rand Security Technologies/Von Duprin
Adding more capability to school doors can make a significant difference to schools facing traditional and rare "but can happen" threats.
That is the experience at the San Mateo Union High School District, San Mateo, Calif., where a combination of relatively simple but effective access control solutions protects students, teachers and staff with minimal system management requirements.
The district includes six comprehensive high schools, one continuation high school and a large adult school. Six of the schools have an average student body of 1,600, while one is smaller with approximately 350 students.
The technology controls door access with a key system (Schlage Everest), with keys only available to authorized individuals through professional locksmith channels, helping prevent unauthorized key duplication. And, the keyway is exclusive to the district within a specified geographic area.
One important security feature is that the locks have a classroom security function. This allows an individual to immediately lock a door from inside with a key, eliminating exposure outside the classroom in a hostile intruder situation. The ability to key-lock from inside the classroom allows the teacher to control access and egress in an emergency and prevents a compromise that could occur with an inside pushbutton or thumb-turn latch.
Todd Lee of Greystone West Company, the district's construction manager, explains that the locks were installed proactively and have proved effective in periodic drills as well as in an actual lock down incident. Lee notes that doors for larger spaces such as lecture halls are equipped with exit devices (Von Duprin) that incorporate key dogging.
"They are equipped with LED indicators so that, when the doors are dogged down during the day, a teacher can determine status from across the room at a glance," he explains. "If it becomes necessary to secure the room, they can be undogged quickly to provide security by any teacher or staff member with a key. This not only eliminates any delays in finding an Allen wrench but avoids the possibility that an unauthorized person could lock the doors if the teacher were out of the room."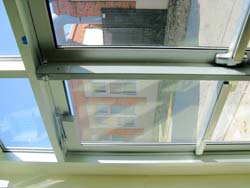 Removable lockable mullions make it easy to move equipment in or out and provide convenience and better security than standard bolt-in mullions. Photo courtesy of Ingersoll Rand Security Technologies/Von Duprin
In addition to their normal school day usage, most of the buildings are used for evening activities.
Instead of issuing keys that need to be returned and can lead to loss of control, the district assigns a "utility worker" to each event. This person unlocks and relocks the building, provides janitorial and cleanup services, and generally keeps an eye on things. This ensures that the building is secured and maintains key control, with any costs recovered from users.
Overall, close communications between administrators and plant managers at each campus and the district office help identify security needs.
"At one of our high schools, a vice principal realized he needed guard plates on some locks to prevent tampering," notes Zeke Lyles, the district's executive officer, maintenance & operations. "Because he notified us, the plates were installed before an incident occurred." 
In order to simplify key control and distribution, Lee says that all locks are ordered with construction cores instead of the final keyways.
"Rather than trying to get the paperwork through to have the contractor order and install the final cylinders, we have the district personnel order and install them," Lyles explains. "That way we don't have to get into working with their system and sharing the keying. It saves time, eliminates a lot of mistakes and keeps everything under the district's control."
Other door hardware solutions used by the district include door closers (LCN) and removable lockable mullions (Von Duprin). These make it easy to move equipment in or out while providing better security than standard bolt-in mullions. Keys for the mullions are restricted to custodial staff to prevent misuse.