Industry Innovations
Provides Panoramic Vision in Tight Spaces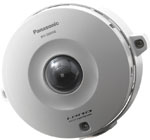 This camera's small, low-profile design features a virtual pan-tilt-zoom operation that does not require a motor, enabling the camera to be placed into spaces where traditional PTZ designs don't fit. Available in both indoor and outdoor vandal resistant applications, the cameras feature Mega Super Dynamic processing, distortion correction and multiple transmission modes to facilitate versatile monitoring of wide areas. It can also be controlled via smartphone.
Find out more at www.panasonic.com


I want to hear from you. Tell me how we can improve.