Industry Innovations
Replaces Multiple Cameras with Panoramic Vision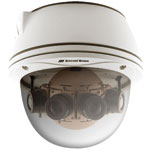 Instead of installing multiple cameras or Pan-Tilt-Zoom devices in an area, these 40 megapixel panoramic cameras can provide a cost-effective alternative. They enable you to view and record extremely wide fields-of-view while simultaneously digitally zooming in to multiple regions of interest. The cameras provide 360- and 180-degree views using four high-sensitivity, 10 megapixel sensors, and they feature on-camera privacy masks to block videos in multiple regions.
Find out more at www.arecontvision.com


I want to hear from you. Tell me how we can improve.