Auto-Dialer Mounts in Tight Spaces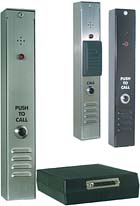 Trigon Electronics developed the 2-inch wide Miniguard HF-2 Slim-line auto-dialer to mount on any narrow installation area, most commonly found on glass entries, eliminating the need for custom mounting plates. With the addition of a proximity reader, the unit also becomes access control. The Slim-line has a remotely located control module that can be up to 250 feet away from the mounted unit. This is the hands down choice if aesthetics are important.
For free information circle 245 or visit www.secmag.com/webcard
Links


I want to hear from you. Tell me how we can improve.