Industry Innovations
Ensures Reliable Operation of Security, Fire, Access Control Systems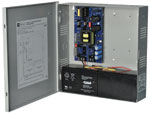 This power supply offers a complement of intelligent features operating with security, fire and access control systems, including a Fire Alarm Control Panel interface with supervised disconnect, over voltage protection and low power shutdown – which prevents standby batteries from deep discharge. These features help to keep your systems running smoothly without interruption.
Find out more at www.altronix.com


I want to hear from you. Tell me how we can improve.