Industry Innovations
Keeps Data Secure while Traveling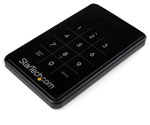 The necessary levels of data security vary immensely between countries and regions – a simple password might function without a problem in one country but be completely ineffective in another to keep data secure within a device. This new encrypted, portable hard drive enclosure allows you to secure the contents of a hard drive quickly and easily with a built-in touchpad.
Find out more at www.StarTech.com


I want to hear from you. Tell me how we can improve.