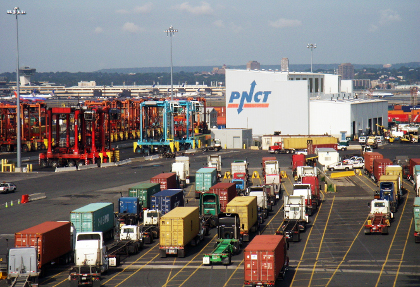 Port Newark Container Terminal, PNCT, handles upward of 600,000 containers annually, and it is now being protected by a new wireless mesh network for surveillance. 
Port Newark Container Terminal (PNCT), located in the Port of New York/New Jersey, which handles more than 600,000 containers annually, has completed the phase two deployment of Firetide's wireless video surveillance network that enables security and safety officersto view live indoor and outdoor video feeds of the gigantic 180-acre port facility and its operations, according to a Firetide press release.
The first phase of the wireless infrastructure mesh video network was deployed in 2008, and the second expansion phase was successfully completed in 2012 to help protect PNCT's terminal operations and facilities, and to provide a secure environment for more than 500 dailydock workers, ship crews and visitors that pass through the terminal each year.
The wireless network provides live indoor and outdoor video feeds of workers unloading cargo from incoming ships and moving containers throughout the site.  The video cameras monitor safety violations, provide accident verification and monitor vehicle and foot access to and from the facility.
As one of the largest infrastructure projects in New Jersey, PNCT will invest $500 million into facility expansion before the year 2030. The expansion is expected to double the number of containers moving through the terminal, creating significant economic growth within the region.
The Port Authority of New York/New Jersey will invest up to an additional $150 million in improvements to the PNCT facility. This also includes expansion of the wireless video network as the DHS Port Security Grant Program continues to allocate more funds each year for enhanced security.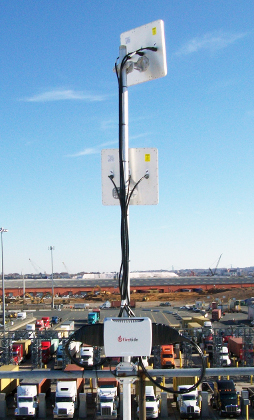 One of the wireless mesh nodes at PNCT helps to maintain the port's surveillance system.
PNCT and Firetide partnered with systems integration firm AFA Protective Systems, Inc., to design and install a best-of-breed of wireless video surveillance network. The network currently includes 54 Firetide wireless mesh nodes and 70 Bosch point-tilt-zoom (PTZ) IP surveillance cameras located at multiple locations throughout the facility. The equipment enables safety and security staff to centrally capture and monitor live video feeds from a command center 24/7.
Depending on activity, video feeds are securely stored for approximately 20 days and can be used as effective evidence in court, reducing time and expense for prosecuting cases.
"Securing the world's ports, railways and other critical infrastructures has been a top priority for the Department of Homeland Security and other security agencies across the globe, making the installation of reliable high-performance video networks a necessity," said Bo Larsson, chief executive officer of Firetide. "This deployment for PNCT demonstrates the superior technology and reliability of our wireless infrastructure mesh networks, especially in rugged and remote areas where conventional wired networks are too cost prohibitive to install."