For some retail enterprises, Big Data can include smaller steps such as the integration of security video into a sprawling mall of information.
 Another pet from the information technology arena, Big Data is a loosely-defined term describing data sets so large and complex that they become awkward to work with using traditional database management tools. The trend to larger data sets means retailers can analyze a single large set of related data as compared to separate smaller sets – including security video. The bottom line: Big Data and its analysis can spot business trends, combat crime and determine real-time traffic conditions.
 And, by the way, sell more laptops, dresses or cans of beans.
Big Data is big with search engines and e-commerce. But what about those brick and mortar stores?
Picturing Behavior
 For a growing group of retailers, some working with specialized third party analysis firms that aggregate large amounts of data, it is possible to use the same techniques to better understand shopper behavior in minute detail. Some of these leading edge retailers are now applying new technologies and technics to analyze video from their in-store security camera systems and create mappings of customer foot traffic throughout the stores. Big Data is then combined with sales data to help optimize store layout, product placement and consumer interest.
 Oh, and the video can also catch a shoplifter, capture a sweethearting attempt or diffuse a slip-and-fall lawsuit.
 So the charm of video analytics in retail applications is in the many business and security benefits, according to Greg Peratt with video solutions integration at Panasonic. Among his examples:
 "Management. Face matching analytics can be used to alert management when a VIP customer enters the store and serves a role in customer relationship management. Analytics can provide insight into customer shopping and traffic patterns, which can guide staffing decisions. Video can also be used to monitor employee interactions with customers, and video analytics can provide an alert to management if check-out lines are long or wait times are excessive.
 "Marketing. Video analytics can estimate customers' relative age and gender, which can provide valuable demographic data related to customer patterns.Analysis of customer traffic patterns can guide design of marketing materials and their location in the store.
 "Merchandising. Analysis of customer traffic patterns using video analytics and observing customer shopping habits can provide data on the effectiveness of an end-cap display and/or guide optimum location of merchandise on a shelf. Analysis of the time customers linger in front of a display can gauge its effectiveness, and analysis of relative age and gender can measure a display's appeal to various demographics."
Don't Forget Loss Prevention
 And, of course, there is always security and loss prevention. Peratt says that video is critical to monitoring erroneous voids, sweethearting, employee theft, unauthorized discounting and prevention of customer theft and shoplifting. Linking video to point-of-sale transactions ensures available video of any specific transaction. Analyzing transactions, for example, by specifying 'no sales' or all transactions above a certain number, can help to pinpoint questionable sales, and associated video can clarify what really happened and supply irrefutable evidence for investigation and possible prosecution. 
David Jackson, senior product manager for video management systems at Tyco Security Products, points out that retail operations and merchandizing have different skills sets than loss prevention. It is often a spreadsheet world for merchandizing instead of working a camera. So closer teamwork or collaborative effort among them will make changes work more smoothly. IT may also provide a bridge, too. 
No doubt, there is analytics and then there is analytics.
It's among the differences between the Dolmabahçe Palace in Istanbul and the Family Dollar chain of stores in the U.S.
At the Palace, which includes cafeterias and retail gift shops, analytics focuses mostly on security and loss prevention. For Family Dollar, video shifts more particularly to business intelligence.
Typical Analytics Work, Too
One of the largest national museums in Turkey, the Dolmabahçe Palace contains 285 rooms and 46 halls showcasing the largest collection of Bohemian and Baccarat crystal chandeliers in the world. Tens of thousands of tourists visit the attraction annually. The Palace Authority required a video analytics solution that would automatically alert security to irregular behavior by deploying a wide variety of analytics rules in order to detect a range of behaviors, but without changing its newly-installed surveillance system.
The solution: Agent Vi's real-time detection and alert software running with a Milestone recording solution and network cameras from Axis Communications. The Palace Authority required analytics for 60 channels with multiple rules to be active on each camera:
• Person moving in an area.
• Person crossing a line to detect and alert to unauthorized personnel entering and moving freely in restricted areas.
• Suspicious object to detect objects left unattended.
• Loitering to detect persons sojourning in close proximity to the exhibits.
• Crowding to alert to crowd formation when a user-defined threshold (density) is reached in a specific area.
• Asset protection to detect any removal of valuable articles such as wall paintings and freestanding sculptures.
On the other hand, Family Dollar remodeled more than 1,300 stores based on findings from an analytics platform by RetailNext, a third party service which integrates store-level point-of-sale (POS) data, traffic management data and surveillance camera video into a central store-level analytic database. The raw data is then consolidated and analyzed according to how users at the store, regional and corporate levels want to view trends and exceptions.
Spend More, Save More
There are costs for the stepped up Big Data analytics, but there are also cost savings. Another RetailNext customer, American Apparel's Stacey Shulman, its chief technology officer, and Blue Montez, director of asset protection, point out that "purchased separately, traffic management and loss prevention systems would have cost American Apparel up to 40 percent more. We were able to bring in something we didn't have before and got better quality at a lower overall price."
The result: The retailer increase sales between 30 and 40 percent, reduced theft between 16 and 20 percent and saved upwards of 40 percent in capital costs for traffic management and loss prevention systems.
Thus, retailers and loss prevention now need to understand the relationship of each camera and among them and other data. Video analytics in retail also is scalable from a single camera to multiple cameras to images from cameras at numerous chain stores.
Scaling Big Data
Even Big Data can be somewhat sized down to individual stores.
For example, late last year, Family Dollar was the site of a large format ShopperGauge Retail Learning Lab to provide a "learning laboratory" in a set of real stores where the retailer and its suppliers can test designs, displays and promotions with customers, ultimately improving the in-store shopper experience. The in-store behavior monitoring system uses video and advanced analytics to automate the process of collecting and analyzing shopper behavior in real-time as shoppers move about the store, naturally interacting with brand messaging and displays. The system then generates quantifiable metrics showing how many shoppers visited each location and which brands were most effective in engaging and converting them to purchase.
"Family Dollar is committed to providing the best in-store shopping environment to our customers," says Don Hamblen, Family Dollar senior vice president, customer marketing.
The expanded use of video analytics and the lab show how retail marketing and merchandizing are working more closely with security in the sharing of surveillance video. The advanced video analytics-based technology at the core of the Family Dollar lab system allows instant visibility into the exact numbers of shoppers visiting, dwelling, engaging and purchasing at any pre-identified point, cooler or fixture in the stores.
ShopperGauge is a strategic relationship between two industry-leading companies: RockTenn Merchandising Displays and its technology partner, RetailNext.
For the most part, typical video analytics such as motion detection is more finely focused.
For instance, at the Lotte Department Store in Busan, South Korea, two megapixel cameras from Arecont Vision positioned in parking areas provide higher resolution images for better functionality. The retailer operates 29 locations including Beijing and Moscow. The one in Busan, South Korea's second largest city, is located alongside the Lotte Hotel to form the shopping and leisure culture center of Lotte Town.
Motion Detection Works
G.H. Kim, store manager at the Busan site, sought to improve image clarity of security cameras watching parking entrances. He explains that the store receives claims of damage to cars. A previous system used cameras that provided resolution inadequate to supply a clear view of the exterior of cars entering the parking area. Lotte wanted to be able to confirm whether a car already had damage as it entered the parking lot. Features include forensic zooming to zero in and view details of live and recorded video, simultaneous region of interest, motion detection and image cropping. The megapixel-resolution cameras can also identify license plates or capture faces.
Overall, network video is key to analytics, no matter if fine focused or Big Data. And, according to Hedgie Bartol, a North American business development manager for retail with Axis Communications, think of the possibilities – all of your store can be covered by sensors, each with an eyeball. And remember, you cannot manage what you cannot measure.
And as IP video surveillance systems continue to gain traction, comments Frank De Fina, senior vice president at Samsung Techwin America, it becomes easier to add cameras anywhere they are needed on the network with segregated access and control via today's powerful VMS solutions. 
Where should video analytics reside? At the edge, in a video management system, in storage, in the cloud or through specialized third parties, "There are a billion ways you can slice it," Bartol says. He adds that higher level analytics could also become a service through an integrator, too. Overall, the numerous options allow retailers and their loss prevention executives to select the solutions that make the most business sense to them.
Where to Place Analytics?
In general, Peratt notes that many applications are migrating to the edge of the network and function inside the camera. The cost of using video analytics has plummeted, and smarter computer chips inside network cameras now routinely provide video analytics functions such as advanced motion detection, virtual tripwire, objects left behind and face detection. Video analytics at the edge can track customer traffic, count crowds and also determine relative age and gender. Edge-based analytics also allow video to be pre-selected, filtered and shared across the network based on content or only in case of an alarm, thus saving on bandwidth and storage.
De Fina admits that there has been ongoing debate within the industry as where video analytics should reside. But, he says the fact is there is no definitive best choice as each application is different and needs to dictate where analytics reside. For example, a large corporate complex may require face detection in their lobbies, but not for interior cameras. In this case, it makes sense to purchase surveillance cameras and devices with face detection capabilities at the edge without incurring the cost for software at the VMS. Conversely, there are applications like mass transit where video analytics are best applied at the VMS so that the majority of cameras in the system can be enhanced with face detection or object left behind analytics. This allows the user/integrator to allocate their budgets to high resolution megapixel cameras, for example, while amortizing the cost of the analytics software across the entire system. Emerging solutions such as the cloud may impact how analytics are deployed as well depending on how camera licensing and Software as a Service (SaaS) fees are structured moving forward.
This is an area of extreme interest to watch if the security of the cloud can be documented for professional security applications.
Strike a Balance
There is also that balancing act, according to Jackson. For example, more processing requirements at the camera costs more. On the server side, things are relatively cheap.
But, no matter the place of residency, Bartol emphasizes three elements essential to successful video: image quality, the algorithm and processing power.
Peratt concurs, at least concerning the essentials. He notes that image quality is critically important, both when footage is being reviewed and to provide sufficient data for effective operation of an algorithm. Algorithms ensure analytic accuracy, such as making sure the correct faces are detected and accurate information is being provided on traffic counts and relative age and gender. Processing power allows smooth video transmission for real-time playback. H.264 compression combines higher-quality video streaming and high frame rates with lower bandwidth needs and storage requirements (and lower cost). H.264 High Profile provides even better picture quality and lower bandwidth compared to H.264 Base Profile. These factors are essential for live and playback monitoring.
Overall, though, analytics have evolved from the days of elaborate systems whose high price tags limited their use to specialized applications. Now video cameras with newer capabilities, "smart" features and higher resolutions are affordable for retail operations, and the additional functionality makes the value proposition even more attractive. Edge-based systems now offer multiple functions, and these are plug-and-play solutions that do not require extensive integration skills or fine-tuning. For example, face matching and relative age and gender functionality are programmed into NVR (network video recorder) hardware.
This article was originally published in the print magazine as "  Video Analytics: The Big Retail Deal with Big Data ."
 
 The ABCs of Big Data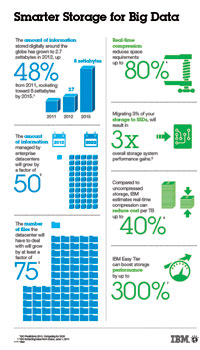 To view this image larger, click on it.

The continuing global data explosion, which some say will reach eight zettabytes by 2015, is demanding a new, smarter approach to storage. It must be one that infuses infrastructures with greater automation and intelligence to store data in the most strategic places, make it easier to access and enable greater insights to be gained. (PRNewsFoto/IBM)

According to NetApp, which creates storage and data management solutions, Big Data's three main elements are analytics, bandwidth and content.

Analytics. This solution area focuses on providing efficient analytics for extremely large datasets. Analytics is all about gaining insight, taking advantage of the digital universe, and turning data into high-quality information, providing deeper insights about the business to enable better decisions.

Bandwidth. This solution area focuses on obtaining better performance for very fast workloads. High-bandwidth applications include high-performance computing: the ability to perform complex analyses at extremely high speeds; high performance video streaming for surveillance and mission planning; and as video editing and play-out in media and entertainment.

Content. This solution area focuses on the need to provide boundless secure, scalable data storage. Content solutions must enable storing virtually unlimited amounts of data, so that enterprises can store as much data as they want, find it when they need it, and never lose it.