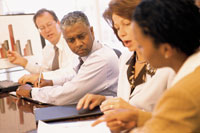 A teamwork approach can help you maximize your security management system investment.
Investing in a security management system is expensive, time-consuming and a risk. Yes, a risk. You invest days and weeks assessing your company's security needs. You research different manufacturers to learn about their systems and listen to one, four or 10 presentations to decipher the differences between their solutions. You learn new things, change your mind and spend hours determining the best choice for the best price. Then you choose one security system and hope for the best.
Not anymore.
Budgets are tight, and security needs are growing. How do you get the most bang for your buck without breaking the bank? It's easy. You need to embrace professional services and lifecycle management programs offered by manufacturers to optimize your security management system and look at the big picture. The upfront investment will save you time, frustration and money in the long run.
When you invest in a professional services and lifecycle management program for your SMS, you will reduce your risk, anticipate predictable costs, lower your long-term total cost of ownership and obtain a higher return on your investment.
How They Work
During the initial installation of your security system, a professional services team can be used to collaborate with you and your integrator to aid in the design, implementation, integration and third-party product integrations of your security system. The alliance between you, your integrator and the manufacturer enacts a teamwork approach, and it helps you maximize your investment by guaranteeing all the security system's benefits are utilized to their maximum capacity. Professional services will construct a strategy for the best implementation plan of your security system installation.
Once your system is installed, lifecycle management and system optimization programs are a must! Lifecycle management teams often have a dedicated account manager assigned to your account who will coordinate scheduled team meetings and maintenance programs for system's optimization. He or she will invite everyone involved in your security system to the meeting, whether it's the integrator, IT staff or third-party integration companies. Your dedicated account manager will bring together everyone on your team to discuss the current performance and expectations of the system as well as future expectations. Scheduled calls and a predictable lifecycle management plan create a cohesive team environment where everyone can provide updates, discuss timelines and work to optimize the system's performance.
Using the teaming approach to managing a project helps everyone to be on the same page. Problems are averted because of effective communication, and the future lifecycle management of the security system installation remains on schedule.
Team consultation meetings and clear project management averts system downtime, saves money and headaches! Invest in a professional services and lifecycle management program and eliminate the risk.
Look for Part Two of Five Ways to Optimize your Security Management System in the next Security eNewsletter on May 22.