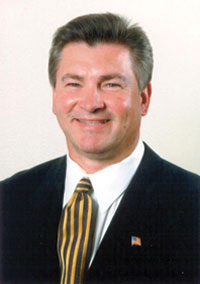 Rik Lisko
How did your career in security begin? Why did you decide upon this profession?
My original interest as a criminology major was to pursue a career in Federal Law Enforcement. While attending Indiana University of Pennsylvania my advisor, Dr. Jim Shannon, introduced me to the emergence of private security. Dr. Shannon was a true visionary. His insight into the growing need for corporate security professionals intrigued me. Dr. Shannon stressed the importance of my involvement in a business curriculum to supplement my major and to position me for a successful career in the private security sector. In addition, a then graduate student at Indiana University of Pennsylvania, Bill McCool, (a current practitioner who holds the CPP Certification) stressed the importance of ASIS and professional networking and continuing education. I joined ASIS in 1979 as a student member of the Pittsburgh Chapter. After becoming a member and enjoying the benefits of the organization, my interest in a career in security was solidified. Shortly after graduation I accepted my first position in security management for a financial services organization.
What do you enjoy about your role with ASIS Certification?
I enjoy being empowered to help drive the focus and advancement of the world's premier professional security certification program. Over the past 35 years, the ASIS Certification Programs have evolved into the industry's leading certifications across the globe. It is an honor to interact and partner with all facets of ASIS to advance and promote these programs internationally.  Participation on the PCB allows one to review industry challenges, trends and best practices while creating solutions for an evolving program that is continually recognized as the premier certification.
What will be your greatest challenge this year in your role and why?
The greatest challenge this year with certification is to ensure that we are continuing to meet the commitments we have made to our international membership. We continue to work on the legal sections of the CPP exam to include legal principles that are universally recognized and are not centric to the United States and Canada. We have integrated an international contingent into the process to ensure application to international law and continued testing reliability. Another continuing challenge is the opportunity to improve the vetting process for future Professional Certification Board Members. In 2012 we developed a foundation to effectively recruit new members of the PCB who will represent all security professionals and disciplines throughout the world. Our Strategic Planning Committee will continue to improve the process and recruit new members who will contribute to advancing the certification process in 2013 and beyond.
What qualities do you have that you believe make you a leader?  
The qualities that contributed to my leadership abilities were learned through several of my mentors. The common characteristic of my mentors was their commitment to excellence and execution. I learned that a strong leader cares about the teams they lead; interacts well with everyone at all levels and stages of their careers; and becomes a resource in the development of less experienced managers and practitioners.  As a mentor to others I continue to stress the importance of integrity, effective communications, continuing learning and education and becoming a strategic thinker. These are the characteristics are essential to my continued leadership success.
What keeps you up at night?  
The changes and challenges we face in our profession every day are what keep me up at night. In order to accomplish our goal of protecting the assets of the organizations and communities we serve, we all strive to develop effective solutions and keep pace with these emerging issues and exposures. Like any guilt-ridden leader, I am constantly evaluating these evolving risks. These concerns and this approach are universal to all security practitioners.
What do you like to do in your free time?  
I enjoy spending time with my family, twirling my Terrible Towel during football season, playing golf and watching hockey. Since moving to Texas, I have grown to enjoy professional rodeo events. I am also developing an interest in competitive skeet shooting.