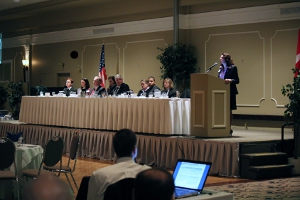 Marene Allison, VP and CISO of Johnson and Johnson, spoke on a panel of industry professionals at NCSPF's Women in Security Lecture Series on February 15, 2012.
The National Capital Security Partners' Forum (NCSPF) was born out of a need to provide quality speakers and educational programming to a wider audience of security professionals and their collaborative partners in Intelligence and Defense. 
Since its inception in August 2011, the NCSPF has become an integral part of the National Capital's professional program development. It acts as an agile network for professional associations from across the scope of security, including but not limited to information systems and technology, emergency management and business continuity management, physical security, defense and intelligence.
Member associations include such groups as ASIS International, ISACA and Crime Stoppers. The Canadian Security Partners' Forum (CSPF) was created in February 2012, in part to support accreditation and certification training on a national level for post-secondary educational institutions and development of more enhanced training from those resources.  The "plug and play" nature of the forum offers all of the opportunities to the members that come from the wider community while leaving them the option to remove themselves as they see fit.
The CSPF now has regional forums across Canada and is in the process of developing its formal strategy and guiding principles. Part of that process includes creation of a working group to look specifically at educational and training opportunities in the communities. The chair of that working group will be dedicated to looking at post-secondary educational programs including Seneca College which is developing a bachelor's degree in public safety, Carleton University's master's degree in infrastructure protection and international security, and various programs at the Justice Institute of British Columbia.
Ottawa's La Cite Collegiale also offers several outstanding programs in French directed at the security profession. Members of the executive of the CSPF national board are working with these institutions to be mentors and advisors to keep the programs current and to assist in development of new programming. 
The NCSPF has continued its high level of programming. In October 2011, we hosted our first event, co-hosted by ISACA Ottawa Chapter. We presented Lynn Mattice, Managing Director of Mattice and Associates. In February 2012, along with ISSA Ottawa Chapter and Women in Defense and Security (WiDS), we hosted Rennie Marcoux, Assistant Secretary to the Cabinet for Security and Intelligence (Canada); Carol Osler, VP and CSO of TD Bank; and keynote speaker Marene Allison, VP and CISO of Johnson and Johnson.
The February forum was our inaugural event in the Women in Security Lecture Series. Its goal, which was profoundly achieved, was to demonstrate that the "old boys' network" is a thing of the past and that the contributions that women have made to the security industry are on the same footings as those of men. Reflecting this reality, the audience was composed of a fairly even distribution of men and women and the presentations and ensuing discussions spoke to all present.
On May 31 2012, the NCSPF will present a panel discussion entitled "National Security vs. Corporate Security — What the Two Can Learn from One Another." Our panel will be moderated by Lynn Mattice and participants will include Jeffrey Miller, VP and CSO of the NFL; Mike Howard VP and CSO of Microsoft Corporation; Mivil Deschenes, Global CSO of Rio Tinto; Major General (Ret.) Dempster, NATO Assistant Secretary General for Executive Management; and Julie Myers-Wood, President of ICS Consulting and formerly head of Immigration and Customs Enforcement (ICE).  The event will be held at the National Arts Centre in downtown Ottawa (tickets will be available by April 5th through Ticketmaster). The response to the events to date has been extraordinary.  
The timeliness of the topics and learning outcomes are especially relevant in light of the new Counter Terrorism Strategy of the Government of Canada. The Counter Terrorism Strategy, like the Forum, seeks to break down the silos between corporate and government and open the floor to discussions and learning that will ultimately increase the security posture of Canada and its neighbors.
The long-term strategy of the National Capital Security Partners' Forum, all of the regional forums from the interior of BC to the Yukon and Newfoundland–Labrador, and ultimately of the national-level Canadian Security Partners' Forum, is to broaden the scope of training, education and professionalism across the divergent list of partners and their representative associations in Canada.  Working with all levels of government, private industry and professional associations through events, such as the one on May 31 in Ottawa, adds agility to the security network.