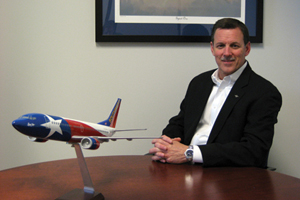 Vance Toler
Southwest Airlines, the airline known for making it fun to fly, has a director of corporate security who has created a vision and who successfully communicates it to his team. "Each employee [at Southwest Airlines] is expected to demonstrate include, a Warrior Spirit, a Servants Heart and a Fun LUVing Attitude," says Vance Toler, director of corporate security. "This is the core of a Southwest employee. I would say my strongest quality is that I am a servant leader and that I truly care about my team. You have to spend time to get to know your employees on both a personal and professional level. Finally, you have to set expectations and hold people accountable and get excellent results. I do my best to uphold and achieve all of these traits, and while I may not always get it right, I never stop trying."  
How did your career in security begin?
It was a job in the insurance industry as an underwriter that was the catalyst to my career in security. Noticing inconsistencies with prior claims, I asked my boss to let me go to the insured's business to look around and ask a few questions. While these things were generally done over the phone, by going to the site I was able to demonstrate the claim was fraudulent and the policy was cancelled, so I continued that practice. A few years later, when a West Coast bank relocated their fraud department to Irving, Texas, I took this enthusiasm and apparent ability for investigations and landed a position as a fraud investigator in the credit card division. In 1995, when Southwest Airlines was just rolling out their new Ticketless reservation system, I was recruited to start their financial investigation unit, which for the first two or three years consisted of just me, but eventually grew to three employees. Seven years later in August 2002, I was interviewed and hired as Southwest's director of corporate security, combining both areas under one department.
What do you like about your position?   
Above all, I like the opportunity to interact with the great employees at Southwest Airlines solving problems for them when I can. We're truly fortunate that many of our executive leaders at Southwest Airlines, including our CEO, give us the opportunity to prove that Corporate Security can and should bring value to the bottom line. 
What will be your greatest challenge this year in your role and why?
Southwest Airlines acquired the Atlanta based carrier AirTran Airlines in 2011. Our initial focus has been on integrating security, primarily in domestic destinations. For 2012, we are turning our attention to AirTran's existing international routes, which is new territory for us. So this year, there is no question that my biggest challenge will be leading our team through the process of developing and implementing our international security plan. Our key security components include protecting personnel and property, establishing intelligence resources, security response teams, communication procedures, and building new relationships with US Embassy personnel and other Federal and local law enforcement. 
Who in your organization do you respect and take time to interact with and why?  
I've been extremely fortunate to have reported to several excellent leaders going back to 1995, when I started the investigation unit in finance. For four years I reported directly to our former President Colleen Barrett (now President Emeritus), receiving an education on our culture and on the history of Southwest that no amount of books can match. Jeff Lamb, our Executive Vice President and Chief People Officer, who I reported to for three years, pushed me from the start to always demonstrate the value and ROI of proposed security procedures or programs and showed me the importance of metrics—you can't manage what you can't measure.
What keeps you up at night?  
Being in the commercial aviation industry, the list of things could potentially be a long one, but I've learned that you can't obsess about all things that go bump-in-the-night. In our line of work, becoming complacent and overlooking the obvious leaves you vulnerable. You try and focus on your core competencies, clearly identify the asset(s) you are responsible for protecting, have a clear and realistic picture of the potential threats that are most likely to occur and develop meaningful security protocol. Then you determine if it passes the security versus convenience test, train your staff and test those procedures again and again. Knowing you have done all this, you should get a good night's rest…most of the time.
What do you like to do in your free time?  
Spending time with my wife and 11 year old daughter top my list of priorities, and being home at a decent time for game night each Monday is a must. Fitness is important but being consistent these days is a challenge, and as a former triathlete and marathoner, that's been hard to accept. Also, grabbing time to read a good book whenever I can is a favorite pastime.