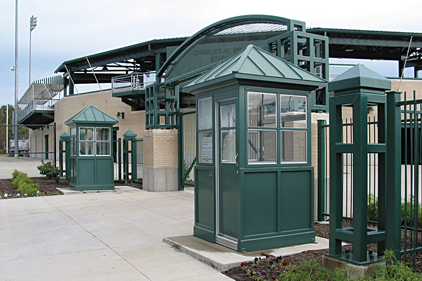 Schools and campuses find an array of options in Par-Kut security booths to fit their needs.
Portable steel security buildings and security booths from Par-Kut International provide part time or permanent shelter for parking lot surveillance, ticket sale booths or entry checkpoints at stadiums and arenas.
The rugged steel booths can be as simple or as architectural as needed. Entrance security booths can incorporate a standing seam style hip roof and other decorative trim features to match with a stadium setting. A more basic blending of a booth to campus can be achieved simply by matching paint colors. 
Even the most basic booths from Par-Kut include welded galvanized steel construction with double steel insulated walls, insulated steel roof, sliding steel door and a built-in work counter. All standard Par-Kut buildings include windows on all sides. Typical electrical packages include heat, light, wall plugs and a circuit breaker panel. Air conditioners, vandal-resistant glass and floodlights are just a few of the options available to fulfill the needs of any school or campus.
Buyers or specifiers can visit the company's Web site to review drawings and pictures of buildings for other schools and public institution applications. At that point, modifications can be requested and quotes can be obtained. Once a purchase order is awarded, project specific approval drawings are prepared to ensure quality and coordination.
Ordering a preassembled building from Par-Kut can make guardhouse or security booth project simple. Whether securing a parking lot against theft, vandalism or loitering, a Par-Kut building provides sheltered control booth for security officers on the job.