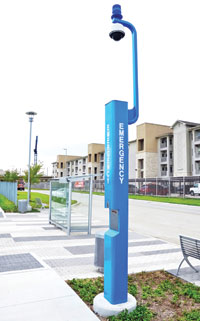 The integration of Talk-A-Phone intercom systems with video surveillance and access card readers gives Parkland Hospital security a much faster response time in the case of an emergency. 
At the University of Oregon, no stone is left unturned. Each evening, patrol officers from the university's department of public safety go on a walk. They walk the campus to check buildings, the personal safety of students and staff and to maintain a presence on campus to deter crime. 
The campus is patrolled by university police officers, public safety officers, security officers and student patrol officers via bicycle, foot and vehicle throughout the day, as well. In addition, the Communications and Emergency Response Center conducts virtual patrols of campus via an enterprise-wide security video surveillance system.
And once a year, the campus holds a "night walk," an opportunity for community representatives to tour the campus with members of the university police department, campus operations and student affairs to assess emergency phone locations, identify opportunities to improve campus lighting, evaluate security video placements and review the night walk map.
The daily patrols, nightly patrols and night walk include an inspection of 132 emergency phones and intercom systems. "We typically use [the] intercoms to facilitate access to controlled points of entry," says Douglas L. Tripp, executive director and chief of the Department of Public Safety for the university. "The intercoms are intended to provide a visible campus safety resource to the community that can be utilized for general service requests as well as for communicating emergent events. They provide us a mechanism to promote ready access to police and security services on campus. In particular, many of our emergency phones have integrated capabilities to include communications, surveillance and wide area broadcast.  Through integration, the return on investment is far more significant than using a single purpose system."
While students are typically the primary user of the emergency phones, Tripp says that visitors tend to be the core user group for the access oriented intercom systems. "Generally, students value our communications systems as they provide assurance that at any moment they can be utilized to summons police and security services," Tripp says.
James Lambe, associate director of communications for the Department of Public Safety at Nova Southeastern University, also uses a combination of intercom systems. "Our pre-K-12 schools utilize local classroom intercom systems; throughout the main campus university classrooms and study rooms we use a centralized IP-based intercom system; main campus health clinics utilize a overhead paging system, numerous blue light telephones are located throughout the university, and a strategic amount include wide area announcement capability. Blue light phones are advertized as general information as well as emergency devices," he explains.
"We can and do leverage the intercoms as well as our other local legacy intercom and paging systems by integrating them into our multi-tiered mass notification alert system," Lambe says. "The intercoms were strategically located as a communication point for the person controlling the class – namely the instructor and as such are generally located by the instructor's desk or podium. The reason for this is in the event of an emergency announcement the instructor would be most likely able to hear the massage clearly and disseminate instruction to the rest of the classroom occupants. This also avoids false paging from curious button pushers wanting to see what happens when they push the button. The intercoms are advertized as an emergency only device not a general information device."
There are many types of intercom systems for an enterprise. They can be installed on exterior and interior doors; they can be placed strategically on a campus with a blue light that alerts their location and more. Ultimately, intelligent intercom systems add an extra level of security. Installation of them should be whenever or wherever life, money or assets are at stake, where the communication cannot fail and must tie in with other high-end security devices, including security video, access control, fire alarms and other building management system for an interactive security system. For a large university or a company with multiple locations, they can be expanded and interconnected, with both audio and video intercoms.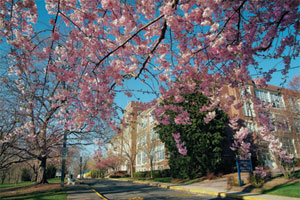 Seton Hall Preparatory School recently installed an intercom system in all of its classrooms, the school library and the gymnasium.  
That's exactly what Seton Hall Preparatory School in West Orange, NJ did. The school is an all boys Roman Catholic high school, whose Aiphone system installation was completed last October.
 "We use to have some go around and lock all of doors and some doors were propped open," says Mike Gallo, assistant headmaster for the school. "We felt safe, but we are more at ease now, because we have video on the intercom door stations, which reduces the chance of someone walking in off the street."
In addition, intercom systems are in every class room, the school library and the gymnasium. "If there's a problem with discipline or someone's health, it's a time saver," Gallo says. "We tell the teachers that it won't invade their privacy: it's for emergency situations. I also like it because  now we can put the door closings on timers, and that would not have happened if it wasn't for this system."
Intercoms are saving response time at Parkland Hospital in Dallas, where Dan Birbeck is a Lieutenant for the Dallas County Hospital District Police Department that oversees Parkland Hospital. He's also one of the liaisons for the Parkland Hospital replacement team that's designing Parkland's new hospital's access gates, mass notification system and security features.
Parkland employs about 9,500 individuals. It recently added a two-million square foot hospital replacement, the largest hospital replacement in the country. 
The replacement included intercom systems and camera systems from Talk-A-Phone integrated with the hospital's access card readers. So once an access card reader is activated, in addition to the intercom, Birbeck verifies the user's information on his surveillance system. If everything checks out, access is granted.  The intercom systems are located in various parts of the hospital, parking structures and open lots.
"Overall…we have a much faster response time in the case of an emergency," Birbeck says.