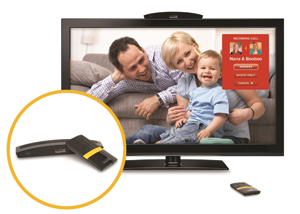 In homes and in corporate security video systems, there is evolution to bring smarter and more multipurpose solutions.
The biggest advances in electronic security, in the past, came after World War II and the Vietnam War. No doubt, homeland security efforts and America's involvement in Iraq and Afghanistan have also spurred technology advances.
However, what happens in consumer electronics is more influential to the technology and pricing when it comes to enterprise security solutions.
For example, consumer camcorders with their breakthrough CCD chips brought a new level of technology to security video as well as a more reasonable buy-in. Advanced use of near field communication chips in smartphones, more recently, allows people to open secured doors with the wave of their phone. And then there are sensors.
Sensors Go Everywhere
According to Shawn DuBravac, chief economist and director of research for the Consumer Electronics Association (CEA), it's the "sensorization of things, we are building devices with more sensors" in myriad devices or around them. For example, Kinect is a "plastic box of sensors." There are ski goggles with built in sensors that can record every ski run you take, he says. But, expect office buildings and plants to also employ more sensors that learn movement and patterns and can alert to abnormal routines, he says.
Overall, says DuBravac, the biggest trends at the Consumer Electronics Show 2012 center on the presence of computer power in non-computing devices; interfaces and the evolution of devices back to simplification; and the prevalence of customization and personalization. Sound familiar?
Security cameras are becoming more computer savvy with analytics, processing power, compression and storage at the edge. Integration, which interfaces subsystems in intelligent ways, works best when an operator can simply get actionable information. And, according to security system integrators, designing solutions that reflect the enterprise, its mission and culture is essential.
Then there are portable and pocketable devices. In 2011, there were more than 100 tablets at CES launched, along with a "plethora of smartphones." DuBravac says this year was even stronger with more phones and tablets than in any prior year. Such consumer advances match what is happening on an enterprise security level as executives and their staff members see value in using smartphones, tablets, and laptops to receive alarms, view video and interact remotely with their systems.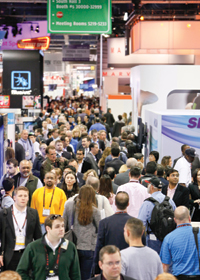 What was displayed at the Consumer Electronics Show last month, in varying degrees, will impact and influence enterprise security applications.
TVs Get Smarter
Of course, there are some streets that go the other way. Security, in many applications, has already integrated video into the Internet, the cloud and with various other business needs. In last month's CES in Las Vegas, among trends, it was apparent that so-called smart TVs will be behaving like computers.
Ironically, DuBravac and others believe that today, and into the future, bedazzling technology will start retreating into the background as simplicity makes more business sense.
"Technology hidden from the user will provide a more seamless experience," says DuBravac.
Take, for example, the "wireless leash" for mobile phones, introduced at CES 2012, which leverages Bluetooth technology to summon immediate assistance from a personal safety service or corporate security and from a trusted network of people – all with the single touch of a button. When connected, the solution may contact the user's pre-selected, trusted network of friends, family and health professionals, and provide status updates of the emergency via a phone call, SMS or e-mail.
 What's happening here and in other tech examples is that there continues to be a shift from employer to employee, from school administrator to student, from healthcare security to patient as technology enables the true end users to provide a level of security and work more closely with others. Everyone has a security role to play and emerging technology makes it so.
The times they are a'changing. There is a valuable window to this emerging world as technology from the consumer side impacts enterprise security.