Larry McEvoy really digs his job.
His firm, CONSOL Energy, a leading diversified energy company, helps generate two-thirds of the nation's power supply, responsible for mining more high-quality bituminous coal than any other U.S. producer as well as the largest gas producer in Appalachia.
As director of security for the $5.2 billion firm, with help from an associate who handles the technology side, McEvoy focuses on the three core values of the company: safety, compliance and continuous improvement. And he expects his contract security solutions service – G4S – to do the same.
The partnership between McEvoy and his security service reflects the best of breed when it comes to the evolution in the myriad roles of security officers, both proprietary and contract.
Just as justification of technology is really a business decision, so is the application of officers. And, not surprisingly, annual growth in the numbers of security officers matches and sometimes surpasses, growth of security video and card access controls. According to the U.S. Department of Labor, there will be about 1.3 million people employed in the private security officer arena by 2018, for a healthy growth rate of 14 percent from today to then.
A significant portion of that growth will reside in the biggest international, national and big regional guarding services. Click here to view Security magazine's 9th annual Top Guarding Companies list.
Expanded Duties
More importantly, many enterprises have expanded officer duties, provided them more technology to use and invested in diverse training and certification. Then there is the Homeland Security effort. Just in terms of sheer numbers of security officers on the job, as compared to law enforcement, fire fighters and emergency medical technicians, the private sector's officers are truly first responders.
So it is a given that expectations have grown and have largely been met, thanks in part to the closer relationship of enterprise security leaders with their service providers.
McEvoy's expectations, and G4S's delivery, are mirrored by some other chief security officers, security directors and facility managers who view trust, understanding of their business and culture and a personally professional connection to project leaders, supervisors and individual officers as energizing a longer, closer relationship between client and service.
Enterprise security leaders need to see that partnership from the start.
"Being able to view security and safety through the lens of our customer to gain a clear understanding of their unique needs and expectations is vital to building a comprehensive security program that meets customer expectations," says Drew Levine, president of G4S Secure Solutions North America. Specific to CONSOL Energy and Larry McEvoy's vision, "we focused on safety; communications; training; and real-time technology to deliver a multi-faceted security and safety program that meets their specific needs and requirements," he says.
That understanding starts with "understanding their business processes and then striving to provide continuous improvement whether it's in the areas of mitigating risk, finding cost efficiencies, or improving compliance," adds Levine. 
Reflecting the security management field more broadly, McEvoy's background includes formal education and significant assignments before coming to CONSOL Energy.
A Career Commitment
"I went to school to major in criminology, looking at the corrections field," says McEvoy. When Norm Bottom, one of Securitymagazine's Most Influential, came to the University, the program shifted to a security orientation. He then earned a master's degree in industrial safety and hygiene as McEvoy embarked on a career at SAIC, the Department of Defense contractor; Alcoa; the Westinghouse Science and Technology Center; and Nova Chemicals before settling into a position at CONSOL Energy about two years ago.
"Our mission," says McEvoy, "is to be enablers to the operation" in partnership with G4S. "We are there to help with security principals, practices and procedures. We must understand the organization and look at all the processes inside it, as well as the future directions of the organization." On a regular basis, the security director meets with vice president level executives to share upcoming plans and changes. The shared bottom line: to protect the people, property and assets.
"In the gas and coal business, there are always changes and moves coming up, extra personnel, contractors coming and going and new property developments," points out McEvoy, who advises that measuring security and contract security officers in dollars alone doesn't do justice to close relationships and shared goals.
There are complexities to a perfect fit between an enterprise and its contract guarding firm.
For example, "the complexity of the logistical needs associated with servicing an industry leader such as CONSOL Energy requires that G4S develop and maintain security solutions designed to complement their unique footprint. CONSOL's locations are not your typical street addresses; our support teams find their sites using longitude and latitude coordinates," says Malcolm Burchett, regional vice president, Mid-Atlantic Region, G4S Secure Solutions (USA).
He adds, "Contingency planning must always be current to match the weather conditions and safety needs. Our training programs, recruitment methods and infrastructure enable us to meet CONSOL's needs at any of their locations."
Awhile back, CONSOL Energy had a diversity of firms supplying security guarding service across myriad facilities in at least six states. "Wherever we have a coal mining facility, whether active or closed, security is there," explains McEvoy. So the security director went with a single source. And beyond the decision, one another important one was the choice of a project manager provided by G4S. That person proved one key to success. "We identified the need for a project manager for day to day operations, setting the example, acting as my day to day contact," adds McEvoy.
Security officers are continuously trained to help meet Mine Safety and Health Administration or MSHA compliance needs. MSHA is part of the U.S. Department of Labor. In the gas operations, there is security presence for active drill rigs. And there are also marine, river and dock facilities to keep secure.
Constant Focus on Training
So training is a crucial element for both the enterprise and the service provider.
"For CONSOL Energy, we customized a specific training program through our North American Training Institute that provides strict compliance regarding certifications and education for the energy industry within each area of safety and security," says Ray Brock, general manager of G4S Pittsburgh's area office. The program's strict guidelines require all security personnel to attend classroom instruction for a predetermined number of hours, receive extensive on-site training and meet all of the necessary certifications such as MSHA, MARSEC and TWIC. To ensure continued compliance, all ongoing training and recertification requirements are tracked and maintained by G4S instructors.
There also is training on behavioral-based safety programs that focus on creating safer work environments for all employees.
When it comes to safety, compliance and workplace violence issues, certain security officers are trained as responders, thanks to special training, special clothing and gear.
And that is reinforced by strong, constant communication. As highlighted by clients, there is a definite need to provide real-time incident management, business intelligence reporting and analytics. So "the constant communication between CONSOL Energy management and G4S ensures the highest levels of proactive security management. Setting benchmarks and measuring results are also keys to maintaining the highest quality program while managing expectations," comments Burchett.
Regarding security technologies, and depending on the location and needs, McEvoy uses security video, in real-time, tied to the Internet and for forensics; door and entrance access controls; motion detection tied to radio dispatch to mitigate theft risks; emergency communications; and other solutions. "Use of security technology and blending it with officers are crucial elements," observes the security director.
He also sees value in a mobile incident reporting system called Secure Trax, which officers use out in the field. Real-time information can come back into a Web portal. Officers have policies and procedures in the palm of their hand, according to McEvoy, who uses it for auditing events and identifying trends "so we can continually improve."
Security's overall aim is for employees and visitors to be met with authority and kindness. When asked to share advice on how to evaluate a contract security officer firm, Larry McEvoy was plain spoken. "Look at values. Does the organization you are evaluating share your company's beliefs and values?"
Sharing the Mission and Values
When it's a right fit, the mission and work of security officers can be a window into their client's mission and values, too.
 "If you spend an hour inside our local Pittsburgh office, you would see the intense level of activity that takes place daily at the vast number of CONSOL Energy gas and mining operations in the Western Pennsylvania region," says Kara D'Argenzio, manager of business development for Pittsburgh's area office, which provides CONSOL Energy physical security for an extensive geographic area that stretches from State College in the east, to the Pennsylvania/Ohio border in the west and from Erie in the north to Clarksburg, W.V., in the south.
So it is not surprising that security officers "have the ability to document and alert clients of incidents in real-time then transfer pertinent data into analytical software," using Secure Trax mobile technology, among other tools, to help with everything the client needs to make strategic decisions about their security programs, according to D'Argenzio.
Reflecting a closeness that includes technology, G4S is also working with CONSOL Energy to respond to local issues arising in areas of natural gas operations. "For example, we are deploying new traffic radar systems to help mitigate speeding issues arising from increased truck traffic," points out D'Argenzio.
It's the new normal.
"By expanding the role of security officers beyond conventional patrol duties, we have evolved our service offerings well beyond simply providing a 'guard at the gate' to include manpower, technology and innovation," observes Levine. Across the country, security officers now monitor safety issues while collecting critical data and information specific to clients' sites. Whether it's a broken light, a compliance issue or a safety risk, officers are the new front line of safety and security.
When it comes down to the bottom line, it comes down to the people themselves.
For instance, "when we enter the recruitment phase of a program, we seek career minded individuals versus job minded employees," says Brock.
Strong Background for Officers
For CONSOL Energy, its security service focuses on finding personnel with strong military or law enforcement backgrounds.  "Due to the nature of this client's rural locations, we use several local and state job placement agencies, universities, VFWs and online employment sites.  Traveling job fairs are held several times a week allowing us to reach and recruit qualified applicants within these rural areas. Rigorous application, screening and background process enable us to differentiate between good candidates and great recruits," adds Brock.
On the one hand, Mike Stratton, security manager for Honda of America Mfg. (HAM), shares McEvoy's belief in a strong and deep relationship with his security officer provider and is responsible for a number of facilities. Stratton's geography in Ohio covers Marysville, the first U.S.-based car assembly plant; Anna; and East Liberty, among other HAM locations.
Stratton also expects his officers and provider to share his firm's values, here expressed in the culture of Honda and shown off, in no small measure, through emphasis on respect, the concept of associates instead of employees and the ubiquitous Honda work uniform, which all associates wear on the job no matter their title.
On the other hand, Stratton has differences at Honda as compared to CONSOL Energy.
One big one: "About 18,000 to 20,000 people a day come and go from our plants," he points out. Another: Stratton worked in a number of operations and safety positions during his 28 total years at Honda before his move into security about nine years ago.
"Times have changed, the types of people, world events," the Honda executive says.
For example, a visitor when the plant opened in 1982 would be bug-eyed in today's Marysville Auto Plant because of all the building and equipment changes, thanks in part to each associate's involvement to use their experience and knowledge to improve their processes and plants.
"Where are we and where are we going" is always the challenge, according to Stratton, who shares that with his officers and their firm, Acrux Security.
If it's a matter of values, it is also a matter of strategies. "Consistency is essential, especially when people are authorized onto our properties," says Stratton, who made it a goal that access from plant to plant was consistent. "We do not deviate" and use cards and badges, cameras. It makes a difference. "We have had about 20 million [access] scans in the last three years." And there also are thousands of contractors, too.
So the close working relationship with Acrux pays off in numerous ways. Stratton has been able to reduce the total number of officers; but, at the same time, the officers have become more a part of the fabric of Honda of America Mfg. "They run our security systems so some had to become more technically able, "more IT savvy," he comments. "You bring in a good vendor and let that vendor staff up. You share key performance indicators. But, it is understood that we are paying them to manage and execute the security plan. "It's a matter of accountability and our culture insists that everyone is treated with respect, which has been part of doing security since the beginning."
Impacting the Entire Enterprise
The relationship between Stratton and Acrux, built on mutual trust, can impact in many ways. When it comes to a service providing security officers, "you have to look at cost but it is not the top reason [for choosing or staying with a service]." The vendor must understand all the aspects of a company. This includes "executive protection, access control, responder responsibilities, investigations for theft, even executive travel," says Stratton.
One example: "With our new business in Mexico, an individual on the security team went to Mexico to determine certain [travel and temporary housing] needs." Another example: "Manufacturing came to us" to help advise on installation of high-resolution cameras inside some new equipment for operation and not security needs.
Stratton firmly believes that the bottom line key to a successful relationship between his company's security needs and a provider of officers is "surround yourself with lots of good people."
At Acrux, Christopher Prickett, its president and CEO, says that more of his current and potential clients are seeking a "one stop shop" approach for a diversity of services as well as a source of officers that goes beyond the typical in terms of training and certification. "We also staff receptionists and mail sorting for HAM." A sister business to Acrux, Surmount Solutions Group "is our technology folks" for dispatch and tech gear.
Overall, however, "you have to listen to the client, understand his or her corporate culture," Prickett adds, and who sees it as a good thing when a client asks for details about how much support they will get and how often he will visit. "We are the face of the client company."
Sanford Siegel, director of loss prevention operations for GameStop, the nationwide retailer of computer and console video games, both used and new, has a unique challenge and solution to physical security at the smaller standalone and in-mall stores. Where security officers may not be cost-effective, Siegel uses a remote service that can look in and even talk with sales associates at a given location thanks to the use of a service from iVerify and Honeywell security cameras. "We are dedicated to protecting the well-being of customers and employees and really care about providing the best and safest shopping experience."
The Good and Future of Training
Chris Hertig, assistant professor at York College of Pennsylvania, has been dedicated to the education of security professionals and certification of officers and supervisors through his long-term involvement with the International Foundation for Protection Officers (IFPO). Here are some thoughts from Hertig on officer training.
Within contract security, proprietary security and retail loss prevention, there is more training for entry-level officers than ever before. The ASIS Academic Programs Council has been given training as part of its mission. The council is now known as the Academic and Training Programs Council and has a new mission statement: to promote and assist in the development of security academic education and professional training programs at academic institutions, professional associations, private organizations and governmental entities.
Large firms such as Securitas, AlliedBarton and G4S offer a marvelous menu of professional development options. Most of these are online programs that fit nicely into what security officers need to be effective. In some cases, there is a certification given by the employer upon completion of specified coursework.
The Brownyard Group has initiated the Brownyard Educational Center (Brownyardu.com). This is a cooperative effort to train and educate protection officers among various entities (Kaplan University, CINet). An interesting approach; costs and marketability will have to be assessed to determine its degree of success.
There is the IFPO, which has long provided essential certification programs that include the Certified Protection Officer program, CPO Final Challenge, Certified in Security Supervision and Management program, Officer Basic Training, Basic Protection Officer program, the Security Supervision and Management program and the Certified Protection Officer Instructor program.
Security officer training/professional preparation has also moved into college level material. The recent expansion of the ASIS Guideline on Security Officer Selection and Training and The Professional Protection Officer both show the growing responsibilities of entry-level protection officers.  Crisis management, terrorism and the complexities of human interaction are areas that were added to both the guideline and the text.
 What remains to be seen in the training, certification and higher education arenas is if this growth is sustainable.
Say Hello to Virtual Security Officers
For many, it may make business sense to look at virtual patrols, virtual escorts and virtual interventions as a complement or replacement of security officers.
The technology is there. And so is VirSec Virtual Security, which, according to Thomas Hines, the firm's senior director, is an option to applications ranging from critical infrastructure to vacant real estate. Through remote video monitoring, a virtual security officer can provide the efficiencies and other benefits of security technology while still maintaining human interaction.  As more and more systems are integrated into single platforms and installation architecture continues to standardize on IP formats, a virtual security officer becomes a more powerful tool, according to Hines.
The firm's virtual operations center has the "look and feel of a UL listed central station," adds Hines. "You can move to an electronic solution or a hybrid combo of human and electronics," which includes high-end live video services. There can be great flexibility. "Take for example, 50 cameras in a facility." An enterprise security leader "can select hours and circumstances with cameras patrolling certain places with triggers that can include analytics or just policies and procedures," adds Hines.
Unique Officer Challenges at Sports Events
While Super Bowl XLVI this month ends the National Football League season, earlier some NFL venues tested increased security procedures primarily aimed at screening incoming fans in anticipation of the NFL's evolving security recommendations.
Fans entering designated gates were asked to remove all metal from their pockets and hold the items in their hands as they underwent screening. The procedure will eventually replace the pat down process. The program creates a more comprehensive screening process and a safer stadium environment, according to NFL security officials.
It's a goal that Lou Marciani Ed. D, director of the National Center for Spectator Sports Safety and Security (NCS4) at the University of Southern Mississippi, sees as valuable. More involved screening "will take a little longer" but at sports venues, big and little, "it's safety first," adds Marciani. He points out that private security firms or the individual stadiums have their own security staff members and "many are part-time people. So it makes sense that the NFL has issued a best practices" set of recommendations that can also evolve and change with threats and concerns.
Better fan traffic controls, quicker changes in the traffic patterns, and encouraging fans to enter the stadium earlier all can help the screeners. There also is better collaboration between security and law enforcement at events as well as more effective communications among all of those staffed with security. "It also involves psychological aspects, reading the crowd, individuals and their mood," he says, adding that technology may also play a greater role in secure stadium access control.
One example: Qylur Security Systems has a comprehensive physical security solution including its Qylatron integrated checkpoint to enable venues to transition beyond manual bag checks and pat downs to objective screening methods.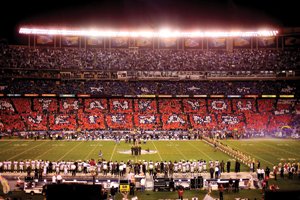 There is a balance involving security officers at stadiums: Providing quick and convenient access into the venue and mitigating risk by providing a safe experience.